Make Special Occasions More Memorable with Wishes from Favourite Celebrities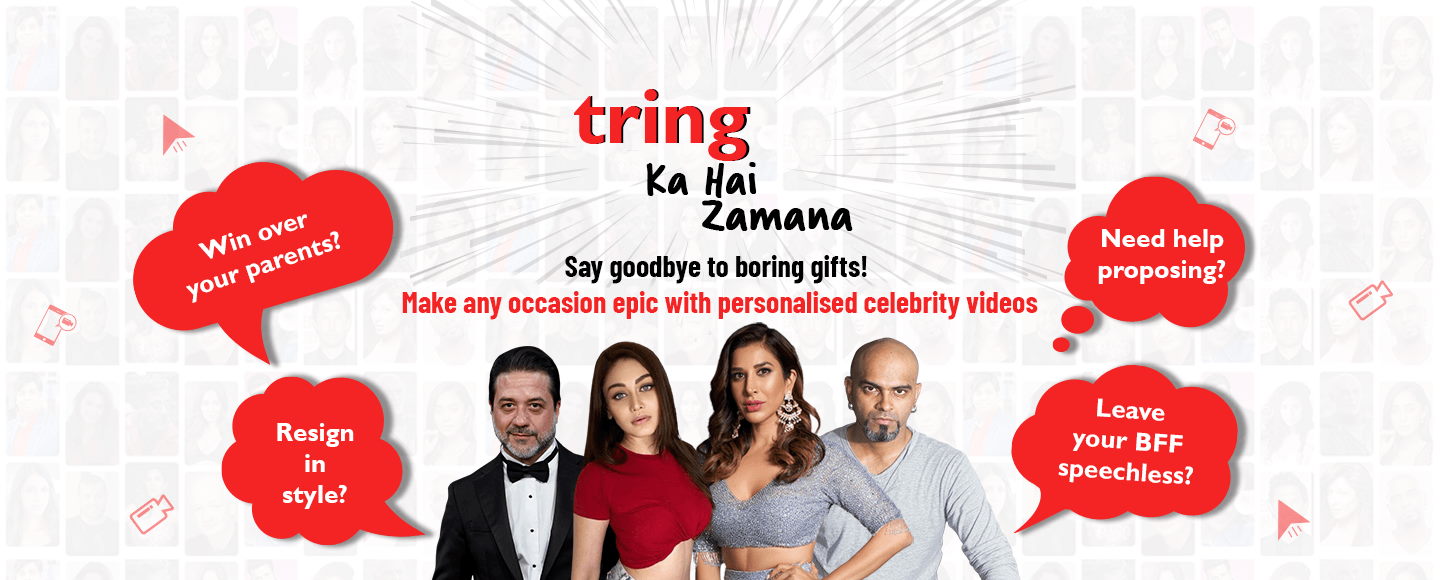 Most of us have been growing up looking up to someone and wanting to be like them. For many growing up in India, celebrities and fandom has been a part of our life. Back in the 90s, tracking the public actions of celebrities was difficult because of the lack of social media. But the invention of the internet has made it possible for us to constantly be in touch with our celebrities and follow them through their actions and through their daily lives. A recent trend that has also emerged is to get wishes from your favourite celebrities on your special days. Who would want to miss such a beautiful opportunity? Getting a personalised video message from celebrities would really make your day.

In older times, people used to wait outside the residences of their most favourite celebrities to simply catch a glimpse of them. But in the digital world, this has been made easy with media videos and photos. Tring — as a platform — makes it easy for you to celebrate your special day with the wishes you would cherish the most.


What is Tring?
Tring is a digital platform, which promises you one of the best gifts you could get for yourself. Imagine this scenario where you have been following a particular celebrity for the longest time. You find their struggles and their success journey very relatable and you hope to do well in life just like they have done. Tring is a platform that will help you connect with these celebrities and icons and facilitates getting wished by them on your special day.
How Do Celebrities Send Their Wishes?
The celebrities send their wishes through personalised celebrity video shoutouts. Shout out is a famous term used in pop culture to signify celebrities or influencers making a mention of you or your name or your brand on their social media handle, which makes it easier for you to get followers. According to the founder of Tring, this is a more personal and acceptable way of making contact with your favourite celebrity. This enables and creates more meaningful conversations with the person.
How to Get Your Personalised Video Messages From Celebrities?
You can follow the following steps to get a personalised video shoutout from celebrities for your special day.
The very first step towards getting yourself only the best gift is to sign up on the website. You can sign up by feeding data like name, age, gender, and location along with either your email ID or your mobile number.
Alternatively, you can choose to sign-up by authorizing Google to give this information to the website on your behalf. You can click on the option that reads, "Continue with Google". Once you click on that, it will ask you to authorize your Google account. Upon authorization, the account will be created by accessing the public details available on the Google account. Similarly, a Tring account can be opened through your Facebook account as well.
Before you authorize Google or Facebook to sign-up on Tring, they will let you know what information is being shared with the website. You can choose not to display particular details.
Celebrities have their profiles on the Tring website. So, you can visit their pages. There are various celebrities from different areas and fields like acting, music, sports, etc. You can follow these celebrities and get an idea of how they spend their day and what kind of work they do every day. You can choose one of these celebrities to wish you your big day, be it your birthday or another important day. Once you choose the celebrity you want to be wished by, you can go to the next step.
After you choose the celebrity you want wishes from, you can check the charges and make the payment according to your request. The payment is strictly online with various options like credit card, net-banking, wallet payments. Only after the payment is done, the request would be treated as a confirmed request where you will get a receipt of your request and payment status. This is the last step before you get your dream video wishes from
Tring celebrities
.
The process of getting personalised wishes from celebrities is pretty simple. Although, there are a few things that one should keep in mind before making a video request.
1. The communication between users and Tring celebrities is strictly one way. This means that you cannot contact the celebrity of your choice personally. It has to be through the Tring platform itself.
2. There will be personalised messages for you in the wishes that are given to you by your choice of celebrity. That means that even though you know who it is coming from, the actual message would be a surprise on your big day.
So if your birthday, anniversary or any big milestone is approaching, do not think twice. Just log on to Tring and get the best of wishes.