We understand that searching for creative birthday ideas could be a difficult thing. And it definitely is a difficult task if you are in search of creative birthday ideas for husbands. Your husband being somebody who literally lives with you, who knows you and your thoughts; surprising them is like achieving a goal, right? Yes, we know it's a difficult one but we at Tring, want to help you out to find the best creative birthday ideas for husbands.
But before we dive into the creative birthday Ideas for husbands, let us tell you, photo collages, chocolates, roses, watches, shirts, etc are the gift ideas that are cliche and not so surprising, but you will definitely find other Unique and Creative birthday ideas for husbands. Something that is definitely romantic and special as well!
Now that you know our out-of-the-box thinking, let us share with you the Top 5 creative Birthday Ideas for husbands. We assure you that your husband will be absolutely surprised!
Breakfast in Bed
Isn't it a super amazing concept? Especially for the ones who are always super busy. Prepare something super fancy for your husband. This could be one of the super creative birthday ideas for husbands.
Want some ideas for breakfast too? No worries! We've got you covered.
French Toast

Orange-Glazed Bacon

Lemon Blackberry Tortilla French Toast
These are a few of the dishes that you can try for a fancy breakfast. You can simply google them to find the recipes.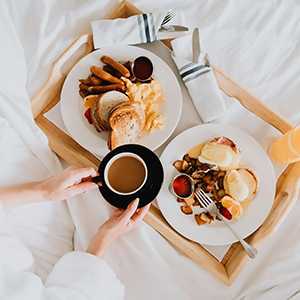 Live Video call with Celebrity

Yes! Let your husband's favourite celebrity tell him how much you love and respect him. You also can do a prank! The classic 'I forgot the BIRTHDAY!' and then surprise him with a live video call with his favourite celebrity. Won't it be one of the super creative birthday ideas for husbands?
Tring has a huge number of Celebrities that you can choose from, Movie stars to TV stars, Models to Instagram influencers, Sports personalities to Authors!
One idea that I would personally recommend to you is, Book a Live Video call with a singer like Salim Merchant, and get your 'special' song sung by him. It definitely is one of the best Creative birthday ideas for husbands as well as your loved ones. This will also make this birthday wish 10 times more meaningful and close to both of you.
Isn't it a very creative birthday idea for Husbands? So what are you waiting for? Book your Tring now!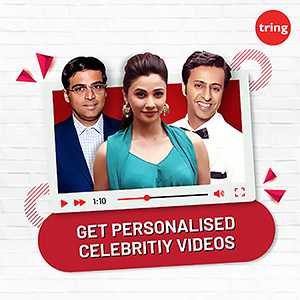 Surprise with the whole family
This idea is super exciting. If you and your husband are somebody who is the 'Family People' type, then this is one of the perfect creative birthday ideas for husband.
Invite all your Family and friends to your house, or maybe a restaurant and throw a surprise party for your husband's birthday.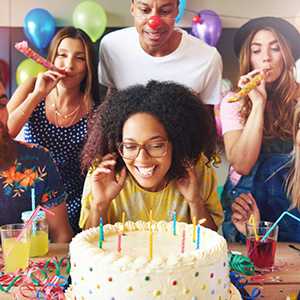 Treasure Hunt!
You heard that right! You can simply write directions and hide those chits in places that have been special to you both. Places around your house that you both have shared a romantic moment at. This is one of the most creative birthday ideas for husbands.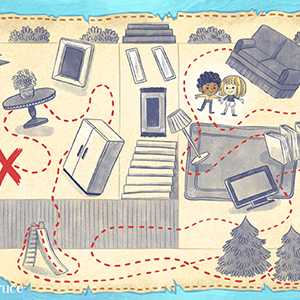 If you have watched this US-based TV show, 'The Office' then you will have a clear idea of what is to be done. In this show, a man tries to find the best way to propose his love and ends up taking her on a walk down memory lane in and around the office itself. He includes things like, 'The place where they met for the first time',' the place where they kissed for the first time, 'the place where they said I love you for the first time, and many more. You too can take your husband down memory lane in this way.
A long Road Trip
Road Trips in themselves are one of the best things, right? Long trips on the other hand? Best of them! You too should try to go on a long road trip. Make sure it is a surprise for your husband and make sure that it is a well-planned trip by you. Surprise him at each point and keep it thrilling. Keep it romantic and this would be one of the best creative birthday ideas for husbands.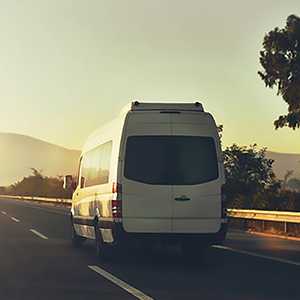 A perfect & romantic movie date at home
Arrange your house with dim lights and enjoy romantic movies with your comfy clothes on with a bowl filled with popcorn and obviously your prince charming. What else do you want? This in itself is so creative and lovely. Put on your favorite romantic movie and enjoy it hand in hand. Isn't this one of the most creative birthday ideas for husbands?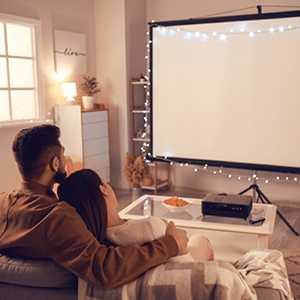 A handwritten love letter
A pen and a paper are never out of season. Expressing your love and letting them know how important they are for you will shower him with joy on his birthday isn't this one of the best creative birthday ideas for husbands?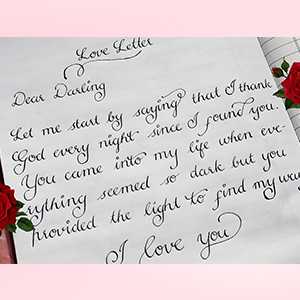 So, that is our top 7 suggestions for creative birthday ideas for husbands. Make sure you personalise each of these ideas in your own way, make it romantic, thrilling, and let us know if it helped If you found these as creative and romantic ways to celebrate your husband's birthday, then share it with your family and friends helping them to celebrate their loved one's birthday in a creative and romantic way.