Birthday Wishes for Girlfriend
A girlfriend's happy birthday wishes are as important as picking birthday gifts for girlfriend. If you are searching to make her feel special on her birthday. Then look at Tring's collection of birthday wishes for girlfriend that will melt her heart. So, scroll down for some amazing birthday quotes for girlfriend. Trust us. It will match your expectation for sure.
This will make her day even more special because our wishes will convey your feelings about her. A simple wish wouldn't be enough, so Tring offers unique birthday wishes for girlfriend. These wishes are around the celebrities you love and will make them feel like one of them. Thus, pick the best birthday wishes for girlfriend and make the day about her.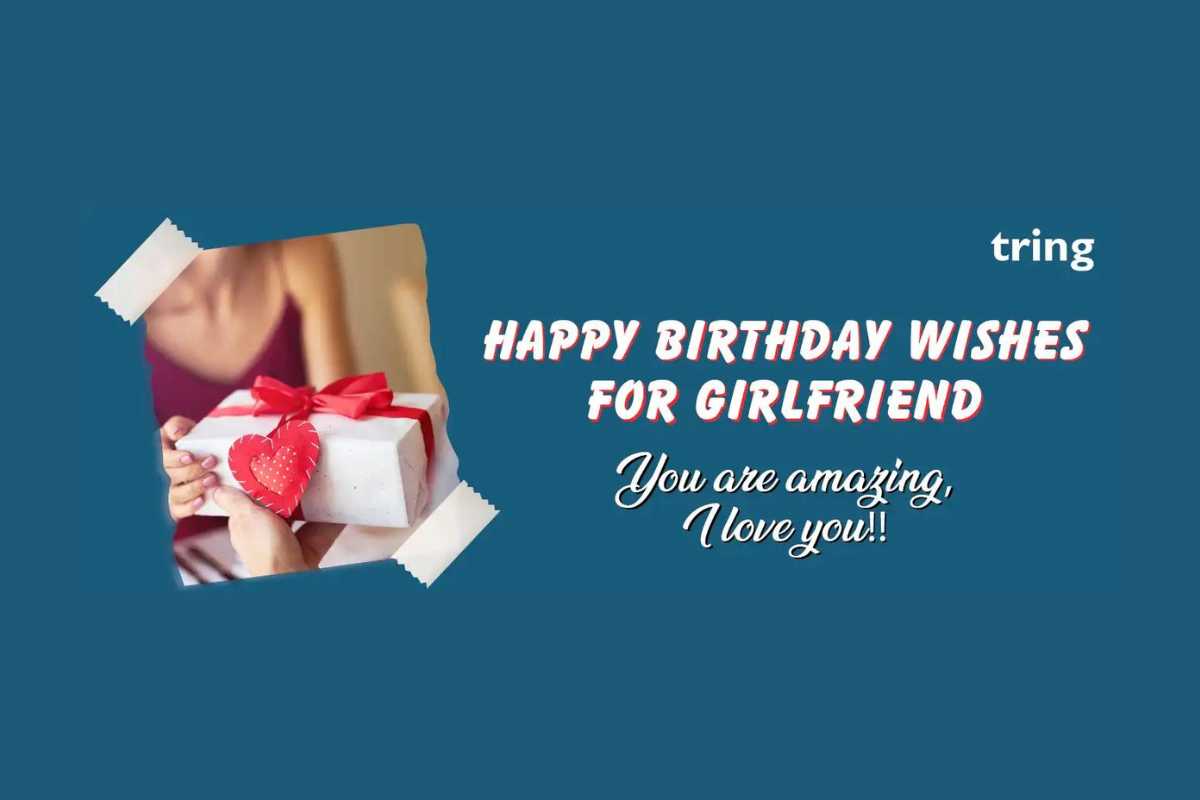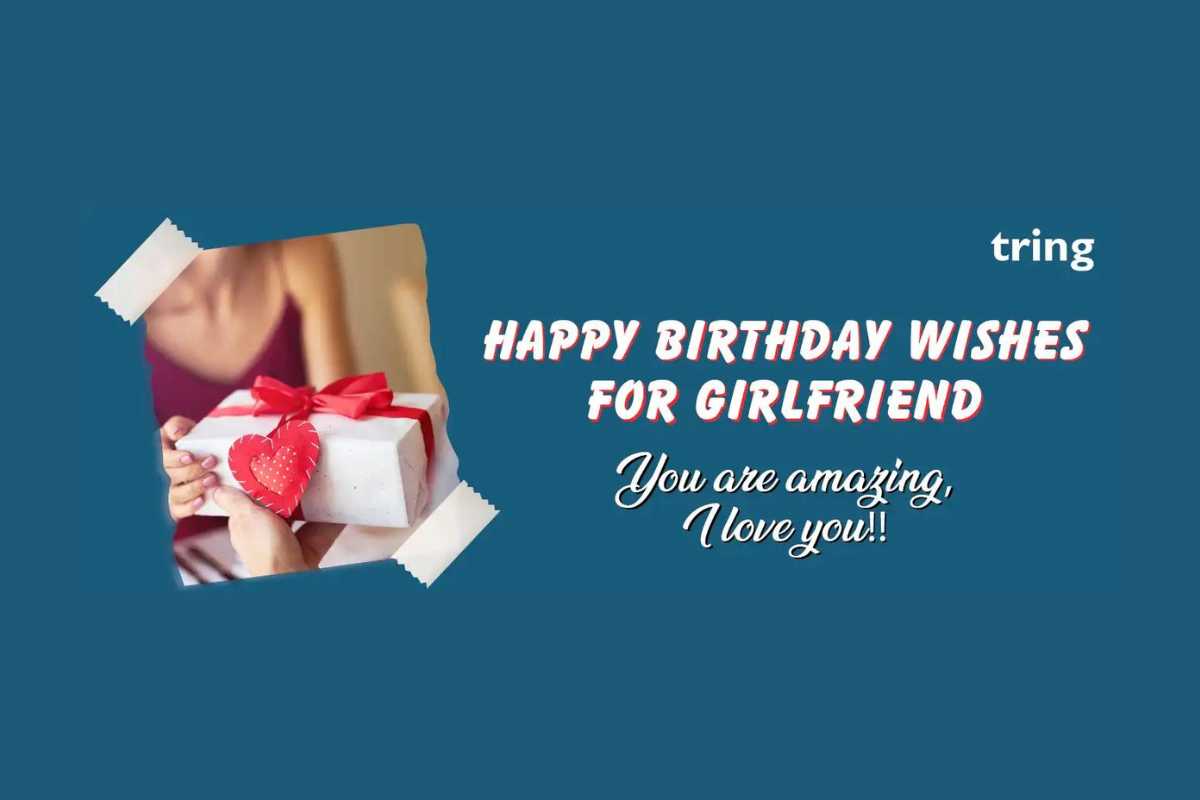 Best Birthday Wishes / Quotes for Girlfriend
Trust me, "Ae Dil hai Mushkil" without you, stay with me forever my love. Have a great birthday.

For world Kangana Ranaut is the one and only Queen but for me you are my only queen! Happy Birthday my drama- queen!

Shiva got his Isha, Vikram Bhatra got his Dimple, and I got you. Warmest Birthday my love.

I haven't fought for my love just like Ram did for his Leela, but I have loved you, loving you and will love you every day. Love you, my Prem Kahani.

I promise you to be your A-Z of love. My love for you will always be growing as Alia and Ranbir.

Baby, you are my favourite heroine, our love story is my favouite movie and the moment with you is very precious to me.

I have love you Shiddat se! Happy birthday.

Forever. Have a great celebration my Madhuri Dixit.

I must say our love story is 'Shuddh Desi Romance' My forever romance.

You have really though me what is Aashiqui'. Warm birthday!

I am the true lootera of your heart. Great Birthday my sweety.

You have me a true Raanjanaan' in your love. Perfect birthday to my love.

Promise to watch 'Yeh Jawaan Hai dewaani' 1000+ times with you. Have the best Birthday, baby.

My love for you will be 'Jab tak hai Jaan', Happy birthday my cutie pie.

I understand what is the really meaning of 'Jannat by being with you. Happy Birthday love.

Let's make this moment forever, you never know 'Kal ho na ho'. Birthday greeting my Shona.

Kuch kuch hota hai, when I see you! Wishing you a warmest Birthday my life.

Be ready because one day' Diwale Dulhania le jayeage'. Delightful birthday my Simran.

Would happily be Fanaa in your love.

I am in deep love with you, that's why Rab ne Bana de jodi'

I am happy to even being Ghulam in your love. I love you the most.

Chalte chalte we have completed so many years and many more to go. Promise to celebrate much happiest birthday with you!

Veer got her Zara forever then why not me? Love you.

Hum-Tum is forever! Warmest Birthday.

I have so many happy moments with you, so it was obvious, ' Pyaar toh hona hi tha' Greeting on your birthday, my love.

How everything is always being perfect, Na tum jaano na hum' Enjoy your birthday baby.

Dil chahta hai, you always be happy and with lots of good blessing. Darling, have the best birthday.

If I could name our love story I would name 'Love Aaj Kal'.

Waiting for being your 'Sajaan' Great Birthday my to- be sajaani.

Honestly, Hum dil de chuke Sanam' I love you. I hope you have great year ahead.

My love is forever' Tere Naam'. Have a great birthday.

Our Love story > Ajeeb Prem ki Ghazab prem Kahaani'

The kites of my love is always flying high. Enjoy your birthday.

Yes Boss! You will always be the boss. Have a great birthday to my personal Boss.

Dil toh Pagal hai, for you and with you! Warmest birthday wishes babe.

Please,' Kabhi Alvida na Kahena'. Be forever. Happiest Birthday.

Everything was magic 'Jab we met' Delightful birthday to my geet.

I promise to have a great 'Vivah' with you! Wishing you a amazing birthday love.

Socha na tha' We would be in love so deep.

Everything is you! Happy birthday to my isqh

How it started, Na jaane tu..... ya jaane na'. Great Birthday.

I hate love story' but now I love our love story'. Best birthday to my story.

I hope our silsla is forever.

U me Aur hum. That's end of the story. Warm birthday

Dil' beats for you. Have a wonderful birthday.

Ishq Vishq, pyaar wyaar only with you, my heart. Have a great birthday.

From Dostana to Lover everything is beautiful. Have a warm birthday my best friend.

Once upon time in Mumbai I met you and fallen for you. Wish you a great birthday my love.

Kurbaan in you, your time and your love. Happy Birthday.

This is 'pyaar k side effect'. Hahaha! Have a great day babe.

I always wanted some who understand me and, koi mil gaya' that's you. Have a blast Birthday.

Dil se I love you and will always love you. I hope you have a great birthday.

Lucky: Kismat konnection happened. Wish you a delightful birthday love.



Romantic Birthday Wishes for Girlfriend
Trust me, "Ae Dil hai Mushkil" without you, stay with me forever my love. Have a great birthday.

Aap ka aa jane sa, everything gets changed in my life! Greeting on your birthday my Dhadkan!

From the day you entered my life, Mera dil Pagal ho Gaya. Wishing you happiest birthday to you janu!

Our Love story will always be best like Shahid and Mira Kapoor. Warmest Birthday, meri Jaan!

I don't need anything now, because mere Liya tum Kafi ho! My Dreamgirl have a beautiful birthday.

To my lover. Thank you for bringing happiness into my life. I love you with all my heart, as you love Ranveer Singh!

Agar tum sath ho, then I can face any situation in my life.

Mai toh raste se ja rha tha and my eye connected to you. Have a great birthday my jaanaman!

Ya Dil Chahta hai ki to convert you from Ms to Mrs. Greeting on your Birthday to my to-be Mrs!

I will never leave you alone, "Sanam Teri Kasam"

Kuch Kuch Hota hai senorita, when I see you. My sweetheart, wish you the happiest birthday.
Like bunny and Naina let's create great memories, let's make our Jewaani into total dewaani.

This might sound a bit filmy, but I will love you Jab Tak hai Jaan.

I promise you to welcome all your happiness prosperity and good vibes. Happiest birthday to my pretty wife!

Indeed would love to be "Joru ka gulam'

Ready hai Mrs khiladi Miss khiladi ki ha chahiye! Congrats on your birthday to my Miss Khiladi!

Still remember the day, when you said to me Kaho Na Pyaar hai.

My heart has been lost since I saw you, and now it's calling me Teri ore. Lovely Birthday wishes girlfriend.

Nothing is better than staying together with you for my 'Janam.' Greeting on Birthday to you my darling!

My world starts from Tum Se and ends Tum Tak. Love you my Love!

My love for you is 'Be Intahan' wishing you a Happiest birthday.

You were the girl on the train who made my heart beat faster—wishing you a great birthday, my angel of God.

The day I met you, I became Pagglait in your love. May you find whatever you seek.

You are my beautiful and strong Sherni; wishing you a great Birthday, my baby love.

Tujhe Dekha Toh Yeh Jana Sanam, what is love and how to love wishing you a very Happy, Delightful Birthday.

Dil Toh Bacha hai Ji when you are with me. Wishing you a happiest birthday.
'Mujhse Dosti karoge 'the beautiful three words I told you!

Let's make the best of today as 'kal ho na ho'.

Only after doing Mohabbat with, you did I understand true love.

Ek Ladki Ko Dekha is the anthem of our love. On your birthday I would love to express all the love to you.

Ek Mai Aur Ek Tu, I was meant to be with you. Wishing you a Happiest Birthday.

You light up my world like a Jugnu in the dark.

Your beauty made me Ghayal, and I my love for you is like a fire. Have a perfect Birthday.

Jeene Laga Hu Phaile See Zyada Since you have become my girlfriend.

I promise to love you, Dil See, forever.

U Me Aur Hum is the only life I want to live with you. Wishing you a very delightful Birthday.

One day I will come to pick you with Band Baja Baarat.

Mein toh Ainvayi Ainvayi lut gaya in you, your love and your present. Happiest Birthday my whole world.

Spending every 'Pal' is beautiful with you. Warmest wishes to you my love.

The day my heart connected with you, 'Sukoon mila'. Have the best Birthday.

Birthday Wishes for Lover
Subhanallah… What a day it was when I meet you. Have a warmest Birthday, Darling!

Pehli nazar mai, I fell in love with you! Great Birthday my love!

Tu Jaane Na.. How much I am In love with you! Have a best Birthday.

I still remember our first conversation, which was started by mujhse dosti karoge and now, I want to convert it into mujhse shaadi karogi.

Since we meet, you have become my Phela Nasha. Happiest Birthday my love!

It will be a year when I said you Dheere Dheere Se Meri Zindagi Mein Aa Na. Best birthday, Jaan!

Since I have fallen for you. Yeh dil meri na sune
"Pehli Nazar MaiPyar ho Gaya", when I saw you for the first time! Warmest Birthday, jaan.
I always remember woh lamhe woh baatein, that we spent together. Best Birthday my love!
My world gets stops when Tera chehra jab Nazar Aaye". Happiest Birthday, Jaaneman.
With you, I never know, how time goes, Shayad Yahi Pyar hai. Warmest birthday my love.
O meri Jaan, very lucky to have you in my life. Happiest birthday!
What a day it was.. when you say Humko Pyar Hua. Have a great Birthday my one and only.
Tera Mera Rishta should stay long forever. Happiest Birthday my life!
Pyar ki Ek Kahani, I would also like to tell our children. Lovely Birthday, Darling!
Achha Lagta Hai… when you get angry with me! Have a great Birthday my love!
Only for you, yeh dil dhadakta hai. Warmest Birthday Jaan!
Tera Naina driving me crazy every day. Happiest birthday, bebo!
My love! Thanks for teaching the real meaning of Ishq Wala love.
Tu Jaane Na, how much I love you. Have a great Birthday, sweetheart!
Proud of myself, to choose you as my pehla Pyaar. Warmest Birthday, jaaneman.
Uffi Teri Adaa, I love the way you entered into my life. Happy Birthday my love!
Tere bin it's muskhil to live. Great birthday, meri dhakhan!
Feeling very lucky to call you sweetheart every morning. Happy Birthday!
Kurban hua in your eyes, love and in your arm. Lovely Birthday wishes!
I am all Raazi to make you my forever. Happiest Birthday my world.
Yeh sham mastani because it's your birthday baby. Delightful Birthday my happiness.
Some year later you will be my 'Humsafar'. Awaited! Happy Birthday.
Is adar par I can even die. Lovely birthday to you!
I am falling in love with you 'Firse'. Happy birthday my lovely girlfriend.
Ek mulakat' was much to make you mine. Happiest birthday mine!
Deere deere se meri zindagi, and we will make beautiful memories that will stay with you and me. Congrats on your birthday.
Ek ladki bheji bhagi si and I am in love with that ladki. Greeting on your birthday.
I agree today now your favourite line, 'Pyar kiya toh darna kya'. Have a beautiful birthday to my Girlfriend.
Awara pagal deewana' in your love. Happiest Birthday jaaneman

Pal pal dil ke paas its you, your present and your love for me. Warmest and loviest Birthday wish!

Tring knows how important your girlfriend is and how difficult is to make her feel special on her birthday. Any day is a good time to tell her you love her and how important she is to you, whether it's her birthday, anniversary, or a random day. Her birthday is one of the most wonderful days because it is all about her, and she expects special treatment from everyone after her family. To make it memorable, the first step is to have the best birthday wishes for girlfriend. If you add something special to your girlfriend's birthday wishes, it will make a big difference in her memory.
The above Birthday wishes for girlfriend will help you to impress her and showcase more love and joy. So, pick the best one and make your girlfriend's birthday the best one. Do wish happy birthday to your girlfriend from the entire team of Tring.
Frequently Asked Questions