Birthday Wishes For Friend In Hindi
A relationship with a best friend is one of the most cherished and meaningful relationships that a person can have. A best friend knows you inside out, has seen you at your best and worst, and loves you unconditionally. They are the person you can always count on, no matter what.
A best friend is someone you can laugh with, cry with, and confide in. They are there to support you through thick and thin, to give you a shoulder to cry on when you need it, and to offer words of encouragement when you feel like giving up. They are the person you turn to for advice, for a good laugh, or just a good laugh, or r best friend's birthday make this relationship even more strong, show them how much you love them, express how much they matter for you, send them amazing wishes from the below list and make their day special.

25+ Amazing Birthday Wishes For Friend in Hindi
Table of Contents
-Funny Birthday Wishes for Friend in Hindi
-How to book a personalised celebrity wish on Tring?
1. Happy birthday dost jo mujhe isse duniya mein sab se zyada janta hai. Tu hai toh meri zindagi bhi hassan hai. I love you.
2. Teri sari khushiya, safalta aur mera jaisa dost teri zindagi me ho yehi dua karta ho. Happy birthday.
3. Tu hai meri dost sabse pyaari, Mubarak hai tujhe janam din yaar,Naraz kabhi na lage tuje kiski, uddas kabhi na ho hassne muskan tumare. Janam din ki sukamane.
4. Ek he dua hai aapke jaman din par humareNa tut kabhi dosti humare,Sari zindagi dege khushiya aapko,Aur wo khushiya hoge pyaari pyaari.Happy Birthday.
5. Aap k pass dosti ka khajana hai,Par yeh dost aapka purana hai,Yeh dosti ko bhul na dege kabhi,Kyuki yeh dost aapke dosti ka dewana hai.Happy Birthday.
6. Thank you bolo usse bhagwan ko,Jisne hume aapko milaya hai,Ek pyaare, intellegent dost se hume na sahi,Par tumhe toh paaya hai.Happy birthday.
7. Dost tu hai sabse niyara,Tuje mubarak ho janadin oh yaar,Kisse ki kabhi nazar na lage tujhe,Kabhi udas na ho yeh chehra pyaara pyaara.Happy birthday, dost.
8. Dost, lakho me bhi nahi milte teri jaisa dost, aur Karodo me nahi milte meri jaisa dost.Happy birthday, dost.
9. Dil me meri yehi dua hai tu khush raho tume,Mile na koi gum jaha bhi raho tu,Samadar k tarah dil hai gehara tumara,Sada Khushiyo se bhara rahe daman tumhara.
10. Teri chehre par muskan yuhi khelte rahe,Teri zindagi khushiyo se bare rahe,Teri jeevan me meetadas he meetadas rahe.Janam din ki subkamaye.
11. Zindagi k sabse pyaara hessa ho aap hamara,Duniya sari ek tarah aur aapne yaare ek taraf,Happy Birthday my dear.
12. Aaj ek duwa mangte hai hum aapke bhagwan se,Ki meri sari khushiya de de aapko,Aur aapke sare ghum hume.Happy birthday.
13. Dost, happy birthday bhagwan tujhe sari khusiya de.
14. Jaise-Jaise aapki umr badhatee ja rahee hai aap aur adhik aakarshak, adhik sundar, aur adhik adbhut hote ja rahe hain. aapako sadaabahaar sundar janmadin kee shubhakaamanaen.
15. Aapake cake mein shaamil hone ke liya aur momabattiyaan aane vaalee hain. Aasha hai ki aap unhen bahut jald dekh payenge.
Other than that you can also send Birthday Wishes for Best Friend Male.
Funny Birthday Wishes For Friend In Hindi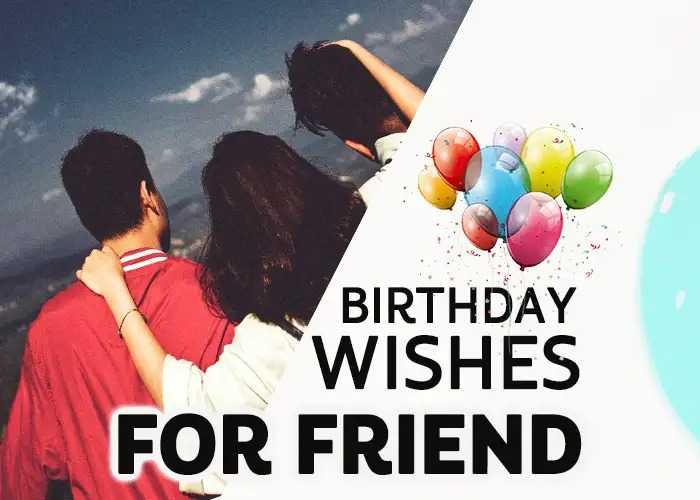 1. Tu hain mera dost sabase pyaara , mubaarak ho tujhe tera janmadin yaara , nazar kabhee na lage tujhe kisee ki , udaas kabhee na ho haseen mukhada tumhaara.
2. Janmadin mubaarak ho mere pyaare dost, ho sakata hai ki chamakeele rang aapake jeevan ko rang den aur aap hamesha khush rahen. khush raho mere pyara dost.
3. Apake paas doston ka khazaana hai, par ye dost aapaka puraana hai , is dost ko bhula na dena kabhee, kyunki ye dost aapki dosti ka deevaana hai.
4. Birthday kee bahaar aayee hain, aap ke liyen khushiyon kee best wishes laayee hain, aap smilai karo har din, isaliye bhagavaan se hamane aapake lie dua.
5. Aapake saath samay bitaane se jyaada khushi ki koi baat nahi ho sakati hai, aaj ka din ab tak ka sabase achchha ho. Janmadin mubaarak ho dost.
6. Shukriya karo us Bhagavan ka, jisane hamen aapako milavaaya hai, ek pyaara-sa achcha aur intelligent dost hamane na sahi, aapane to paaya hai.
7. Janmadin mubaarak ho priy mintra , yah din aapake jeevan mein ek hazaar saal tak vaapas aae.
8. Na gila karata hoon, na shikava karata hoon, tu salaamaat rahe mere dost, bas yahee dua karata hoon… happy birthday to you.
9. Birthday par bajaoonga aapake lie yah taraana, janaab aap aaj se rojaana jaroor nahaana. wish you a very happy birthday.
10. Raaten tumhaaree chamake, uthe damak uthe muskaan birthday par mil jae led bulb ka saamaan, happy birthday dear.
11. Is birthday aap chakai, khaana bahut hee chaba chabaakar, buree aadat hai tumhaaree rakhana next birthday tak chakai bachaakar. Janmadin mubaarak ho.
12. Har kadam par tum mere lie ho. achchhe aur bure ke maadhyam se main hamesha tumhaare lie rahoonga. janmadin kee shubhakaamanaen!
13. Birthday par eesh var kare aap par aisa chamatkaar kabhee na lena pade, aapako hamase udhaar. happy birthday bestie.
14. Janmadin kee taiyaaree karo itanee shaan-baan se, tum kek kaatane mein magn rahana aur ham kiss, le le tumhare jaanse. happy birthday to you.
15. Dear tere Zindagi ka, hua poora ek saal kam birthday kaise wish karoon, mujhe to hai gam, live long happy birthday dear.
16. Bhagwan kare ki birthday par, aap ho jao itane funny ki luta do ham par, aapaka saara money. Janmadin mubaarak ho dost.
17. Desh ke sabase bade rahasy yaanee tumhaaree asalee umr ke lie cheeyars janmadin bahut bahut mubaarak ho!
18. Mere pyaare dost laakhon mein milata hai tujh jaisa dost aur karodo mein milata hai mujh jaisa dost happy birthday.
19. Main aapake saath janmadin aur dosti ke kaur aur varshon kee prateeksha kar raha hoon.aapaka janmadin shaanadaar ho! ab aap sabhi cakee, pyaar, gale milane aur khushiyon ke hakadaar hain.
20. Birthday kee to party honee chaahie, wish to morning kee bhee hotee hai!
The relationship with a best friend is built on trust, loyalty, and honesty. You can be your true self around them, without fear of judgment or criticism. They accept you for who you are, flaws and all, and they love you all the more for it.
In short, the relationship with a best friend is a bond that cannot be broken. It is a friendship that lasts a lifetime, filled with love, laughter, and countless memories that will be cherished forever. A friend has always been honest with you and always loved you with all their heart. These wishes will surely make their day special and unforgettable because it will be all about them and your beautiful bond.
We hope you have liked our collection of best birthday wishes for friend in Hindi. Remember to share it with your friends/ family and other loved ones. So, what are you waiting for? Surprise them by giving them a lovely gift and fantastic birthday wishes for best friend in Hindi.
How to Book a personalised celebrity birthday wish on Tring?
The above were some of the unique ways to wish your friend a Very Happy Birthday and make it an experience. Make her day memorable with the most special form of wish imaginable.
What's better than your friend's favourite celebrity wishing them a Happy Birthday? This is your chance to get a celebrity to record and send an birthday wish to your best friend!
All the best experiences, moments and amazing anniversary wishes in one FREE Celebrity Video!
3 steps to share the best anniversary wishes with your best friend. Surprise them now!
1. Click here to fill out the form above.
2. Click on "Claim Your Rewards"
3. Select your favourite celebrity.
Your Personalised Celebrity Shoutout Video/Message will be delivered on your mail/Whatsapp which takes care of the happiness of your friend as well as your pocket!
Ready to make memories? Book your wish now!
Frequently Asked Questions