Sumukhi Suresh | Biography, Family, Career, Struggles, Facts

Faraz Shaikh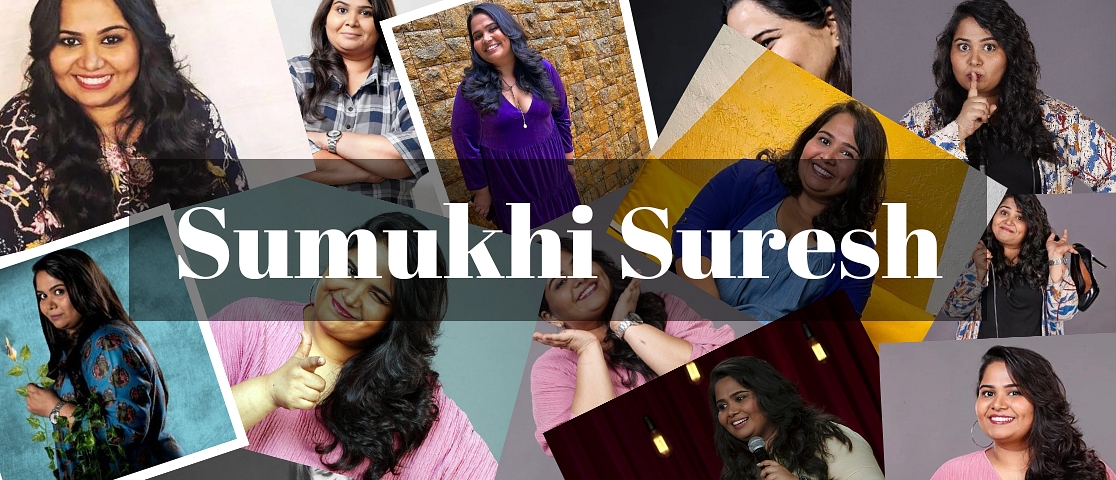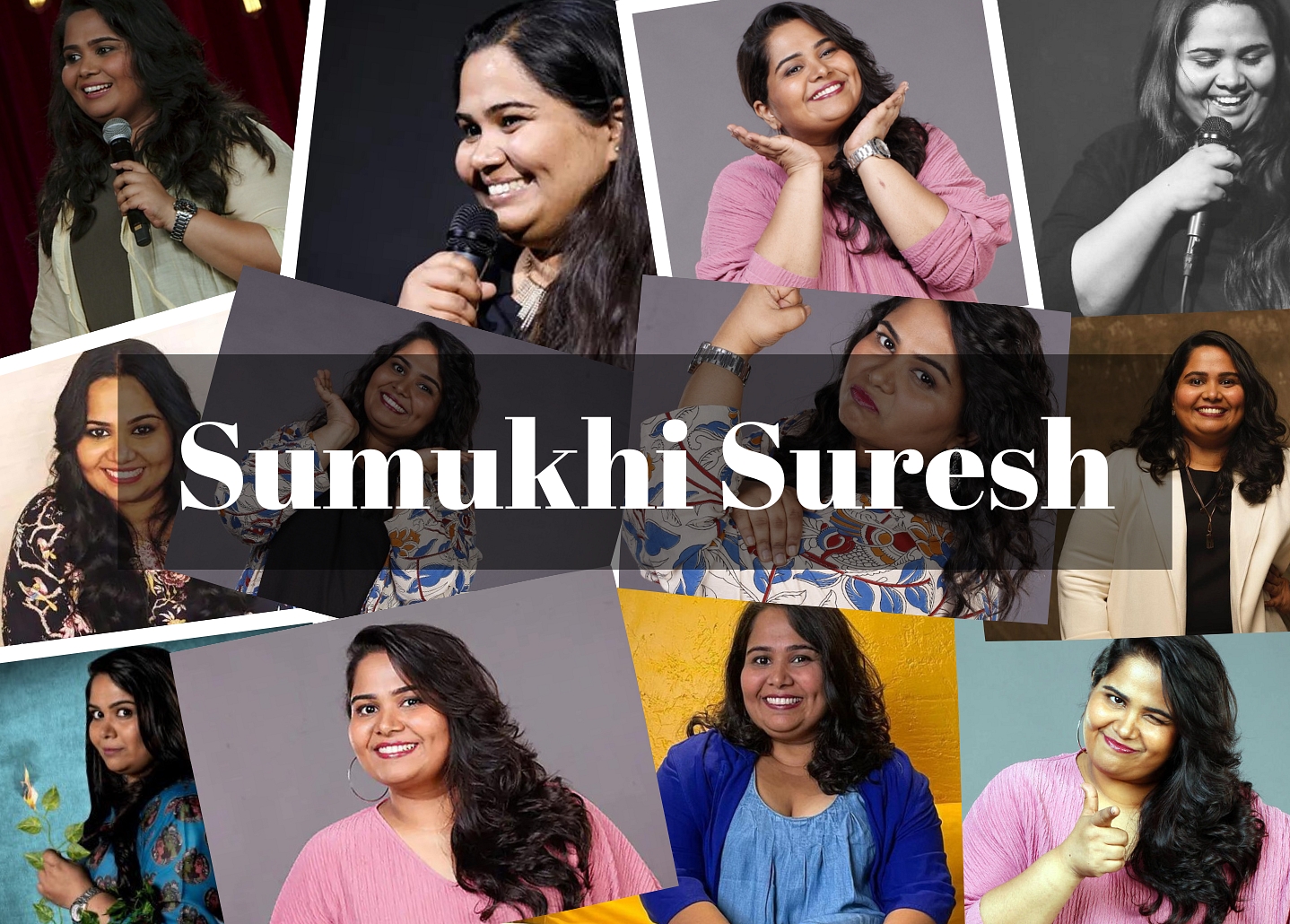 Sumukhi Suresh's Biography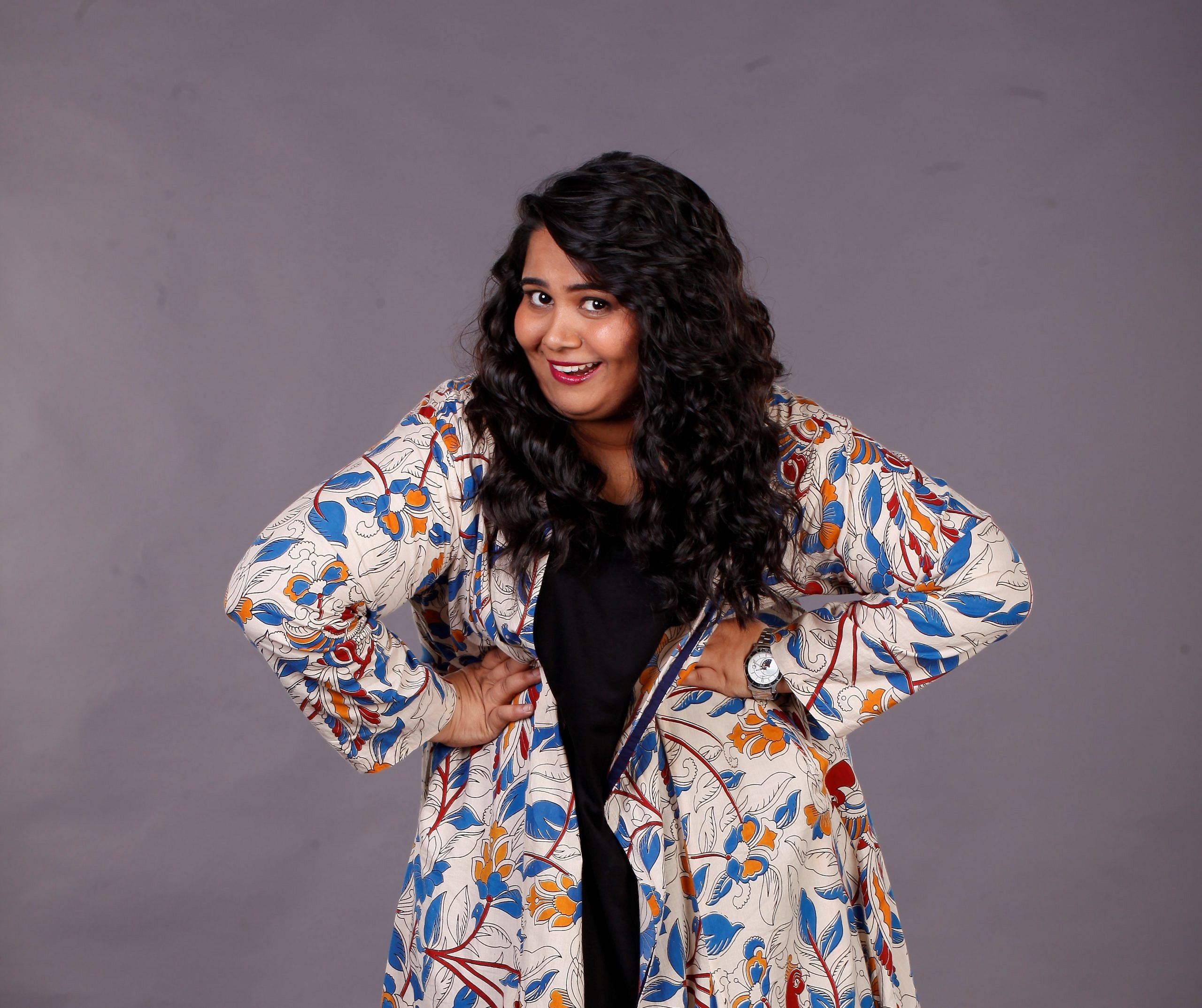 Sumukhi Suresh is a stand-up comedian, director, actor, and writer from India. Suresh Sumukhi was born on 18 October 1987. Sumukhi Suresh began her career working at a children's library before moving on to become a chef and eventually working at a food laboratory. Sumukhi's stage debut was at a Bengaluru comedy show called The Improv. She quit her full-time position to embark on a stand-up adventure. Sumukhi Suresh has so far worked in the Indian and Bollywood entertainment industries, and web series, podcasts, and films featuring her artwork have been produced in Hindi, English, Telugu, and Tamil. She is well-known for her humorous sketches that she both creates and performs for live performances and online platforms. Sumukhi Suresh was referred to as 'India's Tina Fey' in a Hindustan Times online article. Sumukhi Suresh has appeared on stand-up comedy programmes like Comicstaan, Go Straight Take Left, Comedy Premier League, and her solo special, Don't Tell Amma. The stand-up comedian and actor turned entrepreneur by launching a content platform called 'Motormouth,' which is especially for writers who are passionate about pitching stories for movies, web shows, and more. However, she is best known for her humorous yet twisted web series, 'Pushpavalli.'
Talk To Similar Celebrities
Sumukhi Suresh's Family and Sumukhi Suresh's Education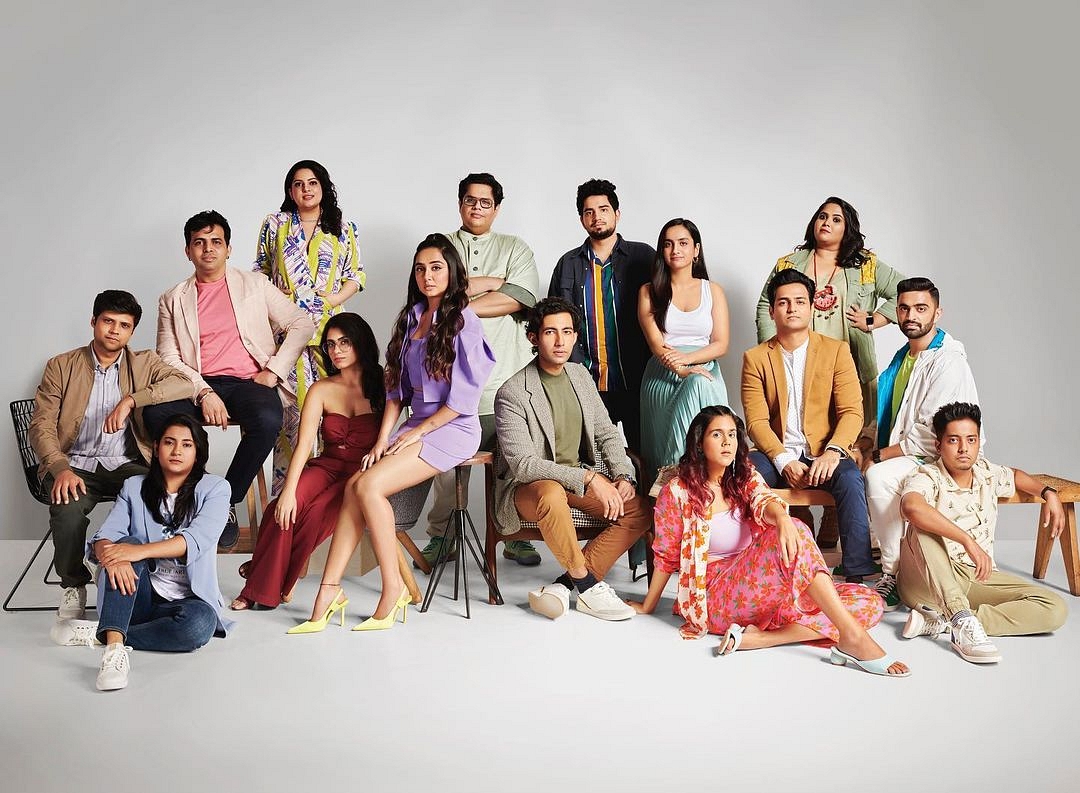 Sumukhi Suresh was born on 18 October 1987. Sumukhi Suresh's age as of 2022 is 35 years. Sumukhi Suresh's zodiac sign is Libra. Sumukhi Suresh was raised in Nagpur, even though her mother comes from Tamil Nadu. Sumukhi Suresh received her degree from Chennai's M.O.P. Vaishnav College for Women. Sumukhi Suresh has done her graduation in Food Science Management, Dietetics, and Nutrition. In 2009, Suresh relocated to Bengaluru and began working at the children's library Hippocampus. She later went on to work as a chef and for a brief time, she was also employed at a food laboratory. While working at the lab in 2013, Sumukhi joined The Improv, a Bengaluru-based improvisational comedy show. Sumukhi performed in 100 shows with the rest of the Improv team in Bengaluru, Dubai, Mumbai, Hyderabad, and Sweden. In 2015, she left her full-time job to pursue a career in comedy.
Sumukhi Suresh's Career
Sumukhi Suresh's first video was 'Anu Aunty - Engineering Anthem with Varun Aggrawal,' and it was followed by 'Maid Sketch with Sanjay Manaktala.' Sumukhi became well-known for playing 'Sumukhi Chawla' in the Better Life Foundation YouTube series. Writer, producer, and stand-up comedian Sumukhi Suresh began her career in Bangalore. Sumukhi rose to prominence through her YouTube sketch series Behti Naak (2016), as well as her roles in the mockumentary web series Better Life Foundation (2016-2018). She then created, wrote, and starred in Pushpavalli (2017-2020), an Amazon Prime original series that won numerous awards, including Best Actress at the 2020 Filmfare OTT Awards and Istanbul Film Awards. Sumukhi has created and starred in productions for various streaming platforms, including Disney+ Hotstar's Beauty and the Feast (2018), Netflix's Lust Stories (2018) and Comedy Premium League (2021), and Amazon MiniTV's Hum Doh Teen Chaar.
Other notable works include co-writing and starring in the sketch show Go Straight Take Left (2018); hosting and judging on Amazon Prime's Comicstaan (2018-); starring in the comedy film Humble Politician Nograj (2018); producing her first short film Notary (2019); and releasing her first stand-up special, Don't Tell Amma (2019). Sumukhi recently founded Motormouth Writers, a content creation company dedicated to developing female-centric characters and roles, and she is currently working on two films and a new series. She is also touring in support of her new Netflix stand-up special. She told NewsX that the comedy industry is still in its peak period and that it is still more of a community than an industry. She also believes that live performances and social media are complementary for comedy and cannot be replaced by one another. 'Because I perform stand-up comedy, a lot of doors open up for me. The biggest benefit is that. People hear you because they are familiar with you and recognize your voice, she told PTI in an interview.
Sumukhi Suresh OTT and Stand-Up Specials
Pushpavalli
The protagonist of Pushpavalli, a story about a stalker in her 20s, is Pushpavalli. She is a creeper throughout the show, and her name also means that. At a conference, Pushpavalli meets Nikhil, a food trader, by accident and becomes smitten with him. She then follows him like crazy after that. She relocates to be near him, taking a job in the same lane as Nikhil, and even moving cities for him. The drama takes place in Bangalore. Pushpavalli frequently commutes between her PG and the children's library where she works. Amazingly written and superbly performed characters with hilarious quirks abound in both settings. Naveen Richard, a comedian who also serves as one of the show's executive producers, portrays Pankaj as a loudmouthed, impatient, and generally impertinent man. He is both Pushpavalli's boss, who never misses an opportunity to belittle her at work, and her childhood friend who gave her the job at the library. Even though he frequently loses his temper, we catch a glimpse of his sensitive side at the conclusion. Some of the best and funniest scenes in the show are when Pankaj and Pushpavalli are together. Naveen Richard abandons his naive boy next door persona from Better Life Foundation and reverts to his loudmouth avatar from Pushpavalli, where he commands everyone around. He plays Pankaj, the director of the children's library where Pushpavalli works, and he brings some quirky wit and blunt honesty to the role. Despite spending all day around children, he could care less about using the F-word.
Comicstaan
Hopeful humorists from everywhere in India contend to see who will be the fate of amusement. Guided by the greatest comics in the nation, figure out who will be delegated the victor of Comicstaan. Comicstaan is an Indian stand-up parody contest TV series made by Just A lot Stronger for Amazon Prime Video. The show unites sprouting Indian jokesters to track down the following large name in stand-up satire. The series debut and three following episodes dropped on 13 July 2018. In its most memorable week, Comicstaan turned into the most watched show on Amazon Prime Video in India. The judges for Season 1 were Biswa Kalyan Rath, Tanmay Bhat, Sapan Verma, Kaneez Surka, Kanan Gill, Kenny Sebastian, and Naveen Richard and it was facilitated by Abish Mathew and Sumukhi Suresh. The stupendous finale of Season 1 was delivered on 17 August 2018 and Nishant Suri, a challenger from Noida, arose as the winner. On 6 August 2018, Comicstaan was recharged briefly season. Entertainer Sumukhi Suresh was accounted for to be remembered for the setup of judges and tutors for Season 2 with Sapan Verma and Naveen Richard not expected to return. Furthermore, Tanmay Bhat was dropped from Season 2 on 14 November 2018, a month after he was expelled from All India Bakchod because of charges of inaction against sexual harassment. Season 2 debuted on 12 July 2019 with the expansion of judges Neeti Palta and Sumukhi Suresh who co-facilitated Season 1 as judges and guides and Urooj Ashfaq joined as co-host. Comicstaan Season 2 debuted on 12 July 2019 where it delivered its initial three episodes alongside one reward episode. This season had Biswa Kalyan Rath, Kaneez Surka, Kanan Gill, Sumukhi Suresh, Neeti Palta, and Kenny Sebastian as judges. The champ of Season 1 was Nishant Suri. The triumphant prize of Season 2 was together shared by Samay Raina and Akash Gupta. The victor of Season 3 is Aashish Solanki.
Humble Politician Nograj
Nograj, a narcissistic psychopath politician who abuses a city's resources, is portrayed by Danish. The movie centres on Nograj's attempts to win the upcoming elections as an MLA and the opposition he will encounter. Nograj (Danish Sait) represents the fictitious DS Nagar constituency, where MLA Jagatprabhu F Kumar, also known as JFK, treats corporators like his servants. The movie centres on Nograj's attempts to win the upcoming elections as an MLA and the opposition he will encounter. In the upcoming elections, he must find a way to unseat MLA JFK and defeat charismatic businessman Arun Patil, who follows the rules. The 2018 Indian comedy Humble Politician Nograj was written and directed by Saad Khan. Danish Sait, who plays the narcissistic politician Nograj, is the star of the movie. The movie was made by Pushkara Mallikarjunaiah, Hemanth M. Rao, and Rakshit Shetty under their respective production companies, Pushkar Films, Lost & Found Films, and Paramvah Studios. The Campaign, a 2012 American film, served as its inspiration. The 2018 Indian comedy Humble Politician Nograj was written and directed by Saad Khan. Danish Sait, who plays the narcissistic politician Nograj, is the star of the movie. The movie was made by Pushkara Mallikarjunaiah, Hemanth M. Rao, and Rakshit Shetty under their respective production companies, Pushkar Films, Lost & Found Films, and Paramvah Studios. The Campaign, a 2012 American film, served as its inspiration.
Better Life Foundation
This web series is a masterful mockumentary; it is funny and only gets funnier with each new episode; it is on par with other mockumentaries; and it sets the bar high for other Indian shows, or more specifically, other web series. Original content should be adapted for more seasons because what they are doing is brilliant, and all the actors deliver excellent performances. Smart observations about class and the patronizing attitude well-meaning privileged people have toward the underprivileged are made in a mockumentary about a struggling NGO. The creators contend that the mockumentary is a genre that has been used in a number of films and television programmes, predating The Office by many years. The founder of the NGO Better Life Foundation, Neil Menon, is a bumbling but enthusiastic boss who instructs his staff to enter the 'circle of solutions,' which, as his abrasive and effective programme head Sumukhi Chawla points out, is simply a conference room. It's difficult to avoid thinking of David Brent when you meet him. This season's writing is simply outstanding, with both overt and more subtle humour. And I adored the cameos. Watching Indian comedy mature has been the greatest pleasure of my life, and BLF is unquestionably the best Indian comedy web series to date.
Sumukhi Suresh's Career Timeline
Sumukhi Suresh's Struggles
Sumukhi Suresh's story took some twists and turns to get where it is now, from culinary dreams to comedic dreams. Additionally, Sharanya S discovers that she still has a ways to go. Being a woman trying to make it in the male-dominated comedy industry is very difficult. However, Sumukhi defied comedy stereotypes and became one of the most well-known female stand-up comedians. Sumukhi Suresh, who was dubbed 'India's Tina Fey' by the Hindustan Times for her most original and creative writing style, overcame many obstacles and challenges to achieve widespread popularity, proving that women's potential is incalculable. Since there was no time to moan, create better characters, or come up with original ideas, a 'Motormouth' was used to write and pitch stories. Sumukhi Suresh turned to theatre in 2013 after being unable to find the right way to deal with her heartbreak. 'I signed up to audition for what I mistakenly believed to be a play called 'The Improv,' and when they didn't give me a script and forced me to act out made-up scenarios, I became upset. Theater has gotten so slack, I thought.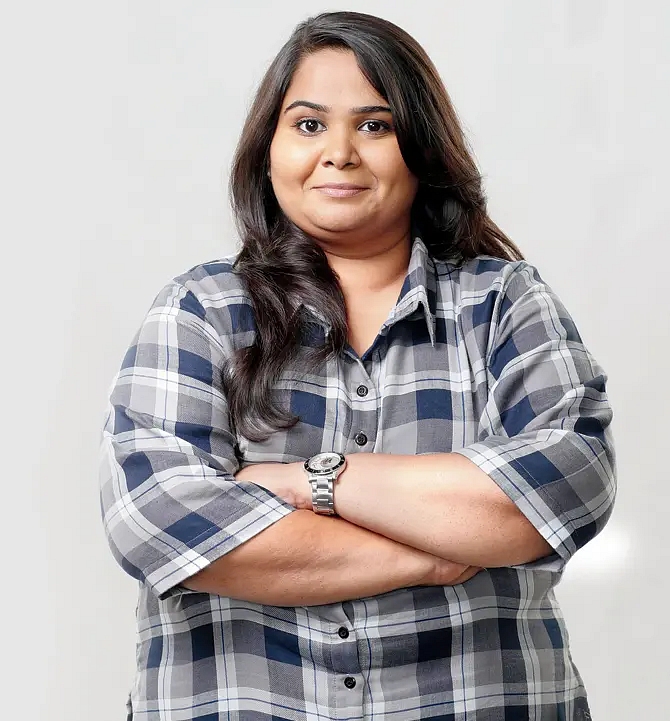 Danish Sait, Saad Khan, Darius Sunwala, and Sumukhi Suresh joined the improvisation group The Improv in Bengaluru after that audition. She initially treated improv just like any other hobby. I was content with my job and had one. I wasn't really putting my all into it, she admits. Her foray into comedy started in Bangalore, and by November of the following year, she had made up her mind that she would regret not giving comedy a try. She appeared in a Varun Agarwal video called 'Anu Aunty,' which also included rapper Brodha V and comedians Sanjay Manaktala, Praveen Kumar, Sundeep Rao, and Praveen Kumar. She performed when she could, and she co-wrote the sketch show 'Sketch in The City' with fellow comic Richa Kapoor. She even participated in Kaneez Surka's improv workshop. Sumukhi first met Naveen Richard, a comedian and improviser who has since become a longtime collaborator, at this workshop.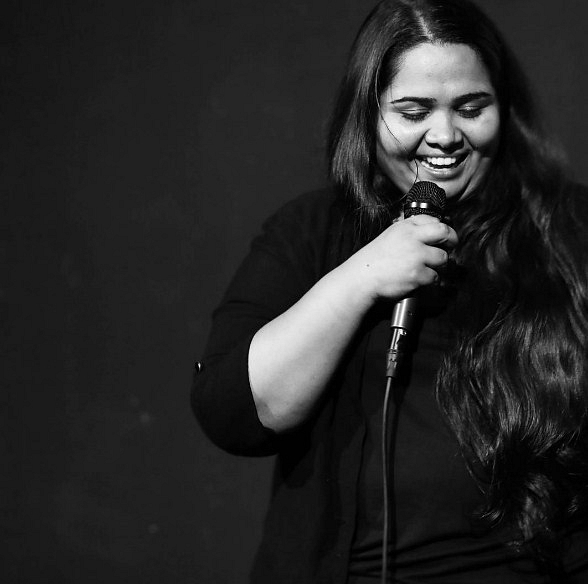 They have performed 'Go Straight, Take Left,' an absurd, perceptive, and hilarious sketch show, in three cities so far. The loosely structured show, which allows for improvisation, is a very entertaining live performance. And a big part of why it works is because Sumukhi and Richard are both excellent actors and improvisers. 'We make a peculiar team. We have chemistry, but people think it's strange and doesn't make sense. Richards informs me via email that he enjoyed writing the show because it was a challenge. She would be overflowing with ideas, and she would never turn down a good one, just as she had learned to do in improv. Because of this, I occasionally had to play the villain and reject some suggestions for the team's benefit.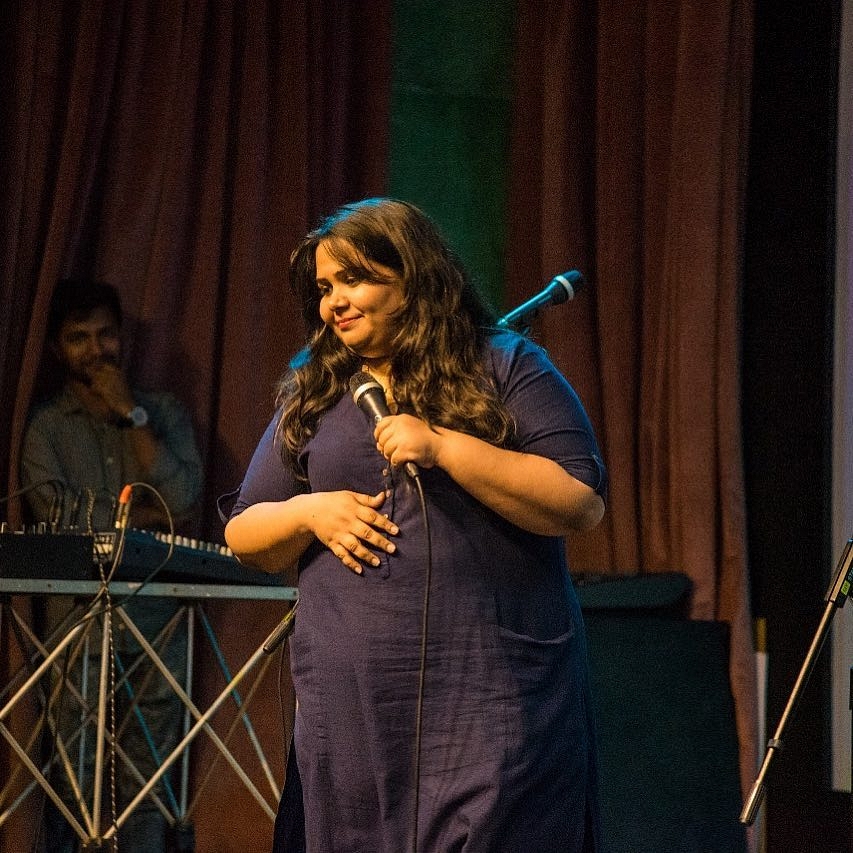 Sumukhi Suresh is natural, which makes it a pleasure to perform with her. As long as she is present, I have never gone on stage fearing the outcome. We were excellent at detecting and balancing each other's energy. Because of this, every show had a slight variation. I believe we were a great team,' Naveen Richard says. Sumukhi Suresh has established herself as a successful comedian and creator, from making everyone laugh with her stand-ups and sketches to unleashing creativity in the show Pushpavalli on Amazon Prime. This is a creator who does it all, including acting, writing, comedy, and content creation. Sumukhi Suresh is difficult to ignore if you follow Indian comedy, regardless of the type of comedy you enjoy. Improv? Sketch? Stand-up? What about a web series? She's done it all.
Sumukhi Suresh Awards and Achievements
Critics' Choice Shorts and Series Awards, India
2021 Series Award Best Actress Pushpavalli (2017) Season 2
Filmfare OTT Awards
2020 Critics Choice Award Best Actress: Comedy Pushpavalli (2017) (Season 2)
2020 Popular Award Best Actress: Comedy Pushpavalli (2017)
Istanbul Film Awards
2020 October Award Best Actress Feature Film Pushpavalli (2017)
IWM Digital Awards
2021 Popular Award Most Popular Actress in a Comic Role in a Web Series Pushpavalli (2017)
2019 Popular Award Most Popular Standup Comedian (Female)
Sumukhi Suresh Interesting Facts
Sumukhi Suresh rose to prominence with her YouTube series 'Behti Naak.'
Sumukhi Suresh also appeared in Naveen Richard's mockumentary web series 'Better Life Foundation.'
Sumukhi Suresh created and starred in the critically acclaimed Amazon Prime Video show 'Pushpavalli' for seasons 1 and 2.
Sumukhi has created and acted in shows for Hotstar's 'Beauty and the Feast,' Zomato's 'Banake Dikha,' and Netflix's 'Lust Stories.'
Sumukhi Suresh was also a judge and host on the Amazon Original 'Comicstaan.'
The actress's feature film credits include the 2018 Kannada satirical comedy 'Humble Politician Nograj.'
Her stand-up special 'Don't Tell Amma' was recently released on Amazon Prime Video.
Sumukhi Suresh took on the role of producer on 'Notary,' a short film that has been screening at film festivals.
Social Media
Frequently Asked Questions