Sanju Samson | Career, Age, Biography, Net Worth

Violeena Vargav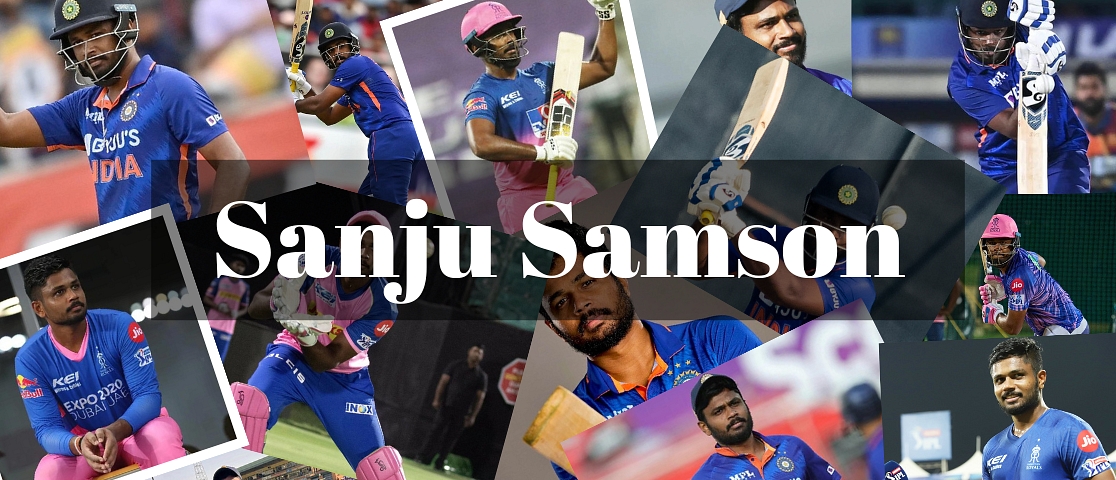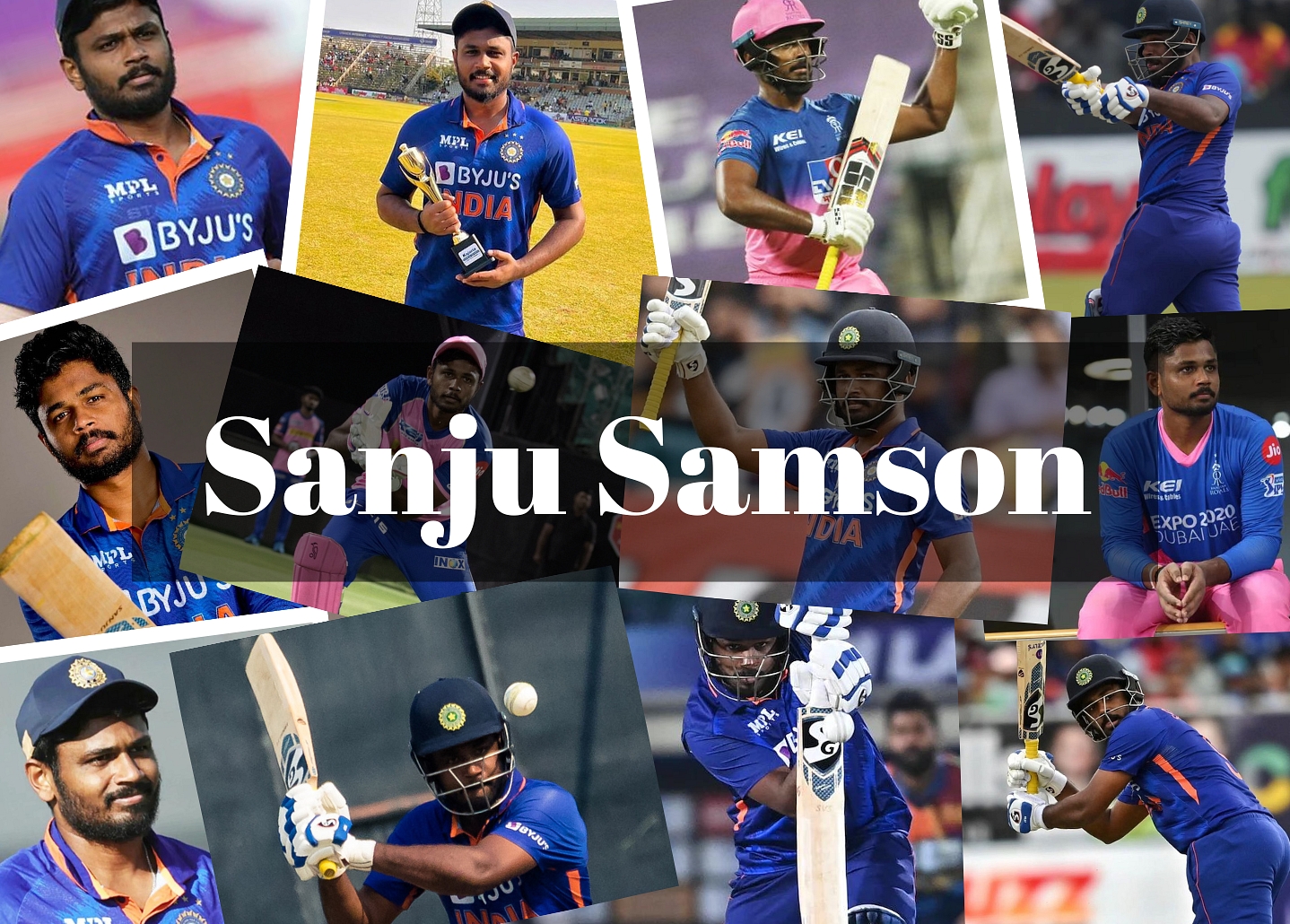 Sanju Samson Biography
Indian cricketer Sanju Viswanath Samson leads the domestic Kerala team and the Rajasthan Royals in the Indian Premier League. Sanju began playing cricket in Delhi before relocating to Kerala in his early adolescence. He made waves in junior cricket before making his Kerala first-class debut in 2011. He played for Rajasthan Royals on his IPL debut in 2013 and took home the Emerging Player of the Year award. In the 2019–20 Vijay Hazare Trophy, he scored an unbroken 212, the sixth time an Indian batted two centuries in List A cricket.

Sanju Samson's birthday is on 11 November 1994. Sanju Samson's age is 27 years as of 2022. Sanju Samson's birthplace is Pulluvila, Thiruvananthapuram, Kerala. Sanju Samson's zodiac sign is Scorpio. Sanju Samson's height is 1.70m or 5'7" in inches. Sanju Samson does right-handed batting. Sanju Samson is right arm off-break bowler.He was the vice-captain of the Indian U-19 side for the 2014 Under-19 Cricket World Cup and a right-handed top-order hitter and wicketkeeper. He played his first T20 international for India against Zimbabwe in 2015. He played Sri Lanka in his first ODI match in 2021.
Talk To Similar Celebrities
Sanju Samson's Family and Education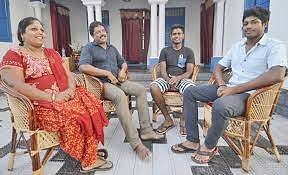 Sanju Samson's father's name is Samson Vishwanath. Sanju Samson's mother's name is Liggy Vishwanath. Sanju Samson's father is a retired football player who played for Delhi in the Santhosh Trophy, was formerly a police constable with the Delhi Police. His mother is a housewife. Sanju Samson's elder brother's name is Sally Samson. Saly Samson works for the AG's office and has played junior cricket for Kerala.

Sanju Samson's school is Rosary Senior Secondary School, Delhi. St. Joseph's Higher Secondary School in Thiruvananthapuram, Kerala, is where Sanju completed his high school education. He studied English literature for his B.A. at Mar Ivanios College in Thiruvananthapuram. He first trained with the Masters Cricket Club in Thiruvananthapuram, Kerala, before switching academies to train with Biju George on the Medical College Ground.
Sanju Samson's Marriage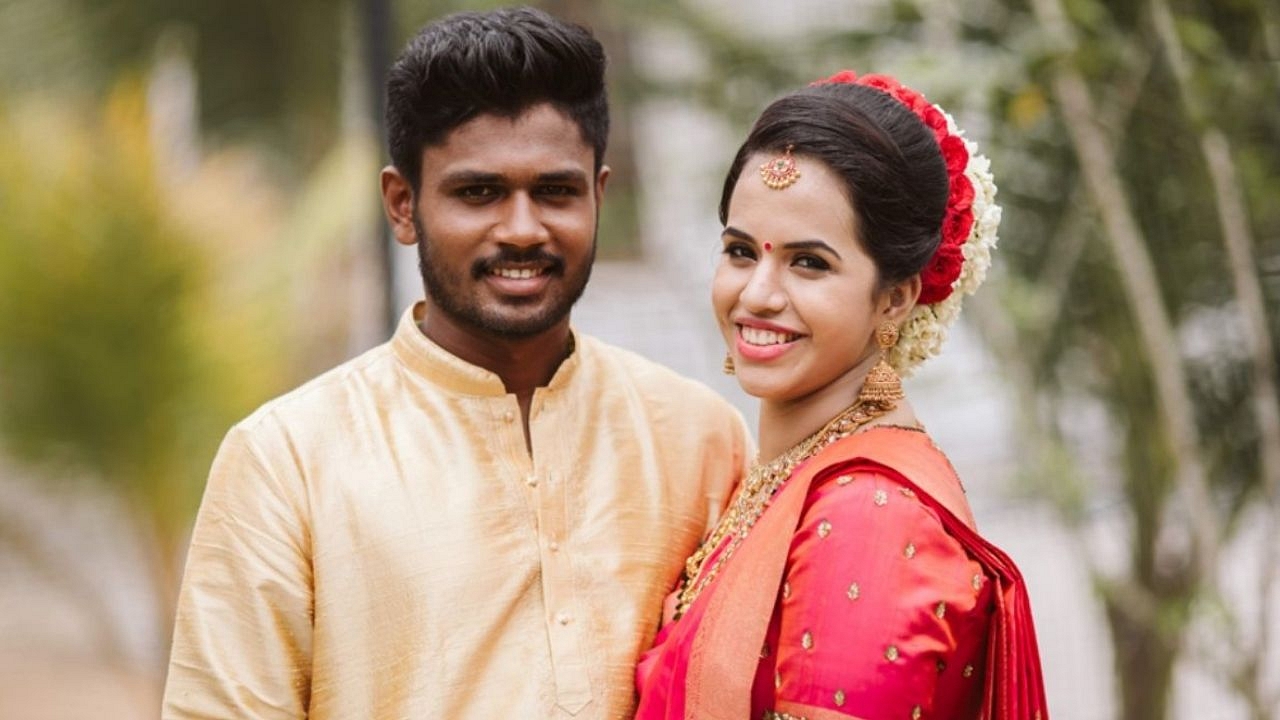 Sanju Samson is married to Charulatha Remesh. Sanju Samson got married on 22 December 2018 . Through his social media channels, Sanju announced the marriage of his longtime partner Charulatha Remesh. The event was private and held at Kovalam. The wedding reception took place in Nalanchira on the same day. The couple have been married for 3 years now.
Sanju Samson's Career
Domestic Career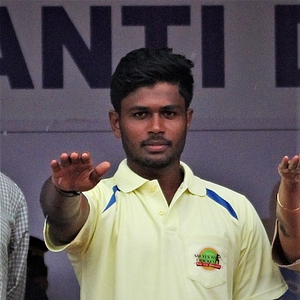 At the age of 17, Sanju Samson made his first-class debut for the Kerala Ranji squad against Vidarbha on November 3, 2011. Samson's breakthrough season came during the 2013–14 Ranji Trophy, when he really entered the fray. The north-eastern region of Assam scored a difficult total of 323 runs in the first inning of the first game. Sanju Samson, however, outdid Assam's inning by scoring 211 runs, a career high, to give Kerala a crucial 39-run lead. In the Ranji Trophy, he scored his first double century with 23 fours and 5 sixes.

With 377 runs off of 2 matches at an average of 188.5, he was the Ranji Trophy 2013–14's leading scorer after the second round of matches. He totaled 530 runs at an average of 58.88 in six games (11 innings), making him Kerala's leading scorer.

The 2019–20 season saw Samson reach his career high in the domestic circuit as he scored an undefeated double-century for Vijay Hazare against Goa. With an unbeaten 212 off just 129 balls, the Kerala wicket-keeper batsman set a new record for the highest individual score by a wicket-keeper batsman in List A cricket. Abid Ali, who had previously held the record with an undefeated 208 in a domestic one-day match in Pakistan in 2018, was surpassed by Samson.
IPL Career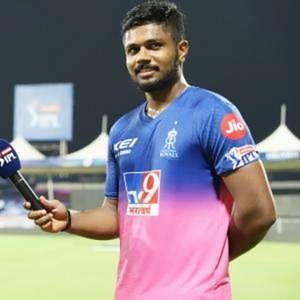 After a strong debut Ranji Trophy season, Sanju Samson garnered a lot of attention before being defeated by Kolkata Knight Riders. He subsequently transferred to Rajasthan Royals in 2013, when he eventually reached the heights of his talent, but he was unable to play for them.
Sanju was a crucial component of the Rajasthan Royals' batting order for three years. Samson is one of the current group of players that will succeed for India in the near future, according to Rahul Dravid, who coached the Royals in IPL-7. The Rajasthan Royals kept Sanju for the 2015 IPL season as a consequence. The league-winning Rajasthan Royals advanced to the knockout rounds, but Sanju Samson couldn't do his team's case any favours with just one 50+ score in 15 games.

However, Samson was acquired by Delhi Daredevils in 2016 when RR was dropped from the IPL. Samson didn't let down his new team, finishing 2017 as Delhi's third-highest run scorer. At the Maharastra Cricket Association Stadium in Pune on April 11, 2017, Sanju achieved his first T20 century in the IPL 2017 match against the Rising Pune Supergiant. When Rajasthan rejoined the IPL in January 2018, the franchise immediately purchased him for Rs. 8 Crores at the IPL auction. Sanju Samson smashed 102 not out off just 55 balls against Sunrisers Hyderabad on March 29, 2019, totaling 10 fours and 4 sixes in the process.
International Career
Sanju was chosen for the 17-man squad to play England in 5 ODIs and a T20 in 2014, but he was not given the opportunity to start in the starting XI. Sanju Samson continued to score significant runs, and his steady play in the IPL and Ranji Trophy led to his selection for the 2015 Zimbabwe tour. In a T20 game, he made his debut for India. He only managed to score 19 runs off of 24 deliveries, therefore it didn't turn out to be a positive match for him, and he has never since represented India on the cricket field again.

He was chosen for the T20I series of India's 2020 tour of New Zealand and was included in the starting lineup as an opener. After spending 4 years in the wilderness, he had finally found a spot on the team, even if he couldn't make the expected impact with the bat.
Sanju Samson's Records
Youngest batsman to score 1,000 runs in IPL
Youngest batsman to score 2,000 runs in IPL
Youngest cricketer to captain a Ranji side
Sanju Samson's Controversy
The social media account for the Rajasthan Royals is known for occasionally posting amusing content, but when Yuzvendra Chahal joined the squad, this comedy crossed some lines. The Twitter account of the Rajasthan Royals took advantage of the circumstance and released a modified photo of the team's captain, Sanju Samson. At first, this was amusing, but Sanju Samson quickly became upset with the photo and chastised the admin online for being unprofessional. The Rajasthan Royals team management immediately acted after receiving his complaint that the administrator had over the line in uploading such photographs.They vowed to post with professionalism going forward and removed the image and social media administrator.
Sanju Samson's Net Worth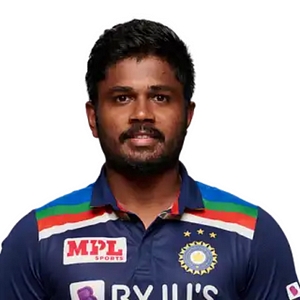 Sanju Samson's net worth is $9.2 million US or Rs 68.6 crore Indian rupees. Sanju Samson's main source of income and wealth is cricket. Sanju Samson is the most admired player in the world, and his brand worth is also quite high. Additionally, he makes a significant sum of money from Indian Premier League and international and national cricket events (IPL). Some brands that Sanju Samson advertises come with extra fees. Sanju Samson reportedly makes INR 1 crore from brand affiliations, according to some reports.

In Vizhinjam, India, Sanju Samson is the owner of a luxurious home worth INR 4 crore. Additionally, he owns a number of real estate assets across the nation. Sanju Samson has a modest collection of automobiles. Samson drives a Lamborghini, one of the finest luxury vehicles in the world.

Sanju Samson has participated in a very small number of matches for the Indian National Cricket Team, placing him on the C Grade list of the BCCI, where players make INR 1 lakh annually.
Sanju Samson's Awards
Best Young Player of the Season, IPL 2013.
Fastest double hundred in List-A.
Did You Know?
The 19-year-old is currently entirely focused on cricket, but Biju George, the coach of Kerala's squad, recently disclosed that his ward plans to serve the nation as an IPS officer in the future.
At 19 years and 58 days old, Sanju Samson became the youngest player to get a payout in crores for the lucrative event.
Sanju Samson made history by registering the IPL tournament first fifty at the age of 18.
With his knock of 54, he also became the youngest to the landmark.
Social Media
Frequently Asked Questions