Quotes on Diwali

Sanskruti Kamble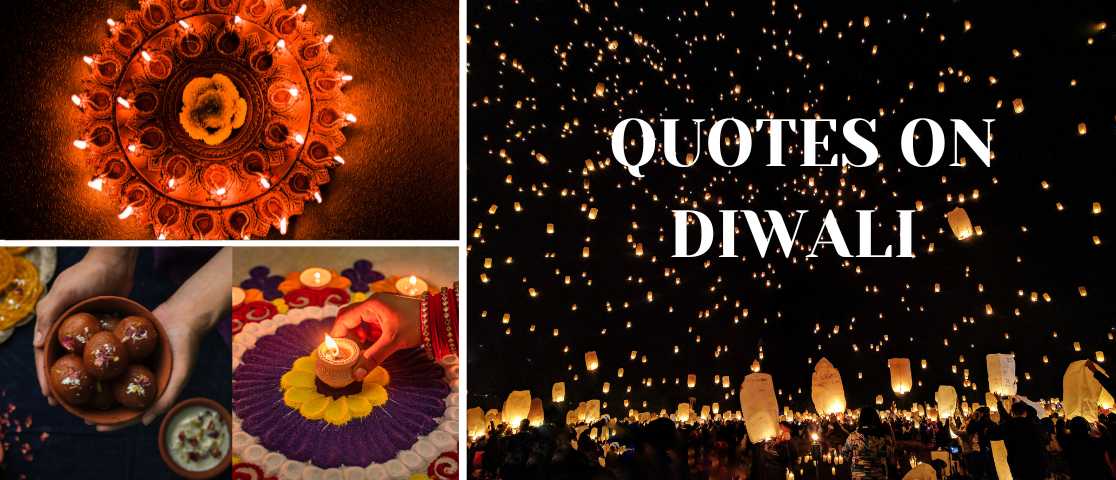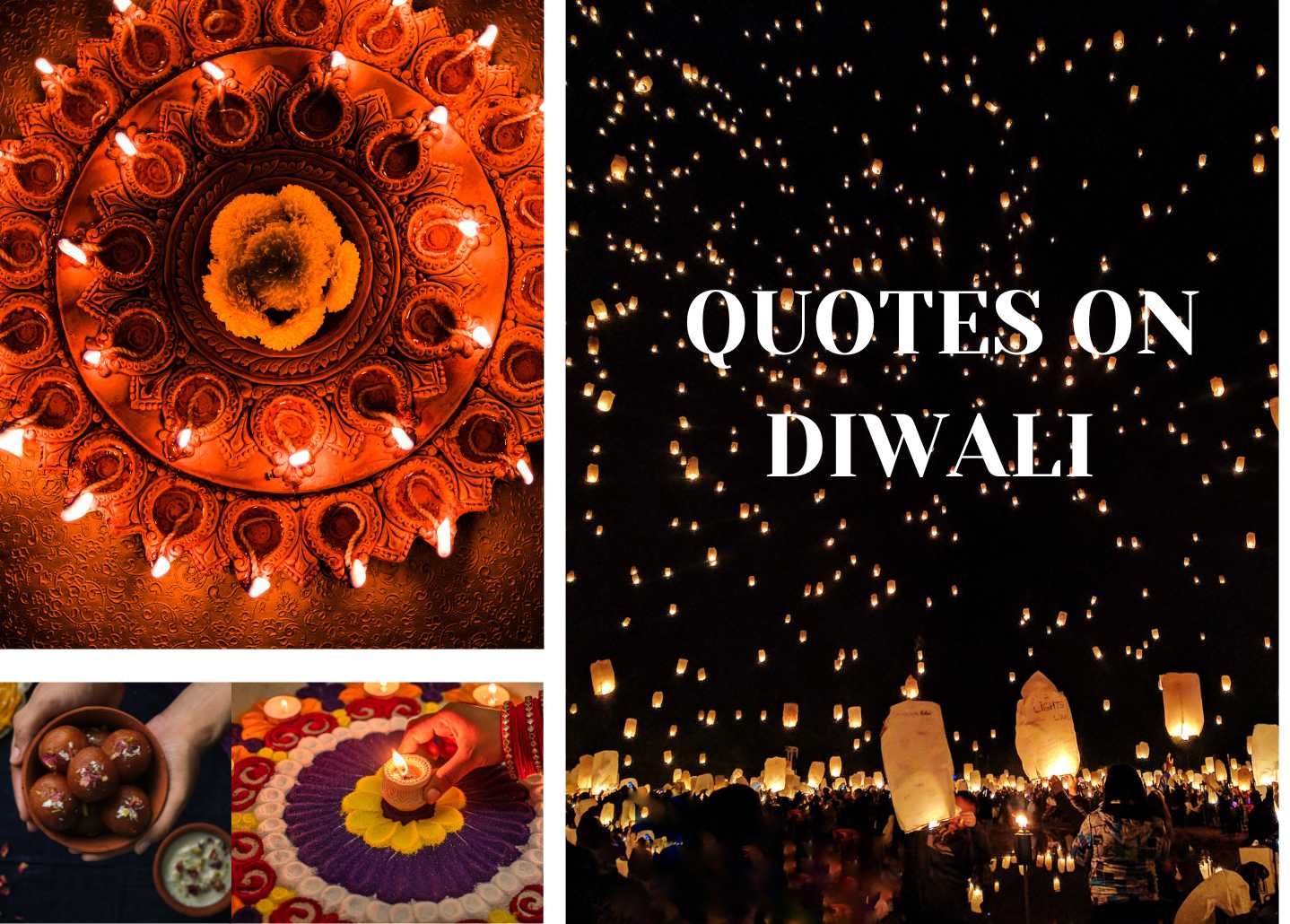 What is Diwali and the importance of Diwali?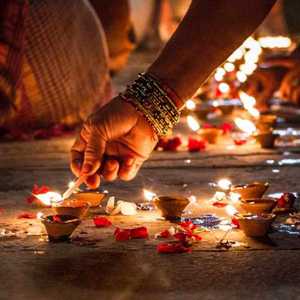 Diwali is considered one of India's biggest festivals but is not only celebrated in India. Diwali is also celebrated widely in the global regions. The description of Diwali is basically every household loves to celebrate it in a different way. Diwali is the festival where all family members come together and celebrate Diwali. Diwali, also known as Jain Diwali, Bandi Chhor Divas, Tihar, Swanti, Sohrai, and Bandna, is a major festival observed by Hindus, Jains, and Sikhs. It is a festival of lights. The festival typically lasts five days and is observed between mid-October and mid-November during the Hindu lunisolar month of Kartika. Diwali, one of the most well-known Hindu holidays, represents the metaphysical "victory of light over darkness, good over evil, and knowledge over ignorance.


Numerous other regional customs link the festival to Sita and Rama, Vishnu, Krishna, Durga, Shiva, Kali, Hanuman, Kubera, Yama, Yami, Dhanvantari, or Vishvakarman, in addition to Lakshmi, the goddess of prosperity, and Ganesha, the god of wisdom and the remover of obstacles. In addition, it commemorates the day Rama, his wife Sita, and his brother Lakshmana returned to their home in Ayodhya after 14 years of exile and the defeat of the demon Ravana in Lanka.
Claim Your FREE Celebrity Shoutout
✕
Claim Now!
Why do we celebrate Diwali?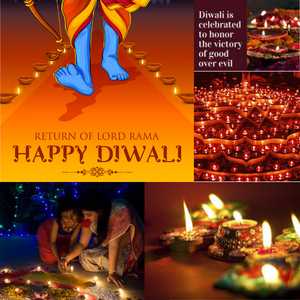 According to the Ramayana, after spending 14 years in exile and vanquishing the demon king Raavana, Lord Rama, his wife Sita, and brother Laxmana at last returned to Ayodhya. He goes back to his house for Diwali. Diwali is commemorated as the day Goddess Lakshmi was born from Samudra Manthan, the churning of the cosmic ocean of milk by the gods and demons, according to the most widely accepted tradition. On the Diwali eve, Lakshmi chose Vishnu as her husband, and the two were joined in holy matrimony.


The five Pandava brothers were exiled by the Kauravas for 12 years after being deceived into losing a wager in the epic Mahabharata. According to the epic, the Pandavas return to Hastinapur on Diwali after spending the previous night celebrating Kartik Amavasya. n the Sikh religion, Diwali commemorates the release of Guru Hargobind by Mughal emperor Jehangir. The Jain religion observes the Diwali festival to commemorate the day Mahavira's soul attained Nirvana. The Diwali festival marks the beginning of a new year in some western Indian states, such as Gujarat.
Talk To Similar Celebrities
Quotes on Diwali
Short Quotes on Diwali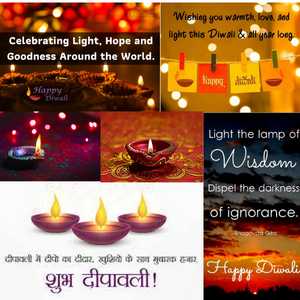 Happy Diwali and have a safe Diwali.
May the lights of Diwali bring happiness to everyone's home.
Diwali, family and Magic.
Let the light of Diwali become your strength.
May this brings Peace to your family.
Happiness= Diwali
Peace and light to everyone Happy Diwali.
Have a healthy life ahead Happy Diwali.
Long Quotes on Diwali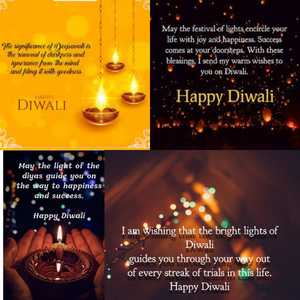 May Diwali bring you joy and vibrant new colors.
May Diwali bring you enough light to drive out all the darkness.
May this Diwali herald the beginning of a joyful and fruitful year for you.
I hope this Diwali is the beginning of a year filled with all of your dreams coming true.
May this Diwali signal the start of a year full of opportunities.
May the shadow of Laxmi brightnes your live wishing you a very Happy Diwali.
I hope your Diwali is as bright as the lights that mark the occasion.
Carry the Diwali light with you and keep it in mind on your gloomier days this year.
Diwali wishes and quotes for Employees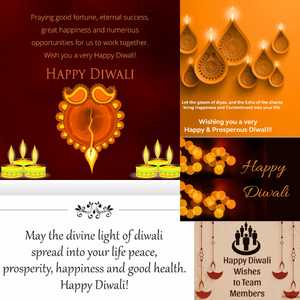 Sending you best wishes for new heights, successes, endeavors, and a new era. A very Happy Diwali to you!
May this year's Diwali festival be the brightest one yet. We wish you and your family happiness, health, and prosperity. May this day be the happiest and brightest of your life. Warm greetings and the best of Lord Ganesha's blessings on Diwali!
We pray that Lord Ganesha and Goddess Laxmi will bless our business partnership and help us develop in concert. On behalf of our company, I would like to send you my best wishes for Diwali.
May our group, including you and I, make rapid progress in our goals. Let this Diwali mark the end of our inner struggles and the beginning of a stage in our lives where we strive and prosper. We want to wish you and your family a very happy Diwali on behalf of Team [company name].
Happy and prosperous Diwali to you and your family. May we all achieve greater success this upcoming year as a result of our efforts and commitment.
Diwali wishes and quotes for Friends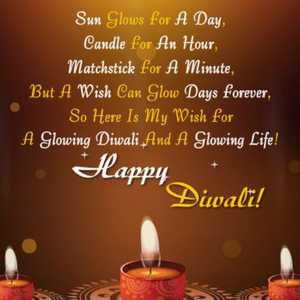 "To my friend: Happy Diwali!" May the light of Diwali dispel all the gloom in your life. May the festivities bring you joy and a smile.
"I ask God to make your Diwali celebrations never come to an end. You always experience happiness and success in life. I want to wish you, my friend, a very prosperous and happy Diwali.
"Wishing my best friend a very Happy Diwali... I'm sending you a lot of love and sending you my best wishes for a happy, prosperous, and feast-filled Diwali.
"On the occasion of Diwali, I'm sending my best friend and his family my warmest wishes for the holiday." I hope your Diwali celebrations bring you a lifetime of joy and happiness.
The light of glittering diyas fills your life with new hope and vigor for a successful and happy life. I'd like to wish you a happy Diwali, my friend.
May your life be filled with joyful moments brought on by the flashes of lights and crackling of fireworks. I hope you and your family have the most wonderful Diwali. I wish you a Happy Diwali!
Diwali wishes and quotes for Family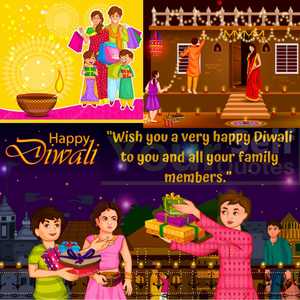 Joy approaches you as you walk. I'm wishing you a successful future Happy Diwali.
Even one ray of the inner light of the self cannot be compared to all the lights in the world. Enjoy the festival of lights by blending into this light.
May you be blessed with a lifetime of happiness, success, health, and wealth. Happy Diwali to you and your family, please.
May joy and abundance envelop you forever as the chants of the holy scriptures and the light of lovely diyas illuminate your life! Happy and prosperous Diwali to you and your family!
Have a blessed, healthy, and prosperous Diwali, I hope. Happy Diwali to you and your loved ones!
We wish that this Diwali will bring fresh smiles, uncharted paths, new viewpoints, and boundless happiness. Happy Diwali and a prosperous New Year!
Hope this Diwali brings fresh smiles, uncharted paths, new viewpoints, and boundless happiness, just like the rangoli's vibrant colors. Have a fantastic Diwali!
Present your loved one an amazing gift by Tring and receive your favorite celebrity video message or DM at the most affordable price available #Justtringit.
Frequently Asked Questions
Diwali 2022 is on the 24th of October 2022.
Diwali is celebrated because Rows of clay lamps are lit in northern India to commemorate the legend of King Rama's return to Ayodhya after defeating Ravana. It is commemorated as the day that Lord Krishna vanquished the demon Narakasura in Southern India.
Yes, Dasshera in Diwali is the New Year for Hindu Minority.
Yes, you can easily find quotes and wishes on Diwali in this article.
Yes, you can easily book a Diwali gift from Tring.