Priyam Garg | Biography Birthday Family Struggles Net Worth Age

Madonna Colin Farro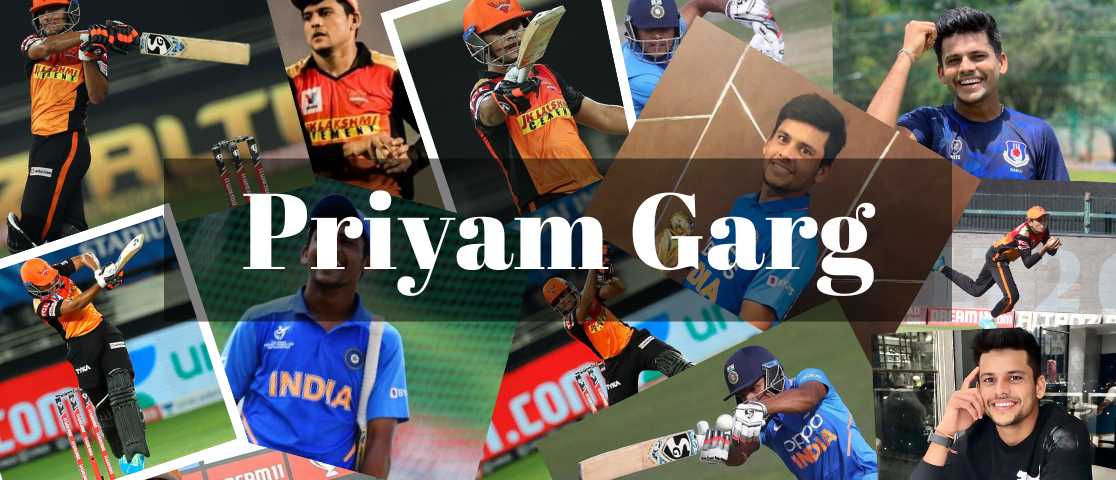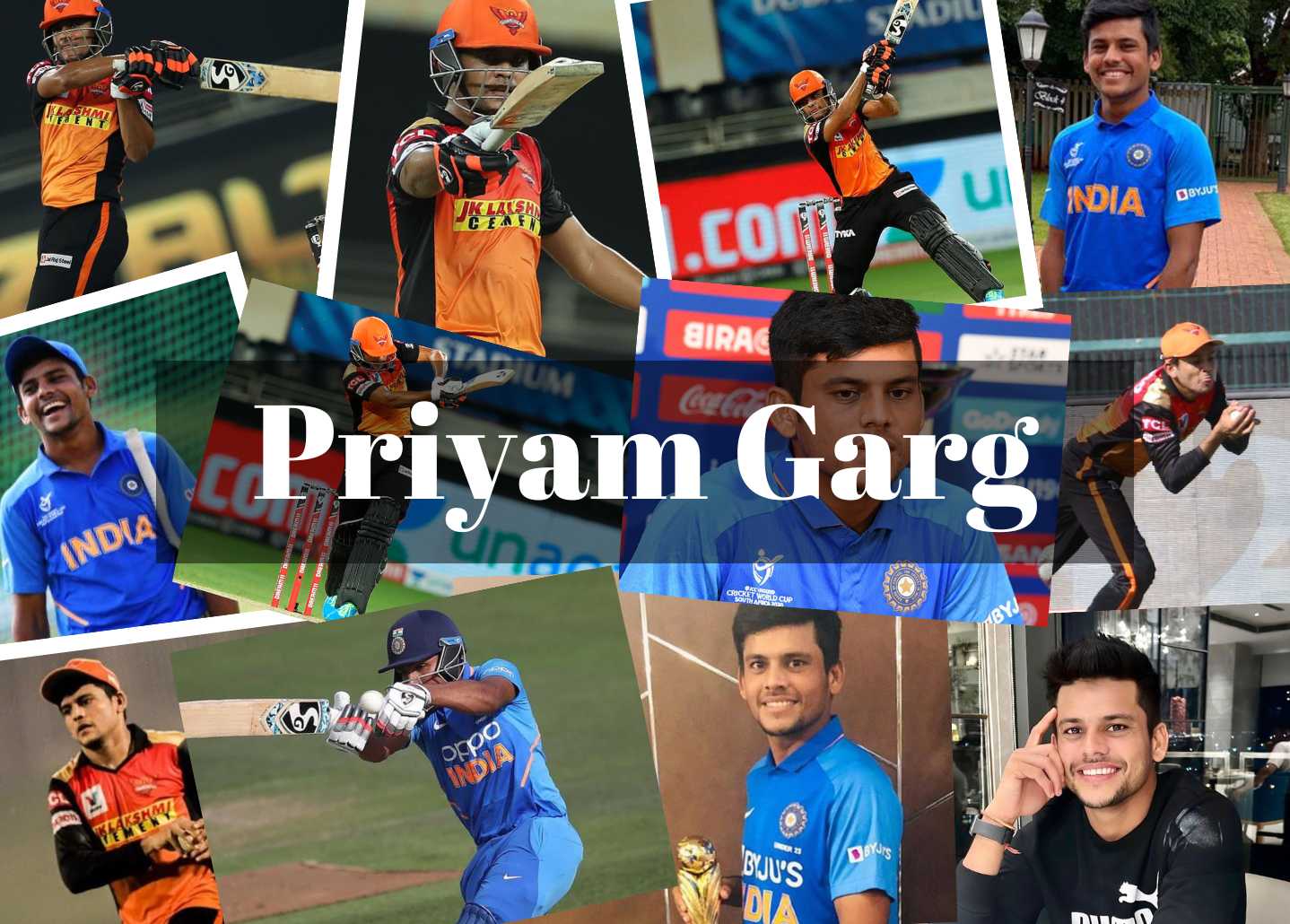 Priyam Garg's Age and Biography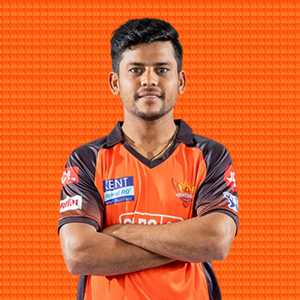 Priyam Garg was born on 30th November 2000. He was born in Meerut, Uttar Pradesh. Rriyam Garg's age is 22 years. Priyam's Zodiac Sign is Sagittarius. On 19th September 2018, he made his List A debut for Uttar Pradesh in the 2018–19 Vijay Hazare Trophy. On 1st November 2018, he made his first-class debut for Uttar Pradesh in the Ranji Trophy for the 2018–19 season. He recorded his first double-century in first-class cricket in December 2018 against Tripura. On 21st February 2019, he played his first Twenty20 match for Uttar Pradesh in the Syed Mushtaq Ali Trophy for the 2018–19 season.

He was included in the India Green team's roster for the 2019–20 Duleep Trophy in August of that year. He was included on India C's roster for the 2019–20 Deodhar Trophy in October 2019. In six games for the 2019–20 Vijay Hazare Trophy, he scored 287 runs.

He was chosen to lead India's team at the 2020 Under-19 Cricket World Cup in December 2019. In the finals, India was defeated by Bangladesh under his leadership.
He was purchased by Sunrisers Hyderabad in the auction for the 2022 Indian Premier League in February 2022.

Priyam Garg Family and Childhood
Priyam was born and brought up in Merrut, Uttar Pradesh. Priyam's father's name is Naresh Gard he is a driver for the Department of Health and Social Health. Kusum Devi, his mother passed away in 2011, when Priyam was 11 years old.

Priyam Garg's family consists of his elder brother Shivam Garg who works as a pharmacist and another brother whose name remains unknown. Pooja, Jyoti and Reshu are the names of his three sisters.

Priyam Garg started playing cricket when he was 6 years old. It was difficult for her father to make ends meet. However, this did not stop him from letting his son pursue his passion for cricket.

Naresh Garg approached the coach of Victoria Park, a cricket ground in Merrut and requested him to let his son play. Priyam was an excellent batsman, the coach saw the potential in his student and agreed to coach him for free.

Priyam Garg's Education Qualification
Priyam did not pursue his academics as he was very determined to pursue cricket.
Talk To Similar Celebrities
Priyam Garg's Girlfriend and Relationships
Priyam Garg is not in a relationship with anyone at the moment as he is passionately working towards his career.

Priyam Garg's Matches and Career
Domestic Career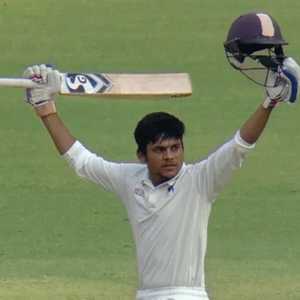 At just 17 years old, Priyam Garg made his senior team debut for Uttar Pradesh Cricket in a Vijay Hazare Trophy match against Saurashtra in September 2018. He began competing in the Ranji Trophy the following month and made his debut against Goa with a century. His first double-century in first-class cricket was recorded in December 2018 against Tripura.

Garg had accrued 814 runs in 10 games when the premier domestic league closed. The team from Uttar Pradesh advanced to the quarterfinals with the second-highest score in the 2018–19 campaign. The kid had scored 50 runs in his debut season with the Uttar Pradesh under-14 team, so Garg's potential was clear from the start. Garg's potential was evident from the beginning; after all, the 12-year-old had scored 50 runs in his maiden season with the Uttar Pradesh under-14 team.

U-19 Career
Garg's journey hasn't reached its peak yet, but it did gain a significant turning point when he was selected as the captain of the India U-19 team for the World Cup in South Africa in December of last year. Garg entered the distinguished company of Virat Kohli (2008), Mohd Kaif (2000), and Prithvi Shaw (2018), all of whom went on to play for the senior national squad by accepting the captaincy of the Indian team.

He led India to the championship game, where they narrowly missed capturing their sixth championship. On a personal level, Priyam couldn't perform as well as he would have liked in the World Cup.

IPL career
Sunrisers Hyderabad paid Rs. 1.90 crores to sign Priyam Garg for the 2020 IPL. His "senior" record reveals why: a first-class average of 66.69, a List-A average of 47.13, and a T20 strike rate of 132.74 were more than sufficient to make up for the failure of the U-19 WC. In terms of the young player's growth at the highest level of cricket, the 2020 season could be crucial.

Priyam Garg's Wickets and Stats! (As of 2022)
Priyam Garg's Controversies
Fight with Bangladeshi Players (2020)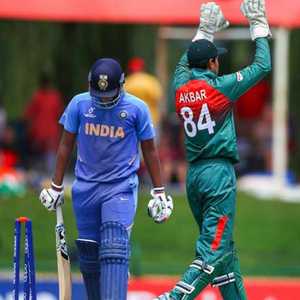 Priyam Garg, the captain of India's U-19 team, described Bangladesh's celebration after winning the U-19 World Cup as "dirty." After Bangladesh defeated India by three wickets (DLS method) in a hard-fought final to win their first-ever ICC title at any level at Potchefstroom in South Africa, the India U19 and Bangladesh U19 players got into a nasty argument.

India's U19 captain Priyam Garg claimed it was inappropriate for players from Bangladesh and India to fight each other after the match. After Rakibul Hasan of Bangladesh scored the winning runs and the entire Bangladeshi squad, including their support staff, ran onto the field, a fight also turned physical. The Bangladesh cricketers said something to the Indian players that didn't sit well with them, and the situation quickly descended into a brawl.

Priyam Garg Networth
Priyam Garg has a net worth of about $1 million USD or about 7.5 crores rupees in Indian rupees. He has earned this enormous sum through his earnings from the BCCI, IPL contracts, and private enterprises.

Priyam Garg's Awards and Achievements
Priyam Garg was selected as the captain of the India UNDER-19 team for the 2020 Under-19 World Cup on December 2, 2019.
In August 2019, Priyam was chosen for the India Green Squad (IGS) for the Duleep Trophy.
In the U-16, U-19, and Ranji Trophy, he also scored two double hundreds, which was another significant accomplishment.
Priyam Garg's Records
Priyam Garg holds the player of the match for Sunrises Hyderabad U-19.
4 Unknown Facts about Priyam Garg
Priyam Garg enjoys playing chess in his free time.
As a child Priyam could not afford Television, so she would rush to the nearest Pan shop to watch cricket matches.
When his mother passed away (2011) Priyan wanted to quit cricket and support his family, however, his father encouraged him to work harder towards his practices and supported him.
His favourite crickets are Suresh Raina and Virat Kohli.
Social Media
Frequently Asked Questions