Mosaddek Hossain Age Cricket Country Facts Instagram

Hitesh Mandot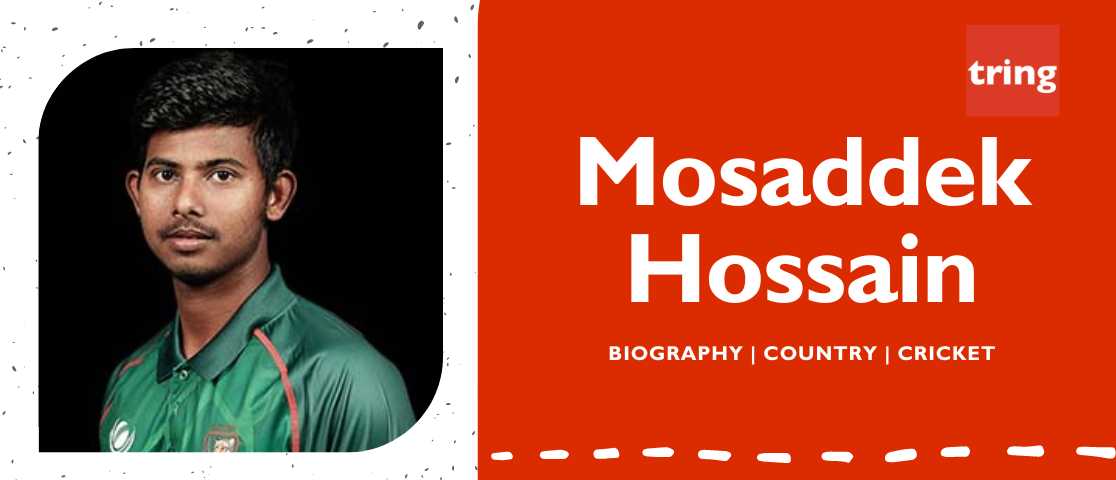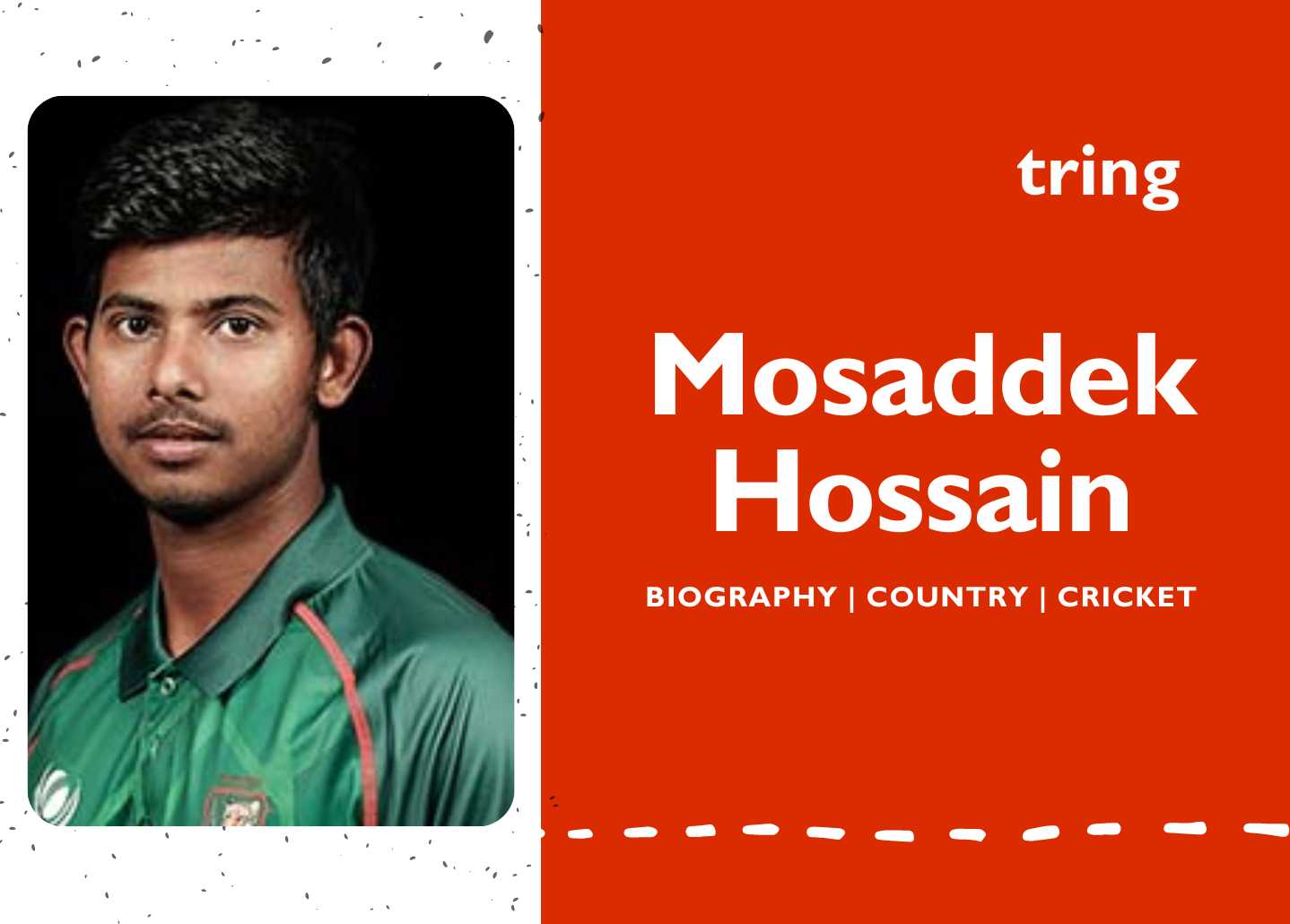 Mosaddek Hossain's Biography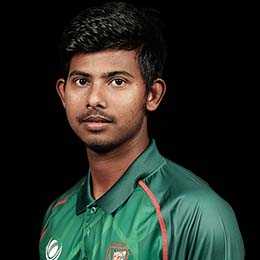 Mosaddek Hossain is a Bangladeshi Cricketer. Mosaddek Hossain's birthplace is Mymensingh, Bangladesh. Mosaddek Hossain's height is 5.9 feet.

Mosaddek Hossain Saikat, a Bangladeshi cricketer who competes for both the Barisal Division and the Bangladesh national cricket team, was born on December 10, 1995. In January 2016, he made his debut for Bangladesh on the world stage. His striking rate is the highest in the Asia Cup 2022.

Book a Personalised message from your favorite celebrity. Click here to know more

Mosaddek Hossain's Age
Mosaddek Hossain's birth date is 10 December 1995. Mosaddek Hossain's birth year is 1995. Mosaddek Hossain's age is 27 years as of 2022. Mosaddek Hossain's zodiac sign is Sagittarius.

Talk To Similar Celebrities
Mosaddek Hossain's Family
Mosaddek Hossain's father is not known. Mosaddek Hossain's mother is not known. Mosaddek Hossain's brother's name is not known.


Mosaddek Hossain's Education
Mosaddek Hossain's college is American Internatonal University of Bangladesh.

Mosaddek Hossain's Girlfriend
Mosaddek Hossain's Girlfriend is not known.

Mosaddek Hossain's Wife
Mosaddek Hossain's wife was Sharmin Samaira Usha. They divorced in 2018.

Mosaddek Hossain's Career
During the 2013 Dhaka Premier Division Cricket League, Mosaddek Hossain, who comes from a family of cricketers, quietly entered Bangladesh cricket's consciousness while assisting Abahani Limited to survive a dismal season. Prior to reporting to the Bangladesh Under-19 training camp for the 2014 World Cup in the UAE, he scored a century and three fifty-plus scores. Their early exit from age-group cricket turned out to be a significant turning point in his growth.

He scored two against Khulna at Cox's Bazar for his first-class debut in the 2013–14 season, but it wasn't very noteworthy. However, in the following season, he scored 250 and 282, his first two 200+ first-class cricket scores.

In 2015, he added another double-hundred. In January 2016, a Twenty20 International debut against Zimbabwe occurred, however it was unmemorable. He will not be included in Chandika Hathurusingha's 2016 World T20 preparations by that point, it was obvious.

In domestic cricket, Mosaddek continued to score runs, and in the 2016 Dhaka Premier League, he was helping Abahani the eventual champions—win games. Mosaddek, who was only 20 years old, was praised as having a 45-year-old brain by Abahani captain Tamim Iqbal. He continued to play on the periphery of the national squad and earned his Test debut in Bangladesh's 100th Test in Colombo in March 2017.

Mosaddek Hossain Career Timeline
Mosaddek Hossain Batting
Mosaddek Hossain Bowling
Mosaddek Hossain Controversy
He's been charged with abusing his wife and torturing her to extract dowry.

According to reports in Bangladeshi media, Hossain's wife Sharmin Samira Usha has accused him of torturing people and has lodged a complaint against him with the local authorities. To confirm the allegations against the cricket player, an investigation has been opened. Hossain, a regular for Bangladesh and a candidate for a spot in the team for the next Asia Cup 2018, may suffer a severe setback as a result.

Mosaddek's brother Mosabber Hossain, however, has denied the allegations of torture and said that Sharmin is fabricating the allegations against his brother in order to gain money. He also claimed that the couple had issues from the beginning of their marriage.

Mosaddek Hossain's Net worth
Bangladeshi Cricketer Mosaddek Hossain has $1 million dollars or 8 Crores. The salary is between 10-20 Lakhs.

Mosaddek Hossain's Records
In the first-class format in 2014–15, Mosaddek scored two back-to-back double centuries (250 & 282), topping 1000 runs in just 10 innings.
He later hit another double century in the 12th inning to become the first Bangladeshi player to ever record three double hundreds.
While facing the England Under-19 team, Mosaddek scored 110 runs off just 113 balls. In addition, he bowled well, taking 3 for 38 in 10 overs.
The rookie made his ODI debut against Afghanistan, and on his first delivery of his spell, he recorded his first ODI wicket. He finished the game with a 2 for 31 in 10 overs statistic.
5 Interesting Facts of Mosaddek Hossain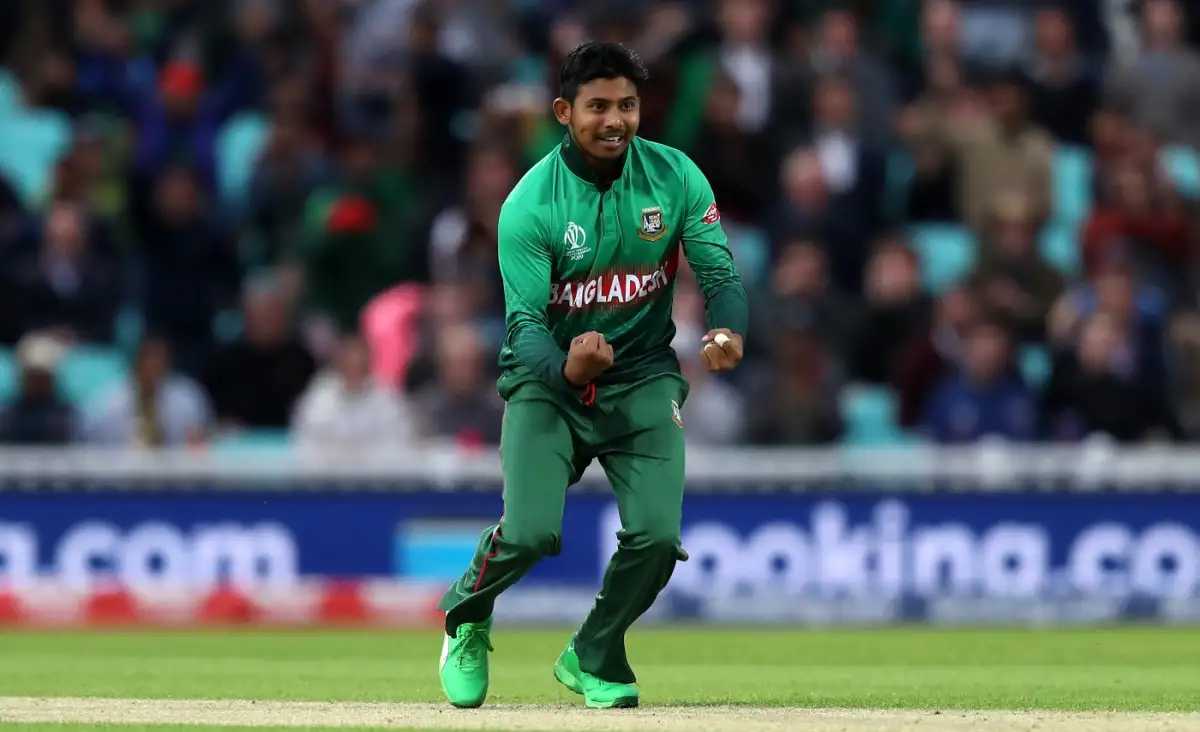 Hossain is a member of the cricket family, as evidenced by his playing technique.
Although he has yet to receive a cap, Mosaddek Hossain was included in the 15-man squad for the last test against England.
Tamim Iqbal, the captain of the Abhani team, lauded him and said he was the one with a 45-year-old brain. He had just turned 20 when the skipper made this comment.
He scored 194 runs in two games against Zimbabwe A for Bangladesh A in 2015, averaging 64.66 runs per game.
He is the only Bangladeshi player with three double century as of January 2017.
Profile Summary
Social Media
Frequently Asked Questions