Kumar Vishwas | Party, Shayari, Biography, Kavita, Twitter

Hitesh Mandot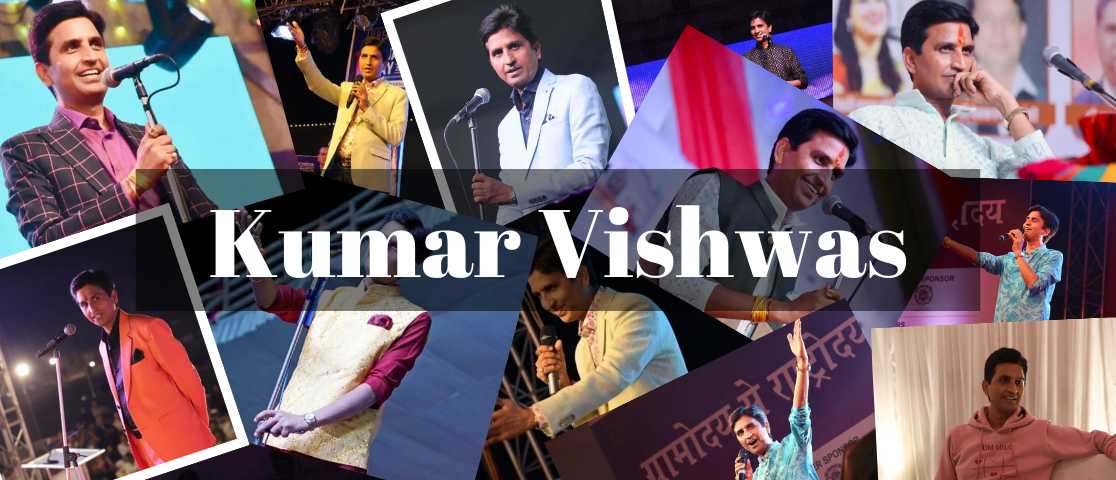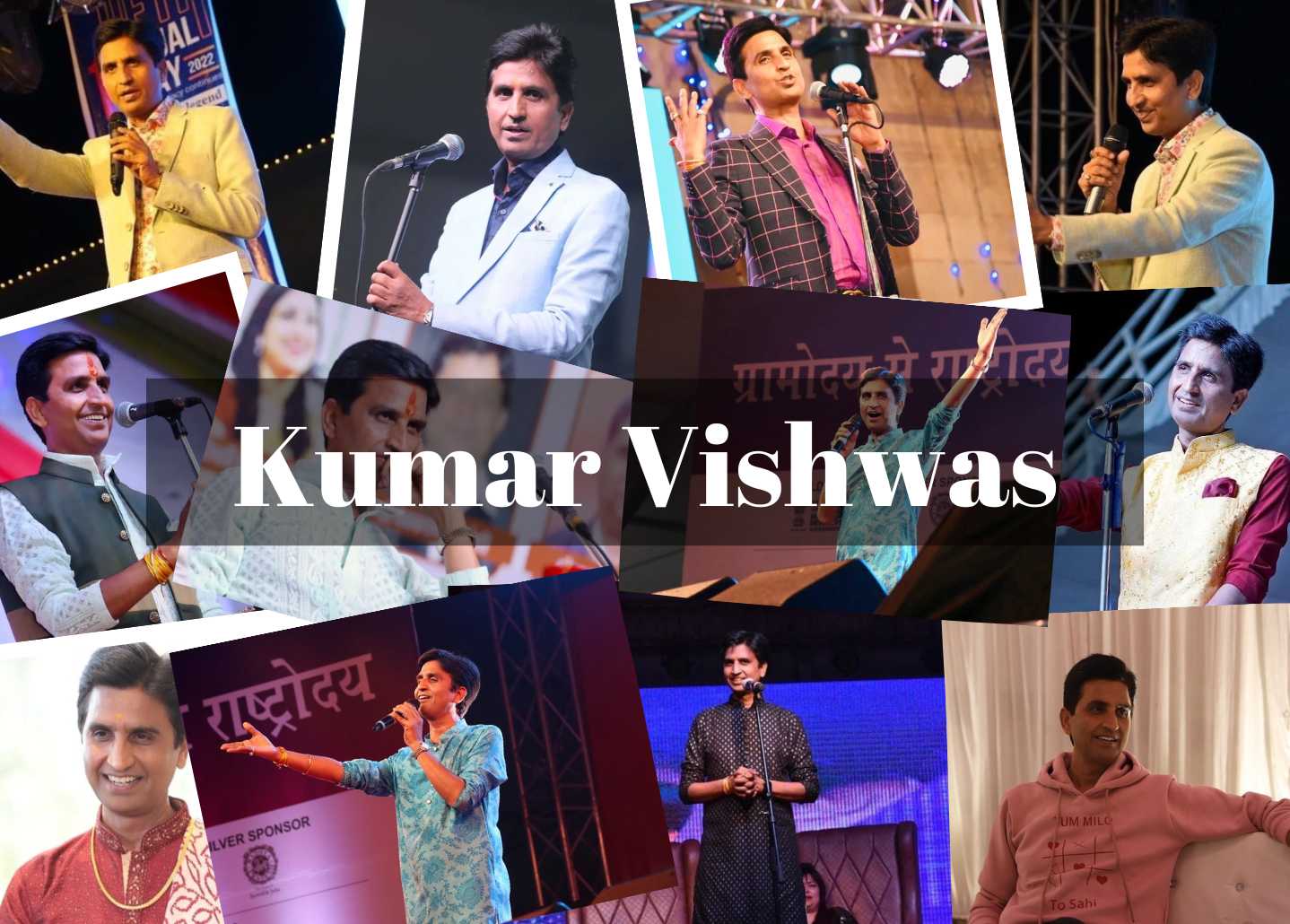 Kumar Vishwas's Biography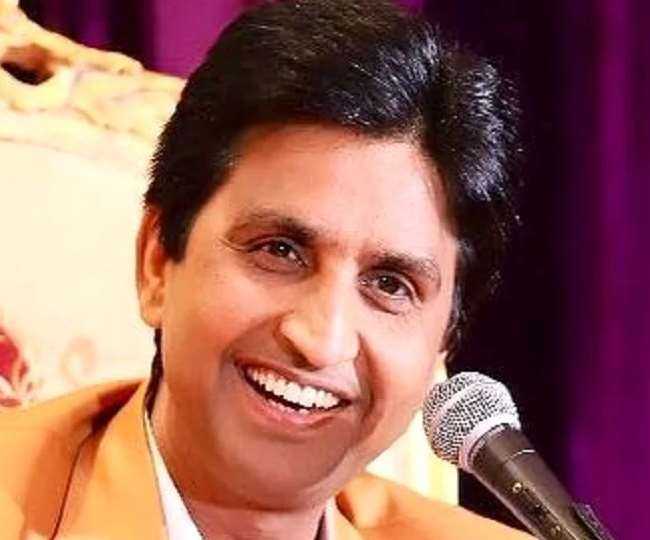 Kumar Vishwas is an Indian Hindi poet, politician, and lecturer who was born Vishwas Kumar Sharma on February 10, 1970. He was a founder and former member of the National Executive of the Aam Aadmi Party (AAP). Kumar Vishwas's birthdate is 10 February 1970. Kumar Vishwas's age is 52 years old as of 2022. Kumar Vishwas's father's name is Chandra Pal Sharma. Kumar Vishwas's mother's name is Rama Sharma. Kumar Vishwas's birthplace is Pilkhuwa, Uttar Pradesh. Kumar Vishwas's real name is Dr Kumar Vishvas Sharma.

Kumar Vishwas excels as a politician, educator, exceptional performer, and poet. He transformed Kavi Sammelan into a stage for performers by going beyond the conventions of poetry readings or Kavi Sammelan. The young people of India now view him as an icon. Millions of people watch his videos online and attend his shows, demonstrating his popularity among young people and netizens. He is a well-known motivator and communicator. He writes columns for several publications as well.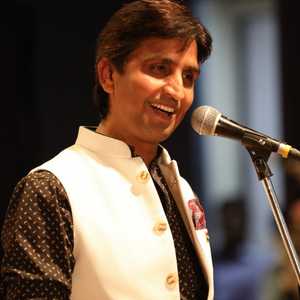 He is well known for hosting the comic show KV Sammelan on the Aaj Tak Channel. The program debuted on September 29, 2018. He is highly recognized for his appearances at social occasions and is well-versed in Hindi, Sanskrit, and Urdu. Additionally, he took part in poetry readings and events in countries like the US, the UK, Dubai, Oman, Singapore, and Japan.

Kumar Vishwas has been a guest judge on the television programs Indian Idol and Sa Re Ga Ma Pa Li'l Champs on Zee TV. For the 2018 Hindi film Parmanu: The Story of Pokhran, he wrote the songs De De Jagah. Veer Bhagat Singh. Along with Rahat Indori and Shabinaji, Vishwas appeared as a guest on The Kapil Sharma Show's episode from July 1, 2017. Along with Manoj Bajpai and Pankaj Tripathi, he appeared as a guest once more on The Kapil Sharma Show's episode from September 21, 2019. Additionally, he performed Tarpan, a musical poetry series in which he read poems by well-known poets from history as music played in the background.

Claim Your FREE Celebrity Shoutout
✕
Claim Now!
Kumar Vishwas Family and Kumar Vishwas Education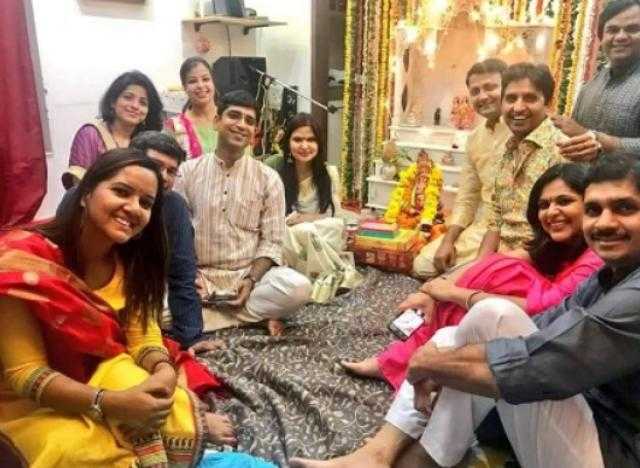 Kumar Vishwas was born in Pilkhuwa, Uttar Pradesh, on February 10th, 1970. He attended Lala Ganga Sahay School for his education. Rama Sharma was his mother, and Chandra Pal Sharma was his father. His mother worked as a housekeeper, and his father was a lecturer at Pilkhuwa's R.S.S. Degree College. He has a sister and five brothers. The youngest of them all is him. Later, he enrolled in Motilal Nehru Regional Engineering College after attending Rajputana Regiment Inter College. Because he had little interest in engineering, he decided to switch to Hindi literature, where he eventually earned a Ph.D. According to legend, he changed his name from Vishwas Kumar Sharma to Kumar Vishwas while earning his Ph.D. in order to retain a caste-free persona. In 1994, he was hired as a lecturer at the Rajasthani Indra Gandhi PG College, Pilibanga, where he also taught Hindi literature. He joined the Aam Aadmi Party in 2012 as a volunteer. He is wed to Manju Sharma, and the two of them share two kids.

Talk To Similar Celebrities
Kumar Vishwas Wife Manju Sharma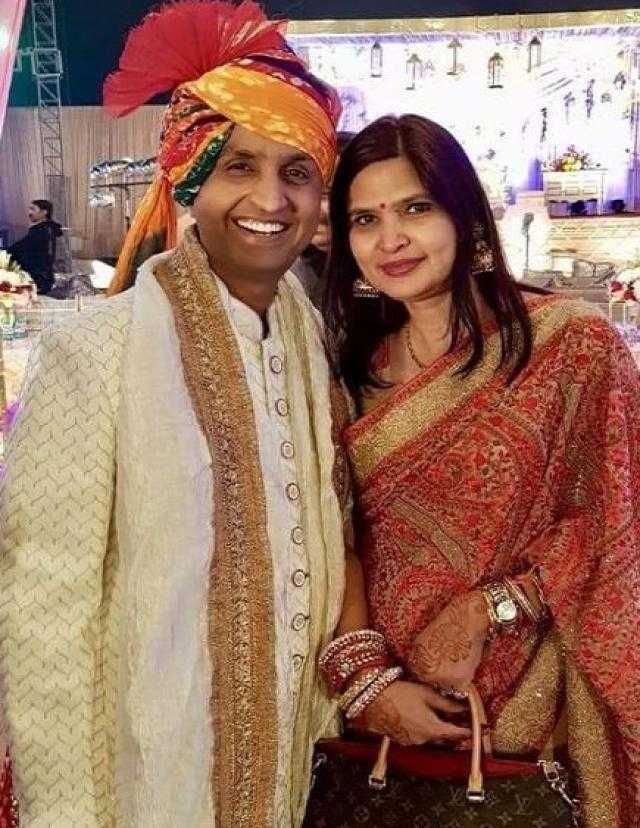 Since it was the start of a brand-new chapter in his professional life, Kumar Vishwas was pretty anxious when he moved to Rajasthan in 1994 to work as a Hindi lecturer in a college. But during his time in college, Kumar Vishwas had met Manju Sharma, a lecturer at the same college, and their lives had been forever transformed. The coworkers became lovers after a few years of working together in the same college.

Everything was going great, and despite the fact that Manju Sharma and Kumar Vishwas were both intensely focused on their work, the couple had also managed their relationship during those busy times. Manju Sharma and Kumar Vishwas made the decision to get married after dating for a while.

Manju Sharma and Kumar Vishwas weren't certain if their respective families would approve of their romance and marriage. The cause of it was that Manju Sharma and Kumar Vishwas' relationship had been significantly hampered by the fact that they belonged to different castes. As a result, after much deliberation, Kumar Vishwas and Manju Sharma decided against telling their respective families about their engagement because they were confident that they would be prevented from getting married. In line with the majority of Bollywood movies, Kumar Vishwas and Manju Sharma were wed on December 24. Their wedding date and year are unknown.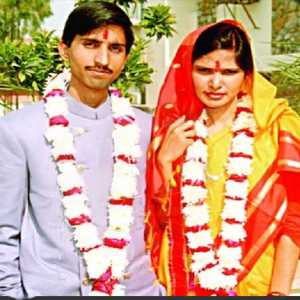 Following the customary Hindu rituals for marriage, Kumar Vishwas and his wife, Manju Sharma, went to their respective homes to tell their families of their union. Both families were in complete shock as a result. The father of Kumar Vishwas had vehemently forbade him and his wife, Manju, from entering his home. The newlyweds then spent the following two years living apart from their families.

After two years of marriage, Kumar Vishwas and Manju Sharma welcomed a baby girl, whom they aptly named Agrata Vishwas, as their first child. After embracing parenting for the first time, the couple was in heaven. Their individual families had also been touched by the unique moment, and everything had ended well. Kuhu Vishwas was born in the years that followed, and her parents, Kumar Vishwas and Manju Sharma, shared her birth with their family.

Kumar Vishwas Political Career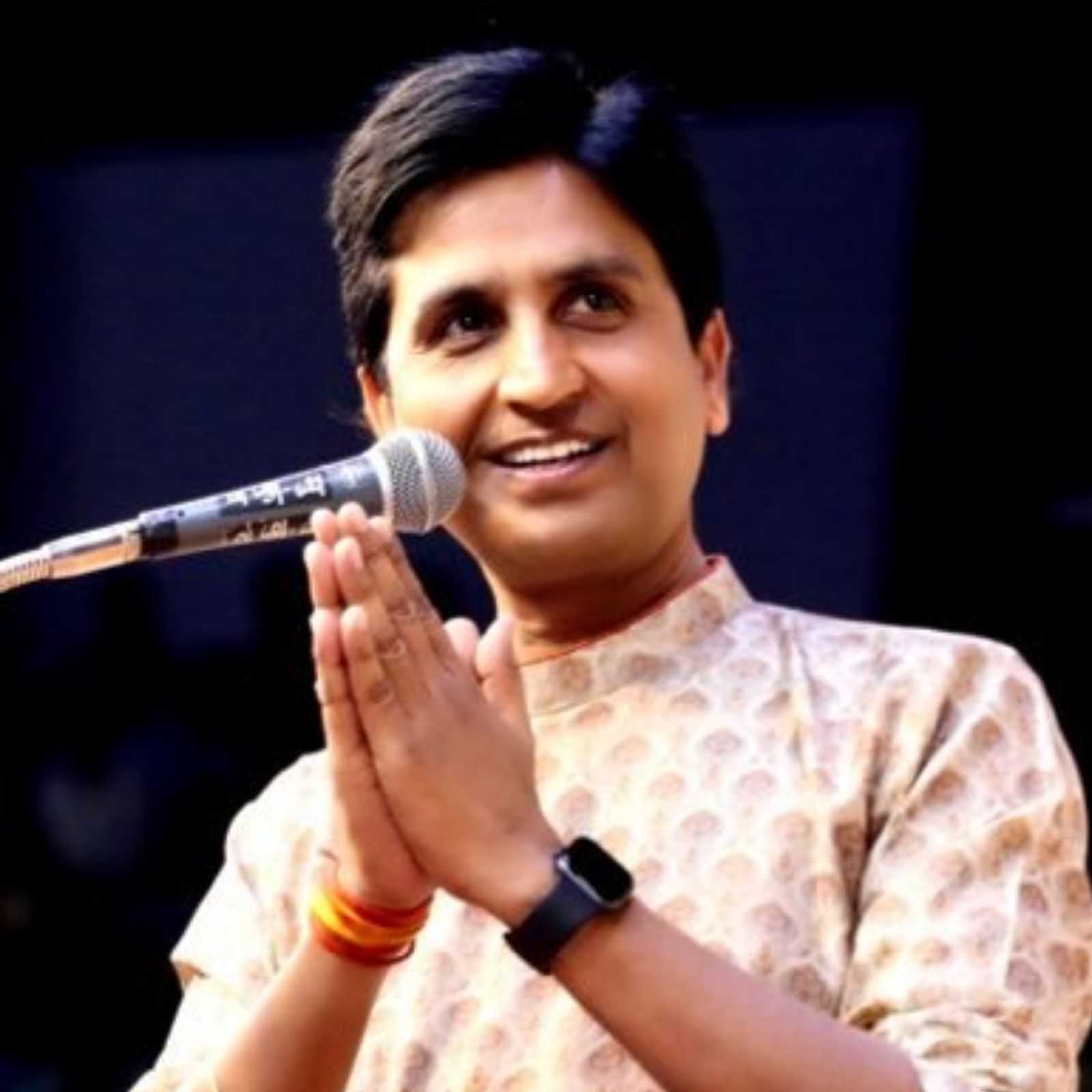 Kumar Vishwas joined the India Against Corruption movement spearheaded by Anna Hazare and has known Arvind Kejriwal since 2005. Later, as the movement diminished and changed into the AAP, which is now led by Kejriwal, he was asked to join its national executive. He ran for Lok Sabha in 2014 as an Amethi-based AAP candidate, however he came in second to the incumbent Rahul Gandhi with barely 25,000 votes.Before the 2013 Delhi Assembly elections, a tabloid media outlet called Media Sarkar ran a sting operation in which it was claimed that some AAP members, including Vishwas and Shazia Ilmi, had solicited illicit cash donations. The portal was charged by the AAP of defaming the party's leaders.

AAP and Mediasarkar.com each filed complaints against the other. After a thorough investigation, the police pledged to take action. As elections drew near, a doctored video clip from a Kavi sammelan that had him allegedly making disparaging remarks about Imam Hussain, Hindu deities, and Keralan nurses went viral. Numerous cases were consequently filed against him. Vishwas retaliated by claiming that the clippings were doctored and then expressed regret for his comments, saying it was not his intention to offend anyone. A campaign worker accused Vishwas of molestation and making sexually coloured remarks in 2016. The complaint was the reason the courts ordered an FIR to be filed, but Delhi Police's investigation revealed no compelling evidence to support it.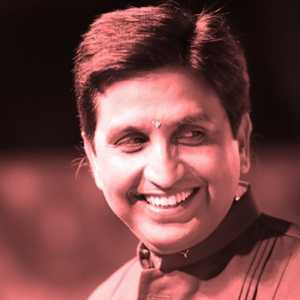 When a poem by Amitabh Bachchan's father Harivansh Rai Bachchan was posted on YouTube in July 2017, Vishwas was accused of copyright infringement by the actor. The video was removed, and a 32 compensation was paid. This occurred around the same time that he was involved in a conflict within the AAP, which he had threatened to leave. On March 23, 2019, Amritsar-based attorney NPS Hira served Vishwas with a legal notice for allegedly making derogatory jokes about the Sikh community in a program held on March 15 at the NIT field in Faridabad. In addition, Hira warned Vishwas that he would face criminal charges if he did not visit Sri Akal Takht Sahib and make amends.

Vishwas said that AAP Supremo Kejriwal had told him that even if he loses the election, he will become the first prime minister of an independent Khalistan by enlisting the aid of separatists on February 16, 2022, right before the 2022 Punjab Legislative Elections. Kejriwal referred to these allegations as politically motivated and a huge joke, asking why, if he had been a terrorist, he hadn't been investigated in electoral politics for so long. A petition filed in this matter was deemed frivolous by the Delhi High Court. Following their victory in PunJab, Aap MLAs presented laddoos to Vishwas.

Kumar Vishwas Shayari
Koi Deewana Kehta Hai
Koi Deewana Kehta Hai Koi Pagal Samajhta Hai
Magar Dharti Ki Bechani Ko Bus Badal Samajhta Hai
Mein Tujhse Door Kaisa Hoon, Tu Mujhse Door Kaisi Hai
Ye Tera Dil Samajhta Hai Ya Mera Dil Samajhta Hai

K Mohhabat Ek Ehsason Ki Pavan Si Kahani Hai
Kabhi Kabira Deewana Tha Kabhi Meera Deewani Hai
Yahan Sab Log Kehte Hain Meri Aakhon Mein Aansu Hai
Jo Tu Samjhe To Moti Hai Jo Na Samjhe To Pani Hai

Samander Peer Ka Aander Hai Lekin Ro Nahi Sakta
Ye Aansu Pyar Ka Moti Hai Isko Kho Nahi Sakta
Meri Chahata Ko Dulhan Tu Bana Lena Magar Sun Le
Jo Mera Ho Nahi Paya Wo Tera Ho Nahi Sakta

Pagli Ladki
Amaavas kii kaalii raaton men dil kaa daravaajaa khulataa hai,
Jab dard kii kaalii raaton men gam aansoo ke sang ghulataa hai,
Jab pichhavaaDe ke kamare men ham nipaT akele hote hain,
Jab ghaDiyaan Tik-Tik chalatii hain,sab sote hain, ham rote hain,
Jab baar-baar doharaane se saarii yaaden chuk jaatii hain,
Jab oonch-niich samajhaane men maathe kii nas duHkh jaatii hai,
Tab ek pagalii laDkii ke bin jiinaa gaddaarii lagataa hai,
Aur us pagalii laDkii ke bin maranaa bhii bhaarii lagataa hai.

Jab pothe khaalii hote hai, Jab harf savaalii hote hain,
Jab gajlen raas nahii aatii, afsaane gaalii hote hain,
Jab baasii fiikii dhoop sameTe din jaldii Dhal jataa hai,
Jab sooraj kaa lashkar chhat se galiyon men der se jaataa hai,
Jab jaldii ghar jaane kii ichchhaa man hii man ghuT jaatii hai..!


Tum Milo Toh Sahi
Din Sawar Jayega Tum Milo Toh Sahi
Din Sawar Jayega Tum Milo Toh Sahi
Zakhm Bhar Jayega Tum Milo Toh Sahi
Raste Mein Khade Do Adhoore Sapan
Ek Ghar Jayenge Tum Milo To Sahi
Ek Ghar Jayenge Tum Milo To Sahi

Ye Waqt Ke Chalka Bharosa Nahin
Aaj Jilo Kal Ki Bharosa Nahi
De Rahe Hai Woh Agle Janam Ki Khabar
De Rahe Hai Woh Agle Janam Ki Khabar
Jinko Agle Hi Pal Ka Bharosa Nahi

Phir Meri Yaad Aa Rahi Hogi
Phir meri yaad aa rahi hogi,
Phir wo dipak bujha rahi hogi.
Phir mere Facebook pe aa kar wo,
Khud ko banner bana rahi hogi.
Apne betey ka chum kar matha,
Mujh ko tika laga rahi hogi.
Phir usi ne use chhua hoga,
Phir usi se nibha rahi hogi.
Jism chadar sa bichh gaya hoga,
Ruh silwaT haTa rahi hogi.
Phir se ek raat kat gai hogi,
Phir se ek raat aa rahi hogi.

Kumar Vishwas's Net Worth
In 2022, Kumar Vishwas's net worth is 5 crore INR. What kind of words or cuisine may truly touch someone's heart? You read that right, you did. Anyone's heart can be touched by lyrical wordplay. Poems are a form of art. Rabindra Nath Tagore, Sarojini Naidu, A.K. Mehrortra, and other notable poets have lived in India. People still enjoy going to mehifls, which are poetry presentations by poets from various cultures and states in the age of multiplexes, Netflix, and chill.

At the moment, one such poet is Kumar Vishwas. Through his poetry, he expresses his admiration for Hindi, Urdu, and Sanskrit literature. Through his poetry, he also confronts concerns facing contemporary India. In his affidavit, Kumar Vishwas stated that he earned Rs. 26 lacs annually. This was during the 2014 Lok Sabha Elections. His real estate holdings are estimated to be worth 3.80 crores. He has two vehicles, a Toyota Innova and a Tata Aria, both worth about Rs. 16.50 lacs. Additionally, he has two flats in Rishikesh valued Rs. 12 lac and a property in Ghaziabad worth Rs. 90 lac.

Net Worth (2022) is $0.6 Million, Net Worth In Indian Rupees 5 Crore INR, Monthly Income And Salary 2 Lakhs +, Yearly Income 30 Lakhs +.

Kumar Vishwas has a house of around 1 Crore valuation. Kumar has an average collection of cars. His garage contains two vehicles: a Tata Aria worth Rs. 12 lakh and an Innova worth Rs. 5 lakh.

The Kavi Sammelans, in which Kumar Vishwas performs and which are regularly held throughout India and around the world in nations like Dubai, Abu Dhabi, Singapore, Nepal, Japan, and the USA, are the main source of income for him. Additionally, he plays at other business gatherings held in India and other nations.

Kumar Vishwas Awards and Achievements
Dr. Kunwar Baichain awardd by the Kavya Kumar award from the Kavya Samman Avam Puruskaar Samiti in 1994 was given to Kumar Vishwas.
In Unnao, Sahitya Bharti presented Kumar Vishwas with the Dr. Suman Alankarna award in 2004.
Kumar Vishwas received the Sahitya Shree award from the Hindi-Urdu Award Committee in 2006.
Kumar Vishwas received the Dr. Urmilesh Geet Shree Samman in 2010 from the Badaun Dr. Urmilesh Jan Chetna Samiti.
Kumar Vishwas Interesting Facts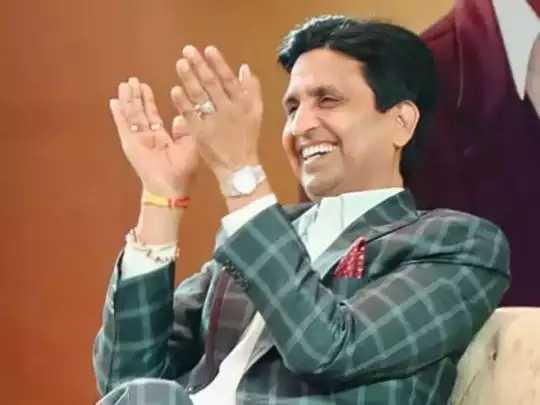 Kumar Vishwas joined the Anna Hazare-led India Against Corruption movement.
Kumar Vishwas ran from Amethi in the 2014 Lok Sabha elections.
In his Tarpan musical poetry series, Kumar Vishwas recited poems by deceased poets.
The Chaudhary Charan Singh University's anthem was written by him.
When Kumar Vishwas decided to leave engineering, his sister explained to him the benefits of becoming a poet.
Social Media
Frequently Asked Questions