Kamal Haasan | Movies, Age, Biography, Net Worth

Violeena Vargav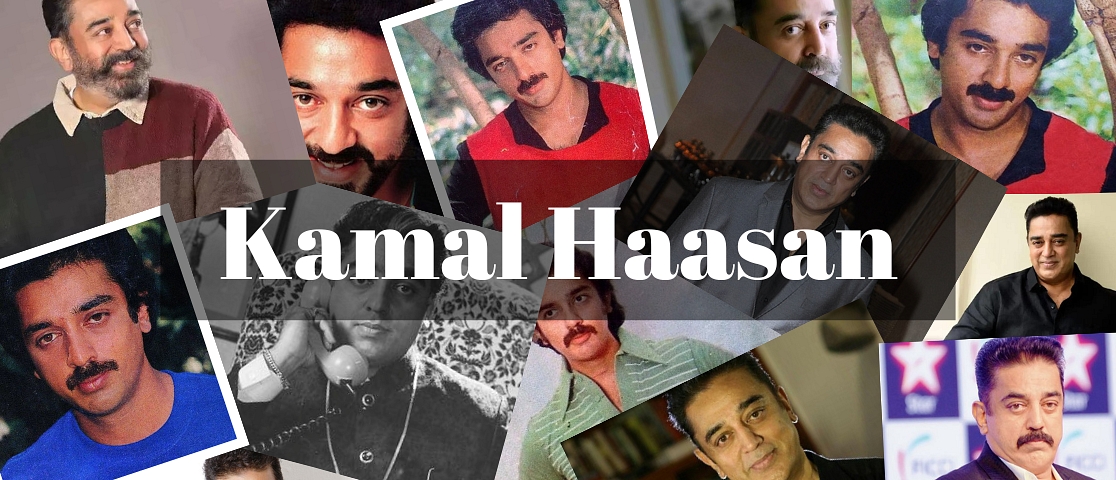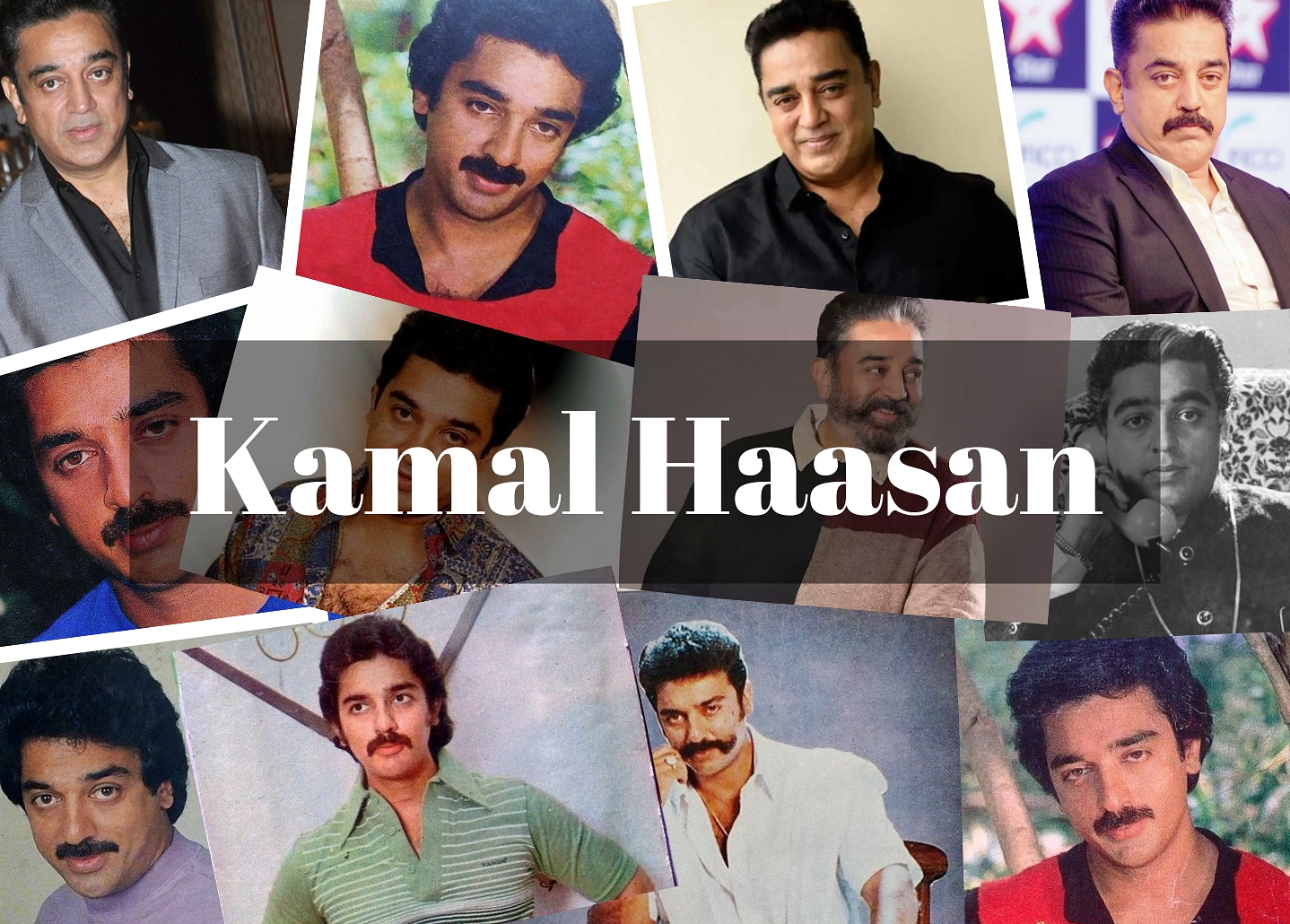 Kamal Haasan Biography & Age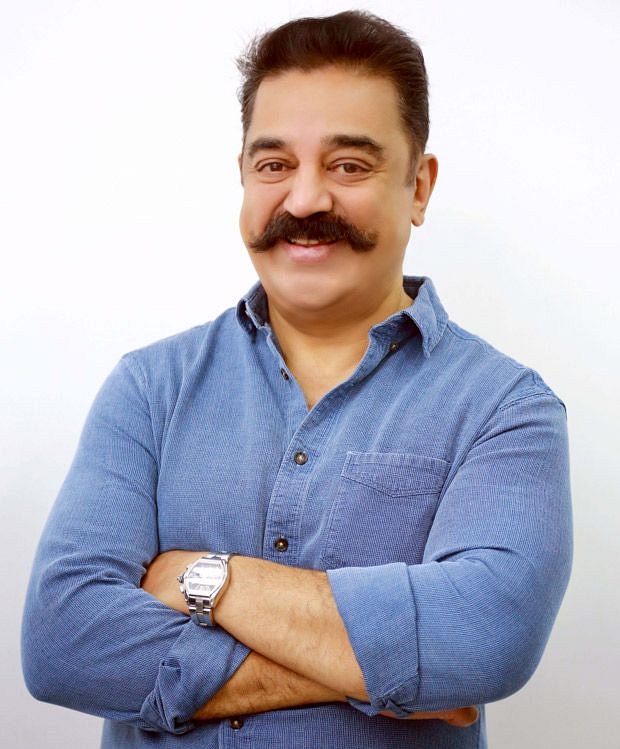 Kamal Haasan is a famous Indian actor, director, dancer, writer, lyricist, playback singer, choreographer, screenwriter, makeup artist and politician. Kamal Haasan primarily produces Tamil films. He has worked in films in Bengali, Telugu, Hindi, Kannada, and Malayalam in addition to Tamil. His peers in the Indian film business have hailed Haasan's contributions to movies, and the Tamil film industry has acknowledged him as a major impact on actors and directors. He was a trailblazer in the Indian film industry, pioneering numerous cutting-edge technology and cosmetics.

Kamal Haasan's birthday is 7 November 1954. Kamal Haasan's birth place is Paramakudi, Tamil Nadu. Kamal Haasan's age is 58 years, as of 2022. Kamal Haasan's religion is Hinduism. Kamal Haasan's zodiac sign is Scorpio. Kamal Haasan's height is 1.7m or 5'7.

20 Filmfare Awards and 4 National Film Awards have each been given to Kamal Haasan. He requested in a letter to the Filmfare Association that they not grant him any more prizes and instead give them to up-and-coming actors after Hey Ram won the 2000 Filmfare, and they complied. For his first movie, Kalathur Kannamma, he received the President's Gold Medal National award for Best Child Actor at the age of six. In 1984, he received the Kalaimamani award. In 1990, he received the Padma Shri. In 2014, he received the Padma Bhushan. And in 2016, he received the Chevalier of the Ordre des Arts et des Lettres. India nominated seven of his films for consideration as the Best Foreign Language Film, the most ever for an Indian actor. The 15th Mumbai International Film Festival presented him with the Lifetime Achievement Award in 2013. He has received more than 116 honours. Several of his films have been produced by Raaj Kamal Films International, his production firm.

The 1960 Tamil film Kalathur Kannamma, for which Kamal Haasan earned the President's Gold Medal, served as his debut feature. In the 1975 K. Balachander drama Apoorva Raagangal, in which he played a disobedient young man who falls in love with an older woman, he made his breakthrough as a leading man. He received his first National Film Award for his performance in Moondram Pirai as an unrepentant teacher who looks after a woman with retrograde amnesia (1982). Kamal Haasan received praise for his roles in the films Swathi Muthyam (1986) by K. Viswanath, Nayakan (1987) by Mani Ratnam, and Indian (1996) by S. Shankar, for which he also received the second and third National Film Awards, respectively. Since then, he has acted in several movies, including his own creations Hey Ram (2000), Virumaandi (2004), Dasavathaaram (2008), in which he portrayed 10 different parts, Vishwaroopam (2013), and Vikram (2022). Haasan has appeared in more than 230 movies, and in 2019 he joined a select group of Indian actors who have worked in the industry for 60 years.

In 2004, Kamal Haasan won the inaugural Abraham Kovoor National Award for his charitable work. He served as the event's project ambassador in 2010, helping to raise money for an orphanage for kids with HIV/AIDS. At Sri Ramachandra University in Porur, Chennai, in September 2010, Haasan established a children's cancer relief fund and donated roses to children with cancer. Indian Prime Minister Narendra Modi proposed Haasan for the Swachh Bharat Mission. Haasan formally introduced his political party, Makkal Needhi Maiam (people's justice center), on February 21, 2018. Additionally, he was granted a Golden Visa by the United Arab Emirates.
Keep reading to know more about Kamal Haasan's biography, family, age, birthday, boyfriend, husband, height, new movies, upcoming movies, career timeline, school, college, Kamal Haasan's Net Worth, and education, and to see exclusive Kamal Haasan's photos.

Talk To Similar Celebrities
Kamal Haasan's Family and Kamal Haasan's Education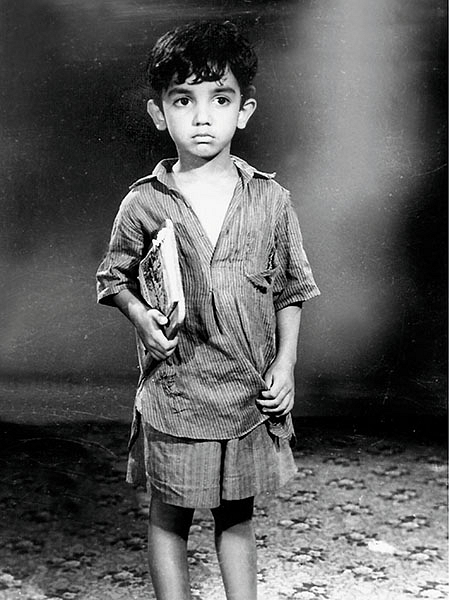 Kamal Haasan's father's name is D. Srinivasan and his mother's name is Rajalakshmi. Kamal Haasan's father was a lawyer by profession and a freedom fighter. While his mother was a housewife. Charuhasan and Chandrahasan, Kamal Haasan's brothers, were both performers. Nalini, Haasan's sister, was a classical dancer.

Parthasarathy was Kamal Haasan's original name. Later, his father adopted Kamal Haasan as his new name. Prior to relocating to Madras (now Chennai), where his brothers were pursuing higher education, he completed his primary school in Paramakudi. In Santhome, Madras, where he finished his schooling, Haasan was drawn to the fine arts and film, as encouraged by his father.
Kamal Haasan Relations and Marriage
Srividya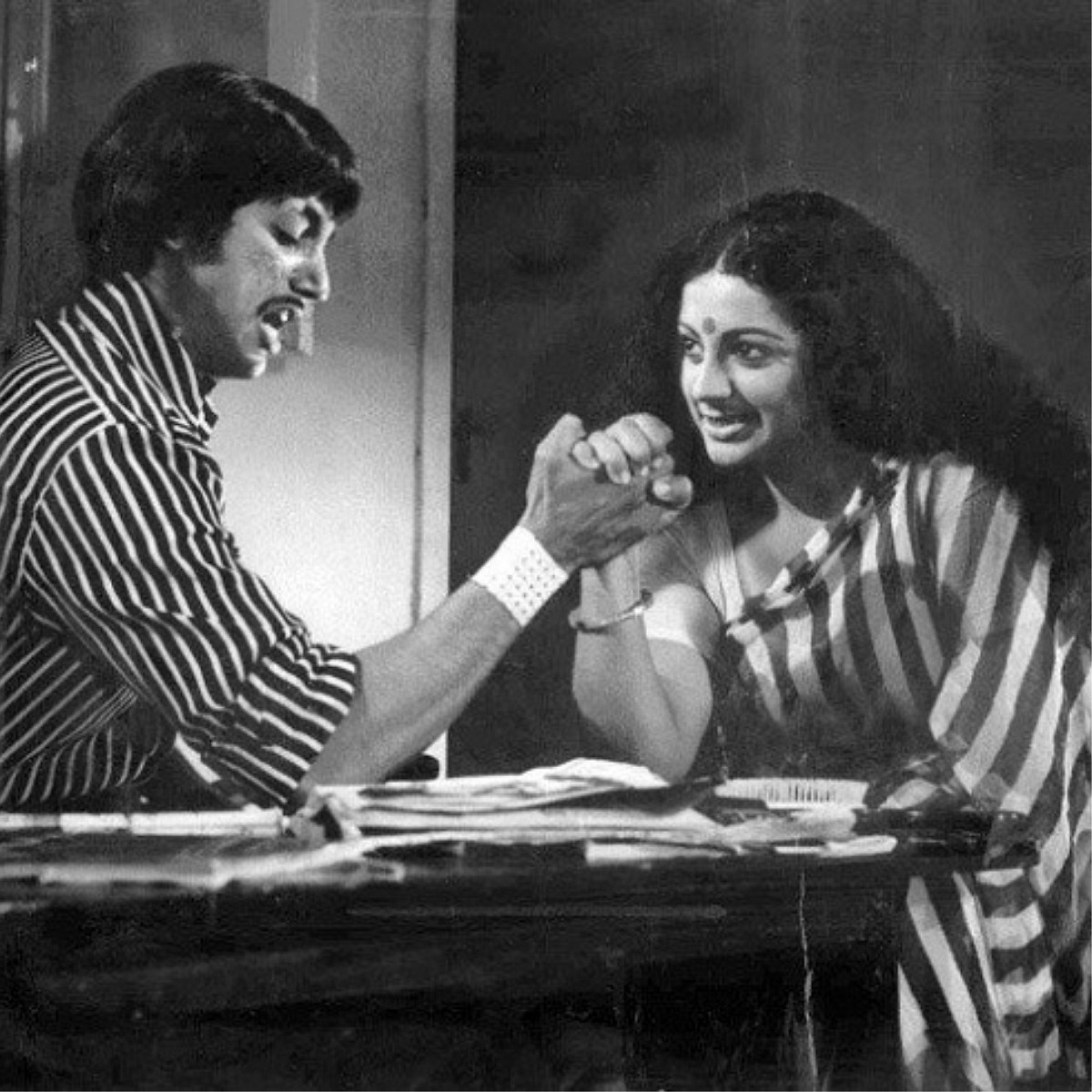 Early in his career, when Kamal Haasan played the lead role, Srividya, an actress who was two years older than him, was the subject of the first link-up rumours. The most well-known movie in which Srividya and Haasan were seen romancing each other was Apoorva Raagangal. Since Kamal Haasan didn't seem willing to formally court Srividya, their relationship was kept a secret for a long time.

Following the breakdown of their romance, Srividya was married to George Thomas, a Malayalam movie assistant director. In 1980, Srividya filed for divorce from her husband. 2006 saw her demise after a protracted illness. Rumor has it that Kamal Haasan visited her on her deathbed often.
Vani Ganapathy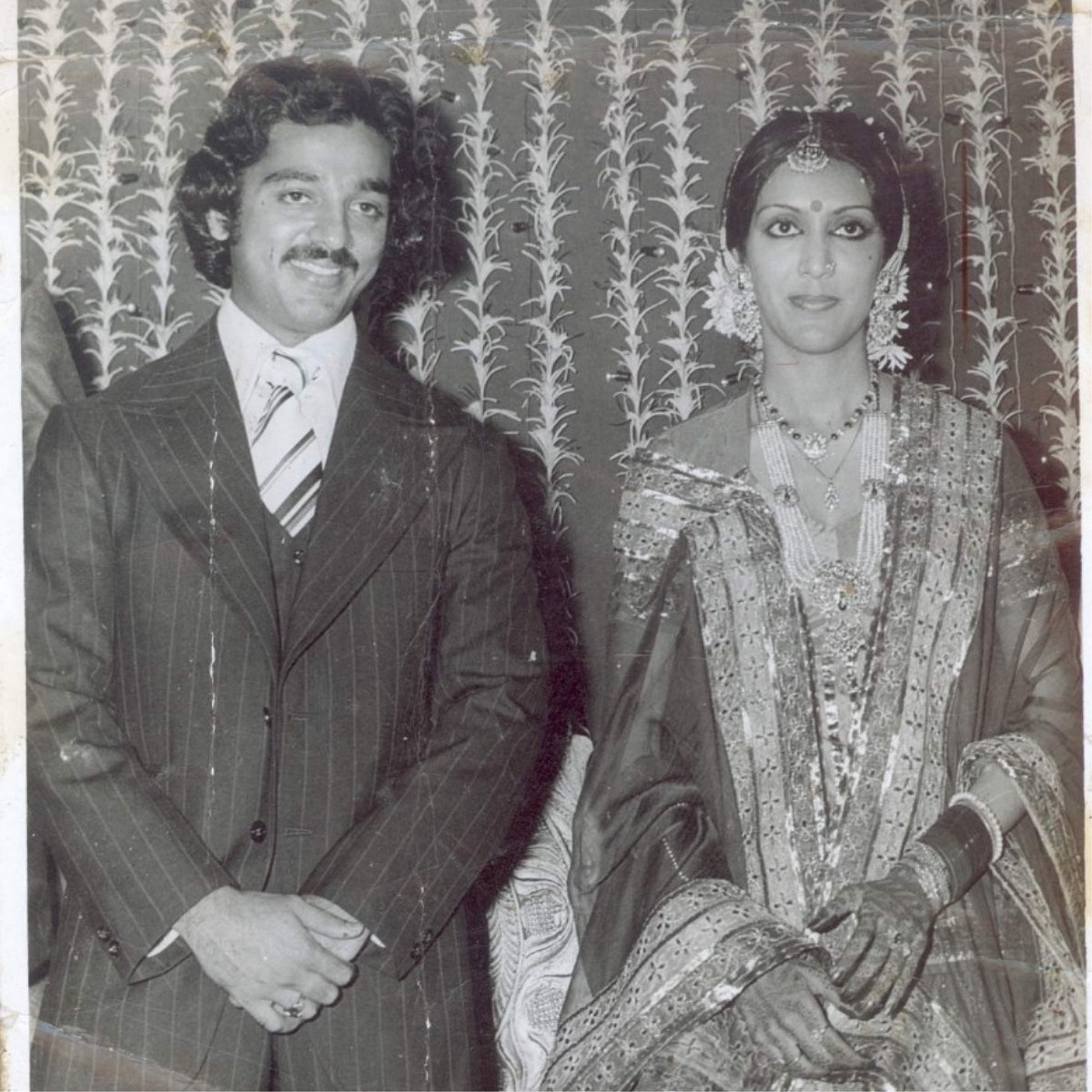 Kamal Haasan fell in love with Vani Ganapathy, a well-known classical dancer at the time, as soon as his relationship with Srividya came to an end. Around 1977, Kamal Haasan and Vani Ganapathi began dating. According to a lot of reports, they were introduced through a buddy. Vani and Kamal got married because Vani was really eager to wed and did not agree with the idea of a live-in relationship.

Prior to Sarika's arrival and Kamal's relationship with her in 1988, they were enjoying a happy marriage. After ten years as a married couple, Kamal and Vani decided to call it quits. The main causes of their divorce were Kamal's infidelity and her inability to conceive after ten years of marriage.
Sarika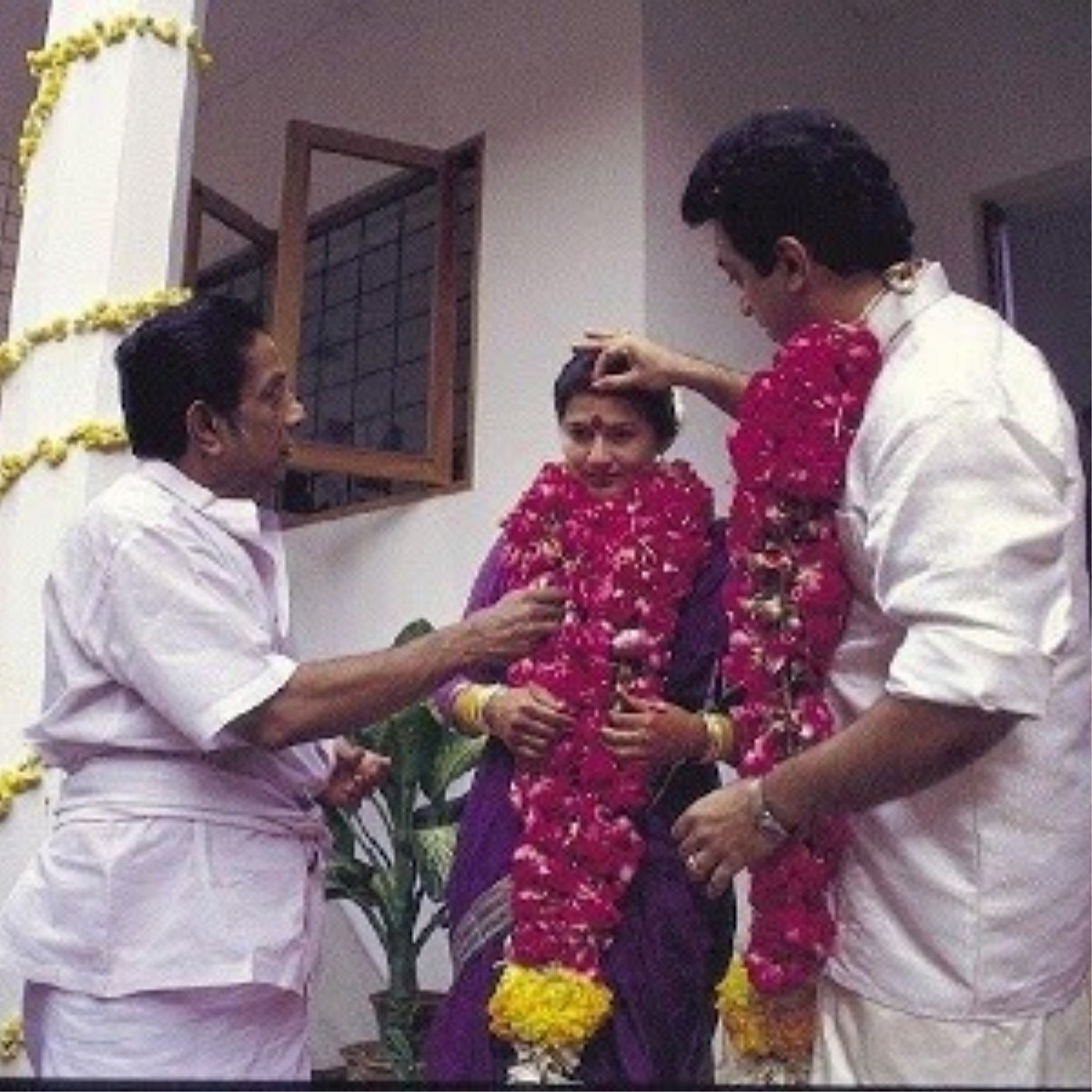 At the time, Kamal Haasan and Sarika had an infamous romance. Even before formally separating from Vani, Kamal began seeing Sarika, and the two of them soon moved in together. Surprisingly, while Kamal was still married, Sarika gave birth to their first child, Shruti Haasan, in 1986. Due to social pressure, the pair were married in 1988. He filed for divorce from Vani, but much later. In 1991, Sarika gave birth to Akshara Haasan, another daughter.

Up until Simran Bagga intervened, everything between Kamal and Sarika was going smoothly. His friendship with Simran, a Tamil actress, was also not well received by Sarika. Sarika was so devastated by the events that she even made an attempt at suicide. Sarika's divorce petition in 2002 marked the end of their marriage. Eventually, their 16-year romance ended in 2004.
Simran Bagga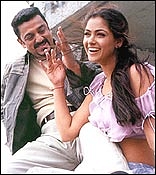 Simran Bagga and Kamal Haasan first crossed paths in the early 2000s, and by 2001, they had become close friends. On the Pammal K. Sambandam sets, they fell in love, and by the end of the production, the couple was well-known. Simran and Kamal first crossed paths in the early 2000s, and by 2001, they had become close friends. On the Pammal K. Sambandam sets, they fell in love, and by the end of the production, the couple was well-known. Despite their 22-year age difference, it didn't stop their blossoming romance. Their budding relationship fizzled out, and Simran later wed another guy.
Gautami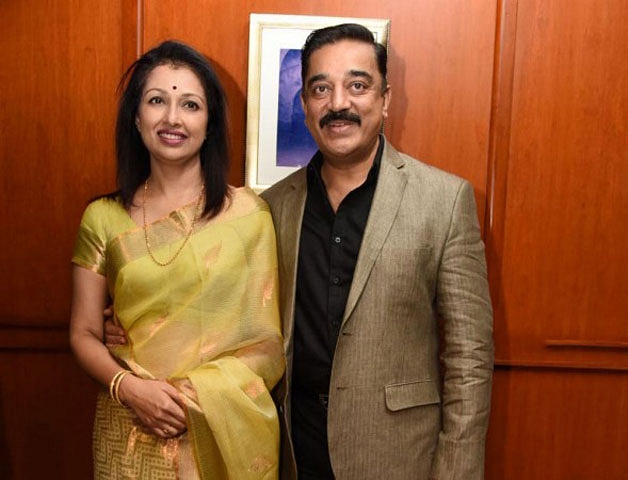 Kamal Haasan and Gautami dated back to when he was still married to Sarika. Kamal went ahead and had a live-in relationship with actress Gautami after his romance with Simran ended. Along with her daughter from the previous spouse, she entered his life. Since they were actually content living together, they had no desire to get married. When Gautami was suffering from cancer, Kamal Haasan supported her like a true spouse. After thirteen years, they also ended, just like every other romance. The cause is unknown, although rumours claim the pair was going through a difficult time when they made their decision to separate.
Pooja Kumar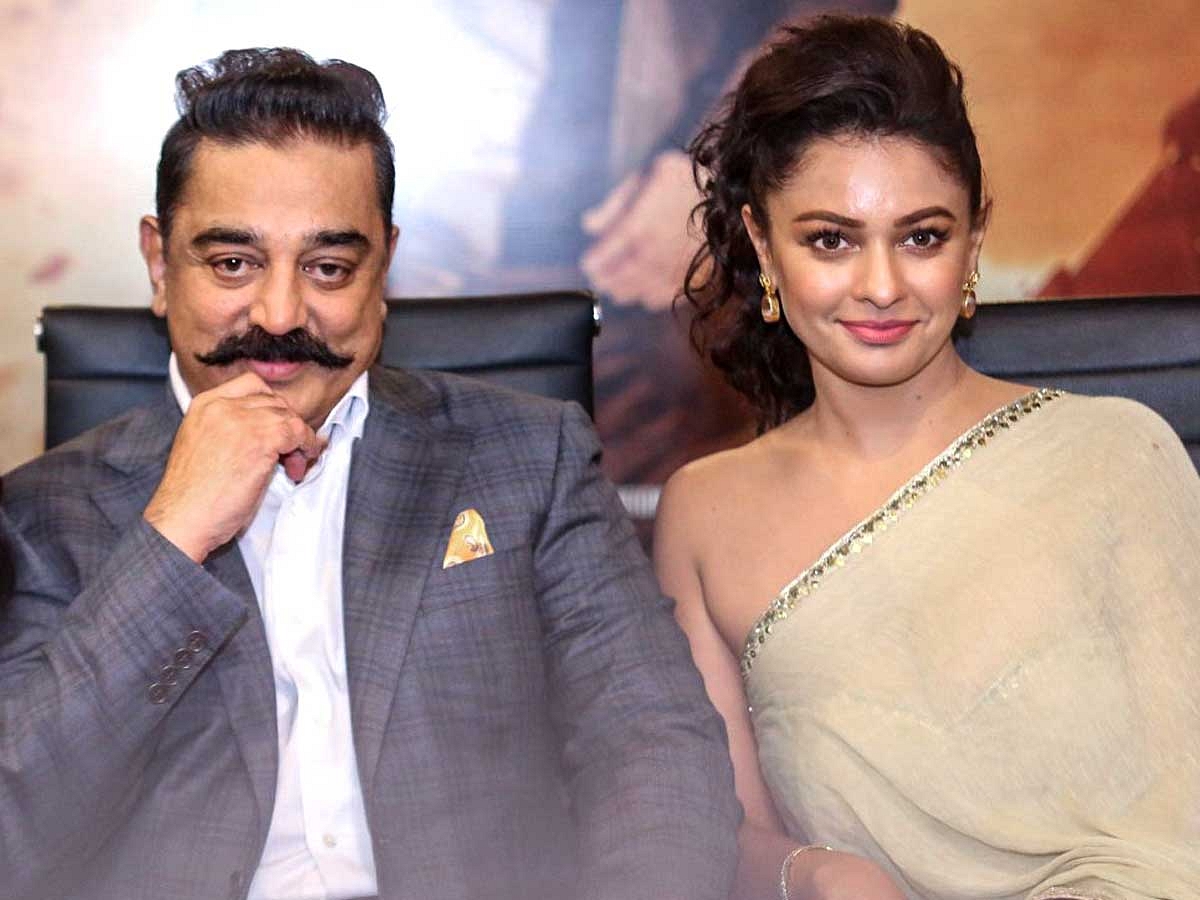 Even though Kamal Haasan is officially single, there are rumours that he is dating Pooja Kumar, a co-star from the movie Vishwaroopam. Although there is no information regarding their connection in the public domain, Pooja Kumar's appearance with the rest of Kamal Haasan's family during his birthday party caused an internet sensation that quickly went viral.
Kamal Haasan's Career
Moondram Pirai (1982)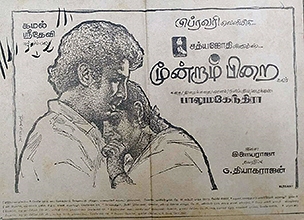 Balu Mahendra wrote, produced, and starred in the 1982 Tamil-language romantic drama movie Moondram Pirai. Kamal Haasan and Sridevi play the lead characters in the movie; other cast members include Y. G. Mahendran, Silk Smitha, and Poornam Viswanathan. The first movie made by G. Thygarajan and G. Saravanan's Sathya Jyothi Films is titled Moondram Pirai. Ilaiyaraaja scored the soundtrack for the movie, and Kannadasan, Vairamuthu, and Gangai Amaran wrote the lyrics.

The story of Cheenu, a schoolteacher who saves the mentally unstable Viji from a brothel and cares for her in his hillside house, is told in this expertly written, unusual romantic tale. He battles to control his sexual urge while the insane woman, regressing into a juvenile state, grows loyal to him. While Viji is happily living with Cheenu and has no recollection of her past, her father Vedachalam has been searching for her desperately and has even placed an ad in the newspaper about his missing daughter. He receives a clue from a fellow passenger who had taken the same train from Chennai to Ooty as Cheenu and Viji. When Cheenu brings Viji to see an Ayurvedic doctor for treatment, the police show up and force Cheenu to flee out of fear for retaliation.

On February 19, 1982, Moondram Pirai was published and was well-received by critics. It was a box office hit and ran in theatres for more than a year. Two National Film Awards were given to the movie: Best Cinematography went to Mahendra and Best Actor went to Haasan. Additionally, it received five Tamil Nadu State Film Awards, including Best Film (third prize), Best Actor (Haasan), and Best Actress, as well as the Best Director - Tamil award for Mahendra at the Filmfare Awards South (Sridevi). The movie was adapted in Hindi by Mahendra as Sadma (1983), starring Haasan, Sridevi, and Smitha once more.
Sagara Sangamam (1983)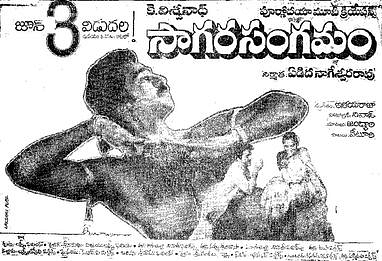 The 1983 Indian Telugu dance movie Sagara Sangamam was written and directed by K. Viswanath and was made by Edida Nageswara Rao. Kamal Haasan, Jaya Prada, Sarath Babu, S. P. Sailaja, and Chakri Toleti all appear in the movie. The movie was well-received when it was first released and was a financial success. Three South Filmfare Awards, two National Film Awards, and the Nandi Award for Best Feature Film have all been given to the movie (Bronze). The movie is ranked among the top 100 Indian movies of all time by CNN-IBN.

Balakrishna is a multi-talented but financially struggling dancer who is skilled in BharataNatyam, Kathakali, Kuchipudi, etc. His aim is to compete at an All-India level competition. Rich girl Madhavi recognises his talent and works to obtain him a chance to compete in an all-India competition. His mother's passing just as he was about to revive his dream prevents it from coming true. He gets to know Madhavi gradually, and on the day he wants to ask her to marry him, he learns that she is already married and that her husband has already departed. Now that he wants to get back together with her, the husband is forced to put his love aside. Over the years, he develops a drinking problem. Madhavi loses her husband in the meantime. She learns that Balakrishna would soon pass away, according to the physicians. She attends to his medical requirements as a result, and asks Balakrishna to teach her daughter to dance. The film concludes with Balakrishna's death sending the message "There is no end to art" and Madhavi's daughter becoming a brilliant dancer.

The movie was released as Salangai Oli and Sagara Sangamam in Tamil and Malayalam, respectively. For all three of the versions, Kamal Haasan provided the voiceover. The movie was shown in 1984 at the International Film Festival of India, then again in 2011 for a retrospective and in 2014 for the segment on Celebrating Dance in Indian Cinema. The movie was dubbed into Russian and shown at the AISFM Film Festival, the Asia Pacific Film Festival, and the Moscow International Film Festival. Sagara Sangamam and Salangai Oli were both released on the same day.
Swathi Muthyam (1986)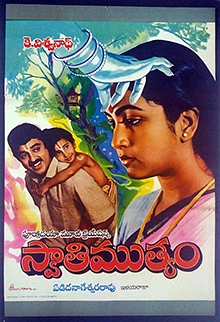 K. Viswanath wrote and directed the 1986 Telugu-language drama film Swathi Muthyam, which was also produced by Edida Nageswara Rao. The movie stars Kamal Haasan and Raadhika, with supporting performances by Gollapudi Maruti Rao, J. V. Somayajulu, Nirmalamma, Sarath Babu, and Y. Vijaya.

Shivaiah is a good-hearted orphan with impaired cognitive ability due to a brain injury. He resides in a village with his grandmother. Lalitha, a young widow with a little kid of five, resides in that village with her brother Chalapati's family. Lalitha puts up with her sister-in-law's repeated abuse of her and her son because she has nowhere else to turn. Lalitha frequently crosses paths with Shivaiah, who is horrified by her state. All the locals were shocked when Shivaiah wed Lalitha one day during the Sri Rama Navami celebration. His grandmother is in favour of the union because she shares his sentiments towards Lalitha, but the Orthodox villagers and his uncle are against it because they believe that remarrying a widow is sinful.

Shivaiah's grandma is killed in that altercation, leaving the defenceless Shivaiah in Lalitha's care. With her brother's approval, Lalitha moves in with her husband. Some of the locals assist them in beginning a new life. Lalitha gradually helps Shivaiah comprehend the roles and responsibilities of a man in the home. After finding employment, Shivaiah begins to provide for his wife and stepson. They eventually give birth to a son and live happily ever after. After a number of years, Lalitha falls unwell and passes away in her husband's arms. In the show's climactic scene, Shivaiah leaves his home accompanied by his kids and grandkids. He is carrying a tulsi plant that serves as a reminder of Lalitha's affection.

A hit at the box office was Swathi Muthyam. The movie was shown in the opening mainstream section at the 11th International Film Festival of India, the Asian and African Film Festival in Tashkent, and the Moscow Film Festival. The movie won three Nandi Awards, the Filmfare Award for Best Director - Telugu, the National Film Award for Best Feature Film in Telugu, and the National Film Award. The movie was chosen by India as its submission for the 1986 Academy Awards' Best Foreign Language Film category, however it did not receive a nomination. Later, the movie was released on October 2, 1986, as Sippikkul Muthu in Tamil. Following its success, the movie was eventually adapted in Kannada as Swathi Muthu (2003) and in Hindi as Eeshwar (1989).
Nayakan (1987)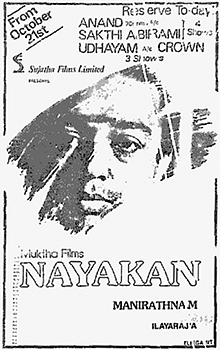 Mani Ratnam is the author and director of the 1987 Indian Tamil-language epic crime movie Nayakan. Kamal Haasan, Saranya, and Karthika star in the Muktha Srinivasan-produced movie, which also features Janagaraj, Vijayan, M. V. Vasudeva Rao, Delhi Ganesh, Nizhalgal Ravi, Nassar, and Tara in supporting parts.

The protagonist of Nayagan, a little boy named Velu, assaults the police officer who killed his father before losing track of him and fleeing to Bombay. He is raised in Bombay by a devout Muslim fisherman. Velu is persuaded to commit a crime by chance. Velu develops into a Don, and the power of it gradually transports him to a new world where he is in charge. However, he gradually loses his loved ones, and the story culminates in his death at an older age with the moral that one who lives by the sword, dies by it.

The life of Bombay underworld don Varadarajan Mudaliar and the American movie The Godfather are both partly based on Nayakan (1972). When asked to remake the 1970 Hindi film Pagla Kahin Ka for Srinivasan and Haasan, Ratnam declined. Instead, he offered two alternative tales, one of which Haasan liked and which became Nayakan. P. C. Sreeram handled the cinematography, and B. Lenin and V. T. Vijayan handled the editing.

Nayakan was published on October 21, 1987, which was Diwali. After playing in theatres for more than 175 days, it achieved both critical and financial success. The National Film Award for Best Actor was given to Kamal Haasan for his work. Additionally, the movie won National Awards for Best Art Direction and Best Cinematography (Sreeram) (Thota Tharani). The movie was India's official entry for the Best Foreign Language Film Academy Award at the 60th Academy Awards in 1988, however it did not make the final list of nominees. It was listed among News18's and TIME's "100 Greatest Indian Films of All Time" and "All-Time 100 Best Films" lists. The movie was dubbed Dayavan in Hindi (1988).
Pushpaka Vimana (1987)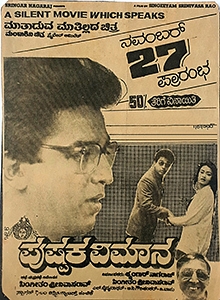 The 1987 Indian black comedy film Pushpaka Vimana was written and directed by Singeetam Srinivasa Rao and co-produced by Shringar Nagaraj. Kamal Haasan portrays the title character in the silent film, which also stars Samir Khakhar, Tinu Anand, K. S. Ramesh, Amala, Farida Jalal, Pratap Potan, Lokanath, P. L. Narayana, and Ramya.

An educated, young graduate man without a job stumbles across a man who is heavily intoxicated and carrying a briefcase full of cash. The young man assumes the identity of the alcoholic and resolves to experience life to the fullest because he is sick of leading a plain and boring life. He moves in without incident after learning that the alcoholic is residing in an upscale hotel. After settling down, he discovers that the hotel has an extremely lovely magician's daughter on staff. The daughter becomes acquainted with him, and he lavishes her with attention. He discovers that someone had broken into his hotel room without authorization to kill him one day when he was watching TV there. Horrified, he must now choose between returning to his basic and impoverished way of life or continuing to live the luxurious life and dying at the hands of a man he does not even know.

When Singeetam Srinivasa Rao was an assistant director on a movie where a character had to convey dread without saying a word, he became inspired to make a dialogue-free movie. Within two weeks of having the concept for Pushpaka Vimana, Rao had the screenplay completed. The movie was the only one that Nagaraj produced. Rao was able to cast actors from different regions of India because there was no conversation. B. C. Gowrishankar handled the cinematography, D. Vasu handled the editing, Thota Tharani oversaw the art direction, and L. Vaidyanathan wrote the background music.

The movie was released on November 27, 1987, under a variety of regional titles, including Pushpaka Vimana in Karnataka, Pushpak in Hindi-speaking areas, Pesum Padam in Tamil Nadu, Pushpaka Vimanamu in Andhra Pradesh, and Pushpakvimanam in Kerala, all variations of the original title. Movie enjoyed commercial success and favourable reviews, and it played in Bangalore theatres for 35 weeks. The movie received three awards at the 35th Filmfare Awards South in the Kannada branch, including Best Film, Best Director (Rao), and Best Actor. It also won the National Film Award for Best Popular Film Providing Wholesome Entertainment as a Kannada-language entry (Haasan).
Mahanadi (1994)
Kamal Haasan and Santhana Bharathi collaborated on the 1994 Tamil-language crime drama movie Mahanadhi. Starring alongside Sukanya and Haasan in the movie are S. N. Lakshmi, Tulasi, Shobana, Dinesh, Poornam Viswanathan, Rajesh, and V. M. C. Haneefa.

A wealthy widower, Krishna resides in the little village of Thirunageswaram with his mother-in-law and kids. He meets city businessman Dhanush by chance, and he asks him to participate in his company so that he can quickly increase his income. Krishna, who wishes to live in the city, sells his property in the country and gives the proceeds to Dhanush, a broker for a larger businessman in the major city. Dhanush soon defrauds Krishna, who ends up in jail for scamming the public that invested in his business. Krishna encounters Panchapakesan, a fellow prisoner, whose daughter Yamuna ends up being his future wife. Krishna endures suffering as his kids are split up. Dhanush gives his son Bharani to a group of street dancers while selling his daughter Kaveri to a prostitute in Calcutta. Returning after a three-year prison sentence, Krishna tracks down his kids, locates Dhanush, and kills both him and his boss.

When Haasan learned that his domestic help was planning to kidnap his daughters and demand a ransom, he got the idea for Mahanadhi. Novelist Ra. Ki. Rangarajan offered suggestions after he finished the story and was later given credit for writing the dialogue. Newcomer M. S. Prabhu handled the cinematography, while N. P. Sathish handled the editing. It was the first movie to employ Avid technology in India. The movie discusses a number of topics, including child trafficking and corruption.

On January 14, 1994—Pongal Day—the movie Mahanadhi was released in theatres and was a critical and financial triumph. The movie received two Tamil Nadu State Film Awards, including Special Prize (Best Film) and Best Stunt Coordinator, in addition to two National Film Awards for Best Feature Film in Tamil and Best Audiography.
Indian (1996)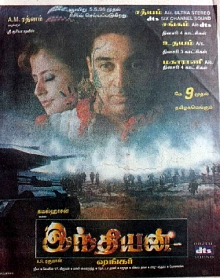 Shankar wrote and directed the 1996 vigilante action movie Indian, which was also produced by A. M. Rathnam. In addition to Nedumudi Venu, Sukanya, Manisha Koirala, and Urmila Matondkar, Kamal Haasan plays two roles in the movie. A. R. Rahman wrote the film's score and soundtrack, and Jeeva was in charge of the cinematography.

In the movie Indian, a father loses his daughter to a condition brought on by dishonest government authorities. He wants to handle things properly, but he is aware that the authorities might have avoided the situation only if they had considered the life of the individual. As a result, he starts murdering corrupt officials on a regular basis. The film also tells the narrative of his wife, son, and beloved women. She supports animals and is a member of the Blue Cross Society. Sadly, like those crooked authorities, his son selected the incorrect path for his development. As a result, the story ends with the boy being murdered by his own father.

Indian, which debuted to positive reviews upon its 9 May 1996 global release, went on to enjoy box office success. The movie was chosen by India as its submission for the 1996 Academy Awards' Best Foreign Language Film category, however it did not receive a nomination. Kamal Haasan's portrayal earned him wins at the Filmfare Awards and the Tamil Nadu film fare award, and the movie went on to win three National Film Awards, including Best Actor. Upon release, it had the biggest box office performance in Tamil.
Hey Raam (2000)
Kamal Haasan wrote, produced, and starred in the 2000 Indian historical crime drama movie Hey Ram. Hindi and Tamil versions were also simultaneously produced. Shah Rukh Khan makes his Tamil film debut in a supporting role. Ilaiyaraaja wrote the music and score for the movie. The partition of India and Nathuram Godse's assassination of Mahatma Gandhi are shown in this alternate history movie.

Currently travelling Karachi, British India, with his businessmen friends Lalwani and Amjad Ali Khan, Saketh Ram, a well-off and educated South Indian, hails from a wealthy and well-off family. In order to see his loving wife, Aparna, Saketh travels to Calcutta. Religious riots then break out, as Sikh and Hindu gangs quickly start killing Muslims on sight, while Muslim gangs quickly start killing non-Muslims on sight while also raping and molestation their women. Aparna, unfortunately, is one of those women. When Mohandas Karamchand Gandhi called for peace with the Muslims, Saketh became furious, first at the Muslims and then at Gandhi. Soon after, Saketh joined a revolutionary gang of right-wing Hindus from Maharashtra who wanted to assassinate Gandhi.

Saketh returns home, where his family arranges for his marriage to Mythili Iyengar, after the British depart from a furious and divided India. Both of them then depart and go to Maharashtra, where they meet the Maharaja and soon become involved in an assassination plan against Gandhi. This mission is given to Saketh Ram and Shriram Abhyankar, but after Shriram suffers an accident, becomes disabled, and eventually passes away, Saketh is left to carry out the assassination of Mohandas, who will become known as Mahatma Gandhi.

The movie was shown at the International Film Festival of India, and the Film Federation of India chose it as its entry for the 2000 Oscars, however it did not receive a nomination. Three National Picture Awards have been given to the film. The movie was shown in other countries during the 2000 Locarno Festival and the 25th Toronto International Film Festival.
Anbe Sivam (2003)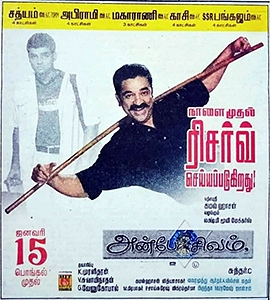 Anbe Sivam is a 2003 Indian comedy-drama film in the Tamil language that was produced by K. Muralitharan, V. Swaminathan, and G. Venugopal under the label of Lakshmi Movie Makers. The film was directed by Sundar C. Kamal Haasan wrote the screenplay, and Madhan contributed the dialogue. Haasan, Madhavan, and Kiran Rathod are the main actors in Anbe Sivam, whereas Nassar, Santhana Bharathi, Seema, and Uma Riyaz Khan play minor roles.

This expertly written relationship drama, which is evocative and thought-provoking, tells the tale of a sequence of humorous incidents that happen when Nalla Sivam, a witty, disabled communist, and Anbarasu, an arrogant young commercial director who supports capitalism, meet. On their troubled journey from Bhubaneswar to Chennai, they become locked together, providing them a rare chance to learn more about one another's worldviews. The two heroes learn how intricately interwoven their lives are as they examine themes like globalisation, financial inequality, and compassion in contemporary India.

Anbe Sivam portrays Haasan's humanist beliefs while tackling topics like communism, atheism, and selflessness. Vidyasagar was the composer of the music. The art director was M. Prabhaharan, while the cinematographer was Arthur A. Wilson.

The movie opened to favourable reviews from reviewers on January 15, 2003, however it did poorly at the box office. Despite its initial failure, it has grown in popularity over the years thanks to repeat showings on television networks and is now recognised as a classic of Tamil cinema and a cult classic. In 2003, the Indian Panorama section of the International Film Festival of India featured a screening of Anbe Sivam. It got a Special Jury Award and nominations for Best Film and Best Actor (Haasan) at the 51st Filmfare Awards South. At the Tamil Nadu State Film Awards in 2003, Madhavan won Best Actor.
Vishwaroopam (2013)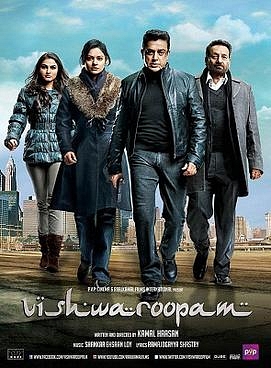 The 2013 Indian spy action thriller movie Vishwaroopam was written by Kamal Haasan, Chakri Toleti, and Atul Tiwari and directed and produced by Kamal Haasan, who also plays the major character. Rahul Bose, Shekhar Kapur, Pooja Kumar, Andrea Jeremiah, and Jaideep Ahlawat all play auxiliary roles in the movie. The movie, which was simultaneously shot in both Tamil and Hindi, had a Shankar-Ehsaan-Loy soundtrack. Vairamuthu and Haasan wrote the lyrics for the Tamil version, and Javed Akhtar translated them for the Hindi version.

Viswanath is a Kathak instructor who is constantly undervalued by his wife Nirupama, who has feelings for her boss. She employs a spy to follow her spouse because she has worries that he is not who he says he is. Mukhtar, an assassin of Omar, the terrorist organization's leader and the one who is planning a nuclear strike on New York, kills the spy. Omar's soldiers are holding Viswanath and Nirupama captive, and she is horrified to watch Vishwanath battle against all men. He reveals his true identity as Wisam Kashmiri, a Raw Agent, who is working covertly with his squad to apprehend a terrorist organization's sleeper head cell.

The first Indian movie to use the innovative Auro 3D sound technology is Vishwaroopam. The movie was also supposed to be the first in India to be transmitted by direct broadcast satellite, popularly known as direct-to-home (DTH), however this idea was abandoned due to theatre owners' objections. The movie was released on January 25, 2013, in all countries bar Tamil Nadu, and on February 7, 2013, in Tamil Nadu. Release day for the Hindi version was February 1st, 2013.

Vishwaroopam received favourable reviews despite its patchy release and peaked as one of the highest-grossing Tamil films at the time of its release. At the 60th National Film Awards, the movie received recognition for Best Art Direction and Best Choreography. Vishwaroopam II, a follow-up to the movie, debuted on August 10, 2018.
Kamal Haasan Upcoming Projects
Mahesh Narayanan, a veteran Mollywood director, will direct Kamal Haasan's upcoming movie, the actor has announced. Initial rumors from unconfirmed sources indicate that Kamal wrote the script for the new movie, which may be a spiritual successor to the movie "Devar Magan," which starred Sivaji Ganesan and Kamal Haasan in the key roles. According to the same sources, Vijay Sethupathi and Vikram are most likely to play opposite roles under the RKFI brand.
Indian 2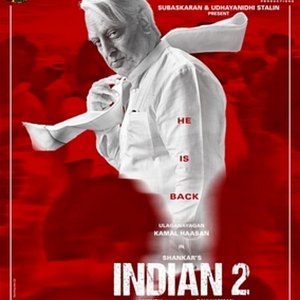 Senapathy returns to the nation to assist a young man who has been using online recordings to expose corrupt politicians there.

S. Shankar is the director of the upcoming vigilante action movie Indian 2 in Tamil. It is meant to be the follow-up to his 1996 movie Indian. The movie, which was made by Lyca Productions and Red Giant Movies, stars Kamal Haasan in his previous Senapathy role.

Other important actors include Siddharth, Gulshan Grover, Kajal Aggarwal, Rakul Preet Singh, Priya Bhavani Shankar, Samuthirakani, Bobby Simha, Guru Somasundaram, Delhi Ganesh, Jayaprakash, and Vennela Kishore.
Kamal Haasan Career Time Line
Kamal Haasan Movies
Kamal Haasan as a Director, Producer, Writer
Kamal Haasan Controversy
Thevar Community Controversy
One of his early films Thevar Magan, which won five national prizes, including best film in Tamil, drew harsh criticism for associating the Thevar minority of Tamil Nadu with violence.
Hey Raam Controversy
Kamal Haasan wrote, directed, and produced a film called Hey Ram that won three national honours and was nominated for an Oscar. This bilingual film is based on Nathuram Godse's murder of Mahatma Gandhi. Because Gandhi was portrayed negatively in this film, there was a significant uproar among various left-leaning political parties.
Vishwaroopam Controversy
Vishwaroopam, an Indian movie released in 2013, faced a number of contentious problems. The Hindu Makkal Katchi party wanted a change from its existing Sanskrit title to a solely Tamil one in the first case of this nature. Theatre owners urged a retraction of this arrangement when Kamal Haasan announced a direct-to-home (DTH) release of the movie out of concern for significant revenue losses to DTH operators. Haasan consented to let the movie premiere in theatres first after threatening a complete theatre boycott of Vishwaroopam.

Later, Muslim organisations in Tamil Nadu urged that the movie be stopped, claiming that it would offend Muslim sensibilities. Despite Tamil Nadu district collectors ordering theatre owners not to screen Vishwaroopam despite the film's approval by the Central Board of Film Certification of India, which cited law and order issues, the movie was released in neighbouring states with higher Muslim populations than Tamil Nadu. The ban in Tamil Nadu caused screenings in nearby Indian states as well as a few international markets to cease.

The Tamil Nadu Chief Minister, Jayalalitha, was accused of having political and commercial interests, which the Indian film industry denies, and her actions were criticised as a direct attack on freedom of speech in India. Kamal Haasan claimed that after repeated pressure to remove the supposedly controversial parts from the movie, he may be compelled to leave Tamil Nadu and India because he was "tired of being pushed within a dirty political game."
Nathuram Godse Controversy
At a political rally in Aravakurichi, Tamil Nadu, Kamal Haasan said something controversial about the country's first terrorist. The Vishwaroopam actor claimed that Nathuram Godse, who killed Mahatma Gandhi, was the first terrorist of independent India. As a good Indian who values equality, Kamal Haasan further stated that he would "want the three colours in the tricolour to remain intact."
Plebiscite in Kashmir
The actor became embroiled in controversy in February 2018 after he questioned why India was reluctant to conduct a referendum in Kashmir. This declaration was made following a treacherous attack in Pulwama by the Jaish-e-Mohammed that resulted in the deaths of 40 members of the Central Reserve Police Force (CRPF). No soldier would perish, according to Kamal, if Indian and Pakistani politicians acted decently. He said, "The Line of Control will be in control." He soon came under fire from a number of lawmakers and civilians, which forced him to retract his statement. His party, Makkal Needhi Maiyam, said in a news release that his remarks had been exaggerated.
Poonool Controversy
During a Q&A session on Twitter in July 2018, Kamal Haasan responded to a number of queries from his followers. Which books, or "nool" in Tamil, have had a significant influence on his life, one of his followers inquired. The performer remarked, "I steered clear of one thread. I was greatly impacted by the thread, Poonool. I stayed away because of that." He drew harsh criticism for his remarks from the Brahmin community, who wear the sacred thread.
Kamal Haasan's Net Worth
Kamal Haasan's net worth in 2022 is $50 million US or 399 Crore Indian Rupees. His acting career, brand promotions, guest appearances, and collaborations are the main sources of his income. His annual salary is $5 million as of 2022, according to a number of reports. In Big Boss, Kamal Haasan makes about Rs. 2 lakhs every day.

He receives a yearly salary of Rs 2 crore from the producer, endorsement deals, films, and songs. covers his personal stock, real estate, and investments. In addition to this, he bills brands for endorsements at a charge of Rs. 50 lakh.

Kamal Haasan recently informed the government that he is the proud owner of properties worth a whopping Rs 131 crore, including Rs 17 crore worth of agricultural land. Kamal Haasan's real estate holdings in Chennai include two apartments in residential societies. These properties are priced at a total of Rs 19.5 crore in South India. All of Kamal Haasan's properties in Chennai are worth a total of Rs 92.5 crore.

In the UK, Haasan is the registered owner of another property. The same declaration Haasan made to the authorities states that he invested Rs 2.5 crore in the London home. A BMW 730LD and a Lexus Lx 570 worth a combined Rs. 3.69 crore are parked in Haasan's garage.
Kamal Haasan's Achievements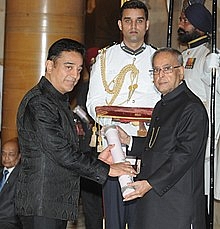 1960: Rashtrapathi Award: Best Child Artist for Kalathur Kannamma
1974: Filmfare Award South: Best Actor for Kanyakumari
1975: Filmfare Award South: Best Actor for Apoorva Raagangal
1976: Filmfare Award South: Best Actor for Oru Oodhappu Kan Simittugiradhu
1977: Filmfare Award South: Best Actor for 16 Vayadhinile
1977: Tamil Nadu State Film Award: Best Actor for 16 Vayathinile
1978: Filmfare Award South: Best Actor for Sigappu Rojakal
1978: Filmfare Award South: Best Actor for Yaetta
1980: Kalaimamani
1980: Tamil Nadu State Film Award: Best Actor for Varumayin Niram Sivappu
1981: Filmfare Award South: Best Actor for Raja Paarvai
1981: Filmfare Award South: Best Actor for Aakali Rajyam
1982: Cinema Express Award: Best Actor for Moondram Pirai
1982: National Film Award: Best Actor for Moondram Pirai
1982: Tamil Nadu State Film Award: Best Actor for Moondram Pirai
1983: Filmfare Award South: Best Actor for Sagara Sangamam
1983: Nandi Award: Best Actor for Sagara Sangamam
1985: BFJA Award: Best Supporting Actor for Saagar
1986: Filmfare Award: Best Actor for Saagar
1986: Nandi Award: Best Actor for Swathi Muthyam
1987: Cinema Express Award: Best Actor for Nayakan
1987: Filmfare Award South: Best Actor for Pushpaka Vimana
1987: National Film Award: Best Actor for Nayakan
1989: Cinema Express Award: Best Film (Producer) for Apoorva Sagodharargal
1989: Filmfare Award South: Best Film for Apoorva Sagodharargal
1989: Filmfare Award South: Best Actor for Indrudu Chandrudu
1989: Nandi Award: Best Actor for Indrudu Chandrudu
1989: Tamil Nadu State Film Award: Best Actor for Apoorva Sagodharagal
1990: Padma Shri
1990: Cinema Express Award: Best Actor for Michael Madhana Kamarajan
1991: Filmfare Award South: Best Actor for Guna
1992: Cinema Express Award: Best Film (Producer) for Thevar Magan
1992: Filmfare Award South: Best Actor for Thevar Magan
1992: National Film Award: Best Regional Film- Tamil (Producer) for Thevar Magan
1992: Tamil Nadu State Film Award: Best Actor for Thevar Magan
1992: Tamil Nadu State Film Award: Second Best Film (as Producer) for Thevar Magan
1995: Cinema Express Award: Best Film (Producer) for Kuruthipunal
1995: Filmfare Award South: Best Actor for Kuruthipunal
1996: Cinema Express Award: Best Actor for Indian
1996: Filmfare Award South: Best Actor for Indian
1996: National Film Award: Best Actor for Indian
1996: Tamil Nadu State Film Award: Best Actor for Indian
1997: Star Screen Award: Best Story Writer for Virasat
1997: Zee Cine Award: Best Actor in a Comic Role for Chachi 420
1998: Filmfare Award: Best Story for Virasat
1999: Nadigar Thilagam Sivaji Ganesan Award
2000: Honorary Award from Government of West Bengal
2000: Filmfare Award South: Best Actor for Hey Ram
2000: International Film Festival Rotterdam: Director in Focus for Hey Ram
2001: BFJA Award: Most Outstanding Work of the Year for Hey Raam
2002: V. Shantaram Award: Best Actor for Pammal K. Sambandam
2003: ATMA National Award: Amrita Hospitals & Medical Group, India
2003: SICA Award: Best Actor for Anbe Sivam
2003: V. Shantaram Award: Best Actor for Anbe Sivam
2003: V. Shantaram Award: Best Story and Screenplay for Anbe Sivam
2003: V. Shantaram Award: Best Playback Singer for Anbe Sivam
2004: Abraham Kovoor National Award for Humanist Activities
2004: Puchon International Fantastic Film Festival: Director in Focus for Virumaandi
2005: Satyabhama Deemed University
1991-2005: Most Talented Hero Award from India Today
2006: Film Fans Association Award: Best Actor for Vettaiyaadu Vilaiyaadu
2006: Tamil Nadu State Film Award: Best Actor for Vettaiyaadu Vilaiyaadu
2006: Vijay Award: Chevalier Shivaji Ganesan Award for Excellence in Indian Cinema
2007: Contemporary living legend of year from UFO Digital Cinema Company, Mumbai
2007: Rastrabhushan Award
2008: Ananda Vikatan Cinema Award: Best Actor for Dasavathaaram
2008: Ananda Vikatan Cinema Award: Best Screenplay for Dasavathaaram
2008: Film Fans Association Award: Best Actor for Dasavathaaram
2008: Tamil Nadu State Film Award: Best Actor for Dasavathaaram
2008: Vijay Award: Most Popular Hero of the Year for Dasavathaaram
2008: Vijay Award: Best Villain Award for Dasavathaaram
2008: Vijay Award: Best Comedian Award for Dasavathaaram
2008: Vijay Award: Best Story-Screenplay Writer Award for Dasavathaaram
2008: V. Shantaram Award: Best Actor for Dasavathaaram
2009: FICCI Living Legend
2009: Viswa Kala Bharathi Award: Viswa Kala Bharathi
2009: Asianet Film Award: Special Jury Award
2009-2010: Rotary Club of Madras Award: Lifetime Achievement Award
2010: CNN-IBN Indian of The Year
2010: Honorary Award from Government of Kerala
2010: Special Achievement Award from United Progressive Alliance
2010: French Film Society Award: Best Actor for Manmadan Ambu
2011: Honorary Award by Government of India
2011: BIG FM Tamil Entertainment Award: Best Entertaining Bharatanatyam Dancer
2011: Vijay Awards: Best Playback Singer by an Actor Award for Manmadan Ambu
2012: Asianet Film Award: Popular Tamil Actor
2013: Hall of Fame from Hindustan Times
2013: Lifetime Achievement Award Puthiya Thalaimurai TV
2013: Behindwoods Gold Medals Award: Legendary Performance award for Vishwaroopam
2013: Asianet Film Award: Popular Tamil Actor
2013: Vijay Award: Best Actor for Vishwaroopam
2013: Vijay Award: Favourite Director for Vishwaroopam
2013: Mumbai International Film Festival: Lifetime Achievement Award
2013: New York Festivals International Film & TV Awards: Represent in Indian Cinema Award
2013: Jagran Film Festival: Special Jury Award for Vishwaroopam
2014: Padma Bhushan
2014: NTR National Award
2014: Honoured Maestro Award from Whistling Woods International (WWI)
2014: Lifetime Achievement Award from The Tamil Chamber of Commerce
2014: Shifa Al Jazeera Excellence Award
2015: Behindwoods Gold Medals Award: K.Balachandher Gold Medal of Excellence in Indian Cinema
2015: Mirchi Music Award: Outstanding Contribution to Music
2015: SICA Award: Lifetime Achievement Award
2015: MGR_Sivaji Academy Award: Best Actor for Uttama Villain
2015: International Film Festival of Los Angeles: Best Film for Uttama Villain
2015: International Film Festival of Los Angeles: Best Actor for Uttama Villain
2016: Ordre des Arts et des Lettres
2016: Prix Henri-Langlois French Award
2016: Eenam Swaralaya Award: Eenam Swaralaya Bharat Murali Award
2016: Ananda Vikatan Cinema Award: S. S. Vasan Lifetime Achievement Award
2016: Norway Tamil Film Festival Award: Lifetime Achievement Award
2016: London Indian Film Festival: Outstanding Contribution in Indian Cinema Award
2018: Outlook Social Media Awards: Supernova of the year
2018: Galatta Nakshatra Award: Game Changer of the Year
2019: Honorary doctorate Centurion University of Technology and Management
2019: India Retail Excellence Award: The Legend of Indian Cinema Award
2020: Zee Cine Award: Pride of Indian Cinema
Did You Know?
Parthasarathy Srinivasan is Kamal Haasan's true name.
When he was 4 years old, Kamal Haasan began acting. He also received the President's Medal for Best Actor at the young age of 4 for his performance in Kalathur Kannamma.
Kamal Haasan is an all rounder. He is an actor, Director, Script Writer, Producer, Playback Singer, Lyricist, Choreographer, Dancer.
Kamal Haasan can speak languages like Tamil, English, Telugu, Hindi, Malayalam, Bengali, Kannada and French.
The only actor from India to have acted in films in all six major Indian film languages—Hindi, Malayalam, Tamil, Telugu, Kannada, and Bengali—is Kamal Haasan.
The only Indian actor to have produced Silver Jubilee films in five different languages is Kamal Haasan.
The most films (7) from India that were nominated for an Oscar in the category of best foreign language film belong to Kamal Haasan.
The most number of Filmfare Awards, 19 have been won by Kamal Haasan.
Kamal Haasan previously received the Best Taxpayer Award from the Income Tax Division.
Kamal Haasan donated every organ in his body to science.
Social Media
Frequently Asked Questions