Bajrang Punia | Matches, Age, Awards, Family, Career, Wife

Anisha Saini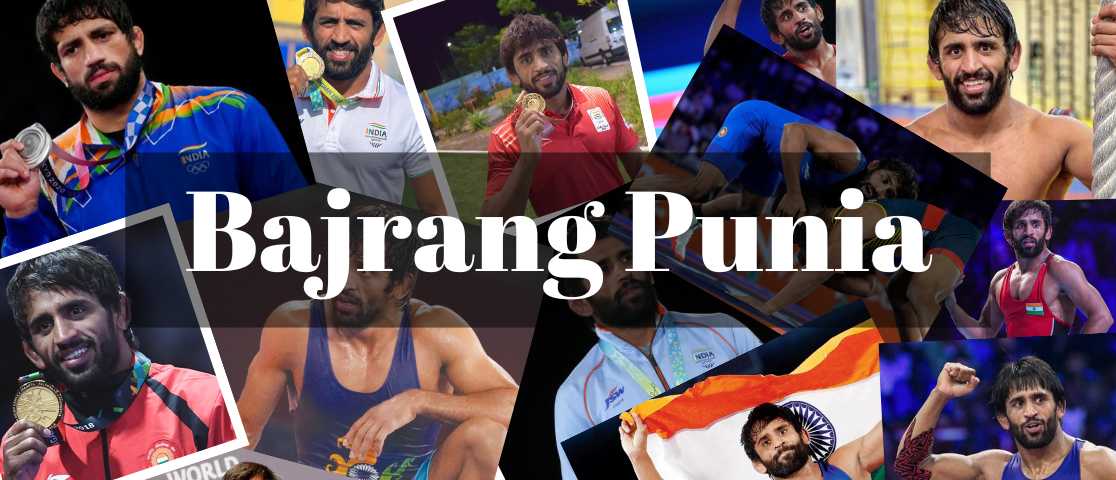 Bajrang Punia's Biography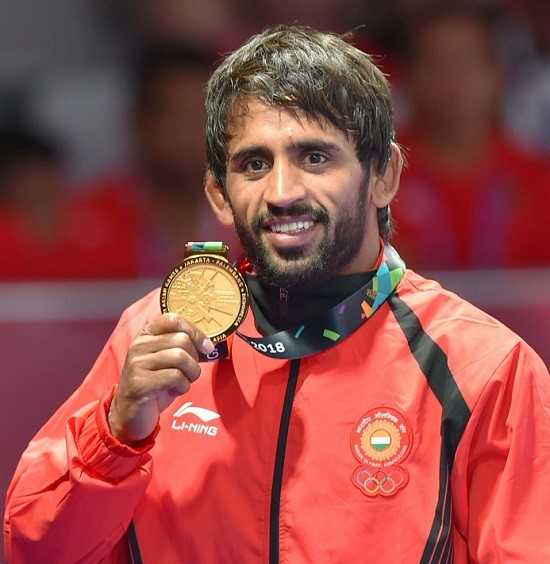 Bajrang Punia, birthdate on February 26, 1994 is an Indian freestyle wrestler. Bajrang Punia real name is Bajrang Balvan Punia. Bajrang Punia birthplace is Haryana's Khudan village in the Jhajjar district. He started wrestling when he was seven years old, and his father had always pushed him to play sports. Punia was raised in a small town. His family lacked the resources for conventional sports. The zodiac sign of Bajrang is Pisces. Bajrang Punia is from the Hindu religion. Bajrang Punia hobbies are dancing.

Punia's family enrolled him at a nearby mud wrestling school when he was a little child because his father was a wrestler as well. He began missing class to attend wrestling practice. He participates in 65 weight divisions. Punia defeated Kazakhstan's Daulet Niyazbekov 8-0 to take home the bronze medal at the 2020 Tokyo Olympics.

At the World Wrestling Championships, Punia is the only Indian wrestler to have taken home three medals. He visited Chattarsal Stadium in 2008 when Ramphal Mann tutored him. For him to attend a regional centre of the Sports Authority of India, his family relocated to Sonipat in 2015. He currently holds the position of Gazetted Officer OSD Sports with the Indian Railways. He is wed to Sangita Phogat Punia, another wrestler.
Claim Your FREE Celebrity Shoutout
✕
Claim Now!
Bajrang Punia's Family and Bajrang Punia's Education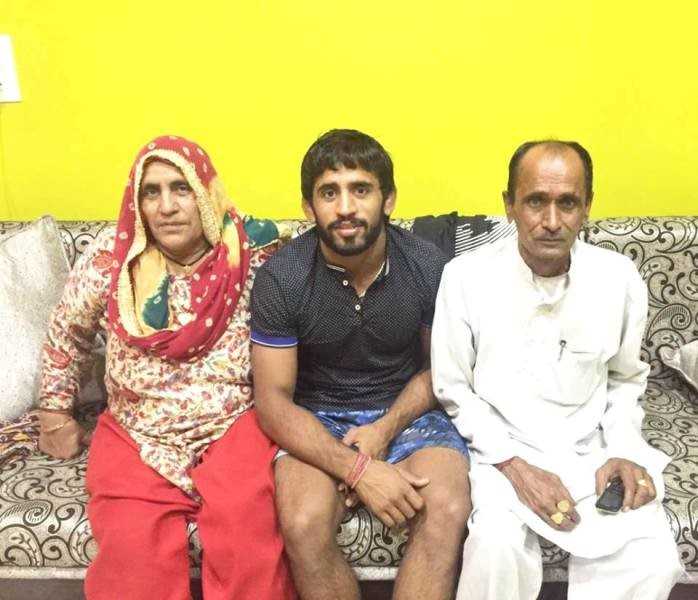 Bajrang Punia's father, Balvan Singh Punia is a wrestler, Bajrang Punia mother is Om Pyari Punia. The youngest of three kids, he is. Bajrang Punia Elder brother is Harendra Punia.

His father decided to let his son try free sports like wrestling and Kabaddi instead of traditional sports because they were too expensive for him to afford.

At the age of 14, Punia signed up for mud wrestling lessons at a nearby school. He was introduced to Olympic medalist Yogeshwar Dutt, who served as both his mentor and sparring partner.
Talk To Similar Celebrities
Bajrang punia's Marriage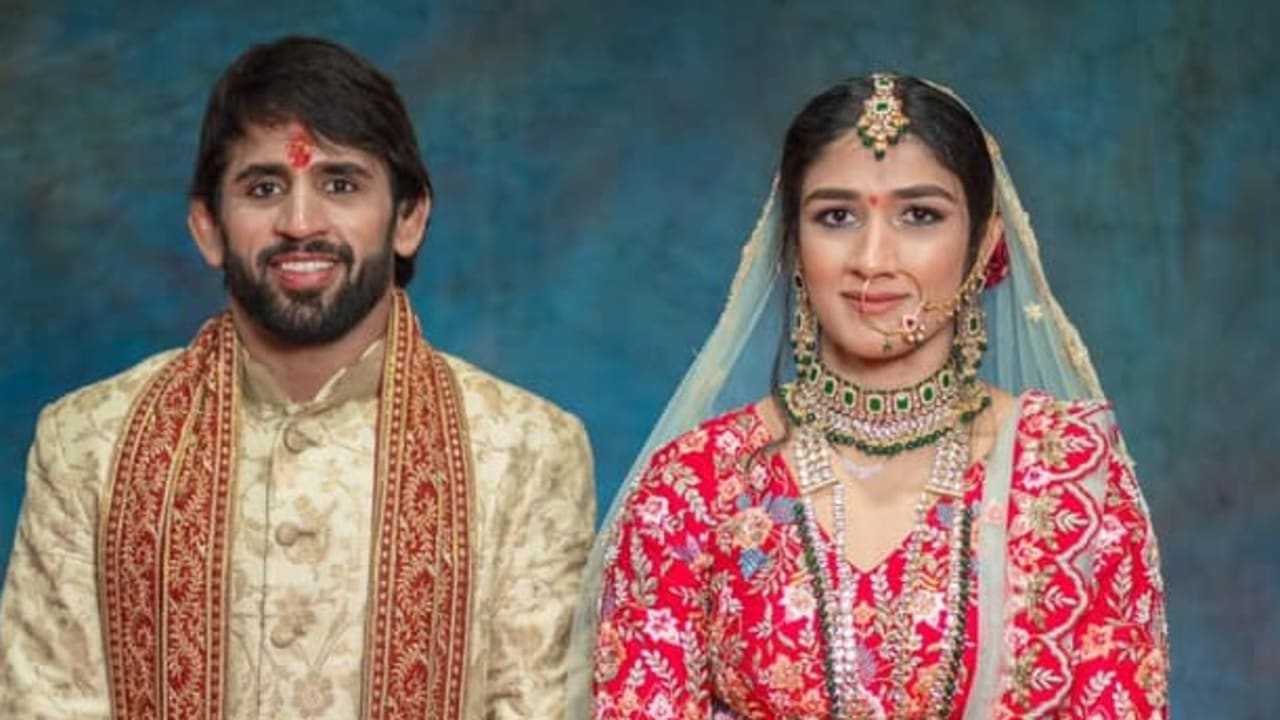 The Tokyo Olympics 2020 champion is a Bajrang punia wrestler. At the age of 27, the Bajrang Punia is married to Sangeeta Phogat, a fellow wrestler. At a training camp, Sangeeta and Bajrang first met, and they soon began dating. In November of last year, Sangeeta Phogat and Bajrang Punia were united in marriage in a low-key ceremony in Phogat's Haryana hamlet. The wrestling twins Geeta and Babita Phogat, about whose story the movie Dangal was based, have a younger sister named Sangeeta. At a training camp, Sangeeta and Bajrang first met, and they soon began dating.

As the tale progresses, Bajrang gave Sangeeta his phone and is now waiting for her reply, but she hasn't sent one. The following day, they crossed paths. When he questioned her why she hadn't messaged him, she said that she had forgotten his number, so he sat down and helped her remember his. Sangeeta asked Bajrang during their talk if he was planning to get married, so he responded that he would. She believed Bajrang was in a relationship. He also sent Sangeeta a text message declaring his love for her one lovely day.

Bajrang received an encouraging message from Sangeeta shortly after winning the bronze medal at the Olympics: You are a champion and you shall stay one. I'm grateful. You were going to disprove the critics, I knew it. I'll be waiting for you, Bajrang Punia, because I adore you. As a skilled wrestler, Sangeeta has won numerous titles and medals, including a silver at the Commonwealth Games. We hope both of them have greater success in the future. They elevate our country!
Bajrang Punia's Matches and Career
2013 Asian wrestling championship
He met Shogo Maeda of Japan in round 16 at New Delhi, India, and defeated him 3-1. He faced Iranian opponent Morad Hassan in the quarterfinals, which he won 3-1 to get to the semifinals. In the 60 kg, men's freestyle division North Korean Hwang Ryong-hak defeated Bajrang 3-1 in the semifinals, giving Hwang Ryong-hak the bronze medal.
2013 world wrestling championship
Bajrang defeated Mongolia's Enkhsaikhany Nyam-Ochir by a score of 9-2 to win the bronze medal in the men's freestyle 60 kg division in Budapest, Hungary.

In the round of 32, he faced Bulgarian Vladimir Dubov, who defeated him 7-0. Following this, Bajrang met Japanese opponent Shogo Maeda and was given a walkover. Ivan Guidea of Romania was his next opponent, and after defeating the Romanians 10-3, Bajrang qualified for the bronze medal match.

2014 commonwealth games
He took home the silver medal in the men's freestyle 61 kg division in Glasgow, Scotland, after falling to David Tremblay of Canada 1-4. In round 16, Bajrang met Englishman Sasha Madyarchyk and defeated him 4-0. He defeated Marno Plaatjies 4-1 in the quarterfinals of the South African tournament.
2014 Asian games
In Incheon, South Korea, he took home the silver medal in the 61 kg division despite losing to Masoud Esmaeilpoorjouybari of Iran by a score of 1-3. Farkhodi Usmonzoda of Tajikistan was his opponent in the quarterfinals, who he defeated 4-1 to get to the semifinals. After defeating Noriyuki Takatsuka of Japan 4-1 in the semifinals, He was guaranteed a medal.
2014 Asian wrestling championships
In Astana, Kazakhstan, he defeated Masoud Esmaeilpour Iran once more, this time by a score of 0-4 for a silver medal in the men's freestyle 61 kg division. He faced South Korean Lee Seung-Chul in the 16th round, whom he defeated 3-1. Noriyuki Takatsuka of Japan defeated him 3-1 in the quarterfinals to advance to the semis. He encountered Mongolian Nazmandakh Lhamgarmaa there, who he defeated 3-1 to guarantee himself a medal.
2015 world wrestling championships
Bajrang came in fifth place at the competition in Las Vegas without taking home a medal. He faced Mongolian Batboldyn Nomin in the Round of 32, who defeated him 10-0. Bajrang had the opportunity to compete in the wild-card round because the Mongolian had advanced to the 61 kg final battle. Reece Humphrey of the USA was his first opponent in the wild card, and he easily defeated him 6-0. Beka Lomtadze of Georgia, the second wild card opponent, fought hard but was ultimately defeated 13-6 by the Indians. Unfortunately, he failed to cross the finish line, drawing the bronze medal match 6-6, but his Ukrainian opponent Vasyl Shuptar scored the final point.
2020 Tokyo Olympics
He defeated Ernazar Akmataliev in the pre-quarterfinal match for the 65 kg division at the 2020 Summer Olympics, then he defeated Morteza Ghiasi Cheka in the quarterfinal round on August 6, 2021. He won by an 8-0 score against Kazakhstani wrestler Daulet Niyazbekov in the bronze medal match.
Bajrang Punia's Upcoming Matches
At the Tokyo Olympics, Bajrang Punia advanced to the men's 65 kg freestyle semifinals, where he will compete against Haji Aliyev for a position in the gold medal match. On Friday, August 6, 2021, at 02:50 IST, the game is scheduled to begin. Sony Sports stations will broadcast it, while Sony Liv will stream it live.
Bajrang Punia's Controversy
The Khel Ratna Award policy of the government was previously openly challenged by Bajrang Punia. He promised to go to court and confront the judges about the honor's rules. Punia decided to file a lawsuit against being passed over for the award despite having the highest performance points after the meeting with the sports ministry on Thursday. According to reports, Bajrang obtained the maximum achievement score of 80 while Virat Kohli received the Rajiv Gandhi Khel Ratna award with a score of zero.
Bajrang punia's Net worth
India's most well-known and accomplished sports figure, Bajrang Punia, has set many records over his storied career. He is an Indian professional wrestler who is ranked second in the world.

One of the most accomplished and technically excellent wrestlers is Bajrang Punia. He took home a bronze medal at the Tokyo Olympics in 2020. Bajrang Punia's net worth is $2 million, which translates to roughly 15 crores of Indian rupees in local currency.

Bajrang Punia has accomplished so much at such a young age, and the entire country is extremely proud of him. The Tokyo Olympics will pay out 3.50 crores in cash. In his garage, Bajrang keeps several vehicles, including a Toyota Fortuner, a Mahindra Scorpio, and others. A few additional properties are also owned by him in and around Punjab and Haryana.

Bajrang Punia's Awards and Achievements
2013 World Wrestling Championship in Budapest; bronze medallist.
At the 2013 Asian Wrestling Championships, the 60 kg division won the bronze medal.
At the 2014 Asian Wrestling Championships, the 61 kg division won the silver medal.
Silver medallist at the 2014 Commonwealth Games in Glasgow.
2014 Asian Games in Incheon; silver medal.
2016 Commonwealth Wrestling Championship gold medallist from Singapore. The next year, he replicated his achievement in the same category.
2017 World U-23 Wrestling Championship silver medallist. He won a gold medal in the 65 kg division that year at the Asian Indoor and Martial Arts Games.
In 2017, he won three gold medals, two in the 65 kg category at the Asian Wrestling Championship and Commonwealth Wrestling Championship, and one each at the Asian Indoor and Martial Arts Games.
Bajrang demonstrated his talent to the world in 2018 by winning a gold medal in the 65 kg division at the Commonwealth Games and a bronze medal in the same division at the Asian Wrestling Championship.
Won a gold medal at the 2018 Asian Games and a silver medal in the 65 kg division at the 2018 World Championships.
He won a gold medal at the 2019 Asian Championship and a bronze medal in the 65 kg division at the 2019 World Wrestling Championships 2019.
2015's Arjuna Award for wrestling
In 2019, Padma Shri
Major 2019 Dhyan Chand Khel Ratna Trophy for Wrestling
Bajrang Punia's Interesting Facts
Bajrang Punia likes to dance.
Bajrang Punia loves to play Basketball and Football.
Before becoming a professional wrestler, Bajrang used to do wrestling to earn money.
He claimed the top spot in the world for the 65 kg division after taking home silver in the 2018 World Wrestling Championship.
Bajrang Punia is the only Indian wrestler to win two or more.
He is the first Indian wrestler to be ranked World No 1 in Wrestling rankings.
Bajrang Punia Works as a Travelling Ticket Examiner (TTE) with the Indian Railways.
Social Media
Frequently Asked Questions