Arjun Tendulkar | Cricket, Age, Father, Stats, Networth

Hitesh Mandot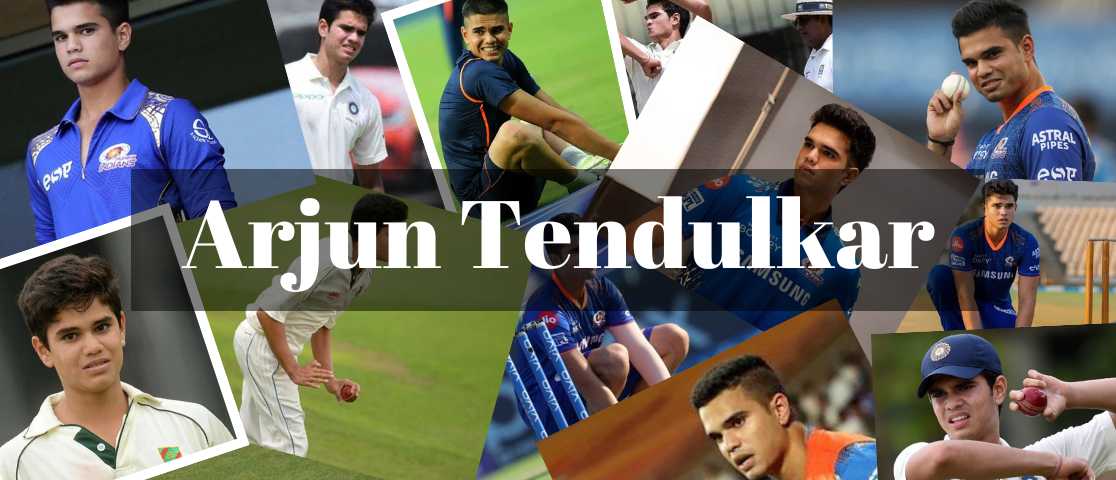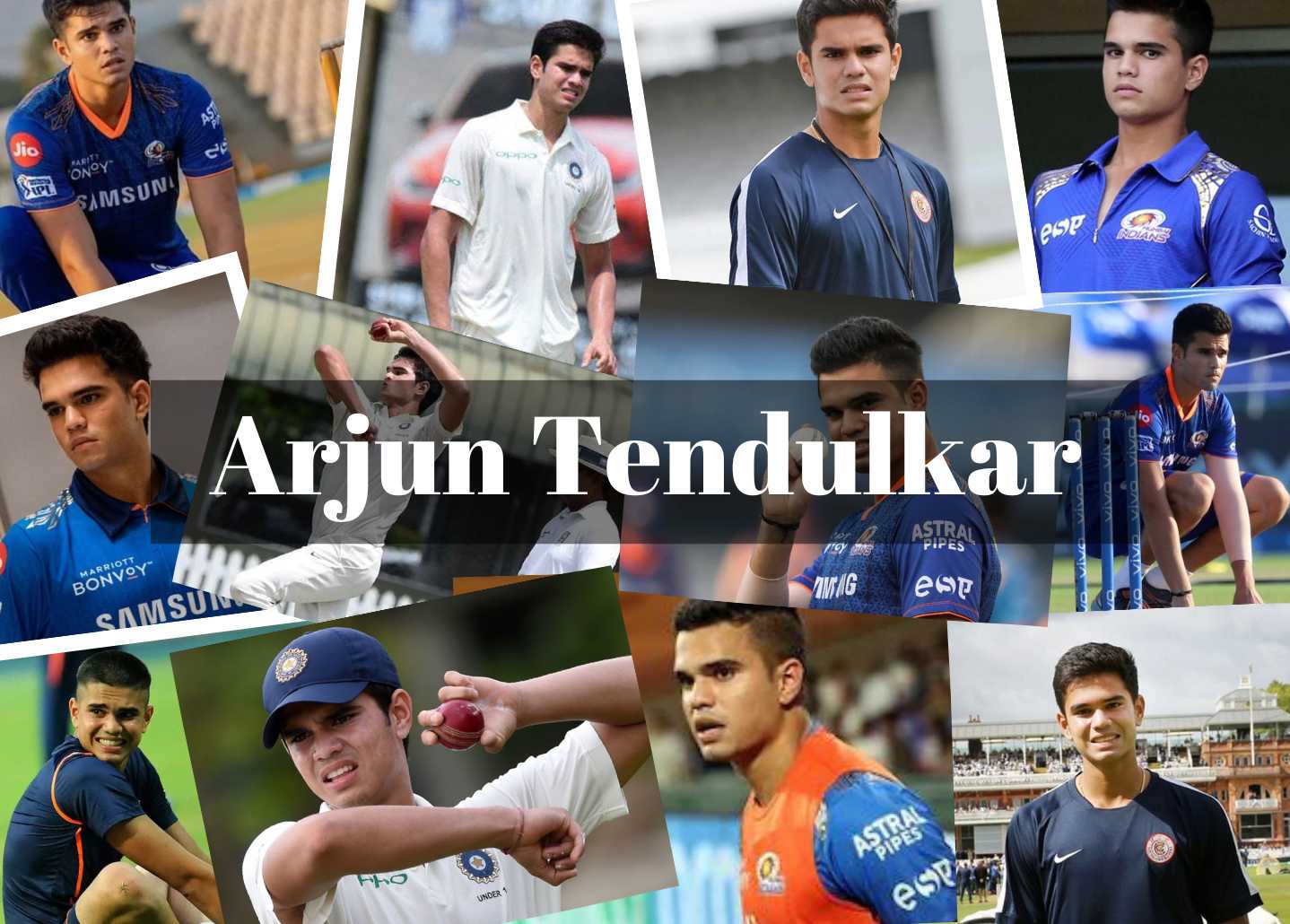 Arjun Tendulkar's Biography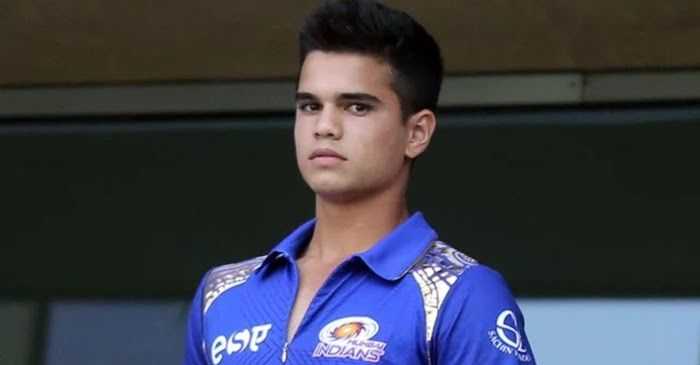 Arjun Tendulkar is an Indian cricketer. Arjun Tendulkar was born on 24 September 1999. Arjun Tendulkar's birthdate is 24 September 1999. Arjun Tendulkar's full name is Arjun Sachin Tendulkar. Arjun Tendulkar's age is 23 years old as of 2022. Arjun Tendulkar was born in Patna. Arjun Tendulkar's height is 6.3 Feet.

Cricketer Arjun Sachin Tendulkar was born in Mumbai, Maharashtra, on September 24, 1999. He is Sachin Tendulkar's son, a former cricketer. He is a lower-order left-handed batter as well as a left-handed medium-quick bowler. He participates in the Goa cricket team. He had participated in the junior teams and the Mumbai cricket team. He joined the Mumbai Indians franchise in 2021, but as of the 2022 season, he had yet to play a game.

Claim Your FREE Celebrity Shoutout
✕
Claim Now!
Arjun Tendulkar Family and Arjun Tendulkar Education
In 1999, former cricketer Sachin Tendulkar and his wife Anjali Tendulkar (née Mehta) welcomed their son Arjun. Sara Tendulkar is his older sister.
His maternal grandparents are English philanthropist Annabel Mehta (née Lancaster), who received the Order of the British Empire for her work with Mumbai's underprivileged neighborhoods, and Gujarati businessman Anand Mehta.
He attended Dhirubhai Ambani International School for his education.

Talk To Similar Celebrities
Arjun Tendulkar's girlfriend
The couple of Danielle and Arjun had previously been seen together. When she was undergoing training at the MCC Cricket Academy at the Lord's Cricket Stadium in London in 2009 - where Sachin and his son Arjun were also present - they first got to know each other. Danielle had previously mentioned in an interview how she used to bowl to Arjun, who was 10 years old at the time, in the nets.

Arjun Tendulkar Cricket
In 2018, Arjun Tendulkar participated in a few Tests for the India U19 team. He only scored 14 runs and took 3 wickets in the 2 Test matches. Since he was older than the U19 World Cup's age limit when it started, he was unable to compete. Arjun was chosen to play for the Mumbai senior team in the Syed Mushtaq Ali Trophy 2020–21, India's top T20 competition, in January 2021. In one of Mumbai's worst seasons, he picked up 3 wickets and scored 3 runs in 2 games.

Arjun has worked with WV Raman, the temporary coach for India's tour of Sri Lanka while Rahul Dravid is away with the India A squad in England. Arjun participated in an NCA residential camp in Dharamsala and made an impression in Himachal Pradesh during the academy games with his speed and accuracy. He has advanced quickly through the ranks as a result of his age-group cricket performances for Mumbai, where he keeps developing his speed and skill set. Arjun furthered his résumé by taking a remarkable 19 wickets in just 5 games for Mumbai Under-19 in the 2017–18 Cooch Behar Trophy, his final competitive tournament for evaluation.

He played for a CCI XI in January 2017 at Adelaide's Bradman Oval, where he made a quick 48 in his debut as an opening batsman in addition to his four wickets with the ball. He was also selected for the MCC squad in July 2017 to play against Namibia's Under-19 team in England. He stood out as MCC's leader, taking four wickets to completely destroy the opposition.

Arjun has kept his cool to this point, coasting into the U-19 team while carrying the literal and metaphorical weight of fast bowling and his father's heritage. He appears to be okay with the spotlight always being on him; for example, his first wicket and debut duck against Sri Lanka in the Youth Test in July 2018 completely overshadowed his colleagues. But that is an integral aspect of a legacy. The expectations of a billion Indians and the legacy of one Sachin Ramesh Tendulkar will likely put more pressure on him than it did on his legendary father if he eventually makes it into the Indian national team.

Arjun Tendulkar Stats (as of October 2022)
Arjun Tendulkar Controversies
Mumbai Indians paid Rs 20 lakh for Arjun Tendulkar in the Indian Premier League (IPL) closeout/auction. From 2008 to 2013, the legendary Indian cricketer Sachin Tendulkar played 78 games with the Mumbai Indians over a five-year span. A section on social media that felt Arjun Tendulkar received an excessive advantage and benefit simply because he was the son of the cricket hero criticised his recruitment to the team.

Arjun Tendulkar's Net Worth
Arjun Tendulkar's net worth is anticipated to reach $3 million (roughly 21 crores) in 2021, according to networthdekho.com. For his first IPL season in 2021, Arjun Tendulkar received an annual salary of INR 20 lakhs.

Arjun Tendulkar Achievements
India U19 Debut against Sri Lanka in 2018
T20 Debut for Mumbai in 2021
Joined Mumbai Indians in 2021
3 Interesting Facts of Arjun Tendulkar
Left-handed batter Arjun is renowned for his bowling abilities. He consistently bowls the red cherry at 135 kph or more.
Since he was a young child, Arjun Tendulkar has loved quick bowling, he revealed. He also mentioned that his favorite bowlers were Wasim Akram, Mitchell Starc, and Mitchell Johnson.
He has recently been a guest bowler at the renowned Lord's stadium. During the 2017 World Cup, he was seen bowling to the women's cricket team. Not to mention, the match against Pakistan participated in practice sessions with English batsmen prior to their.
One of the first victims of his left-arm medium-pace bowling was Brian Lara. The elegant left-hander was dismissed by Arjun in a practice match in England, which most people believe was played for charitable causes despite the lack of media coverage, in what Wasim Akram described as a charismatic dismissal, a feat occurring 4 or more years ago.
Social Media
Frequently Asked Questions