Angelo Mathews Career Age Biography Family Father Mother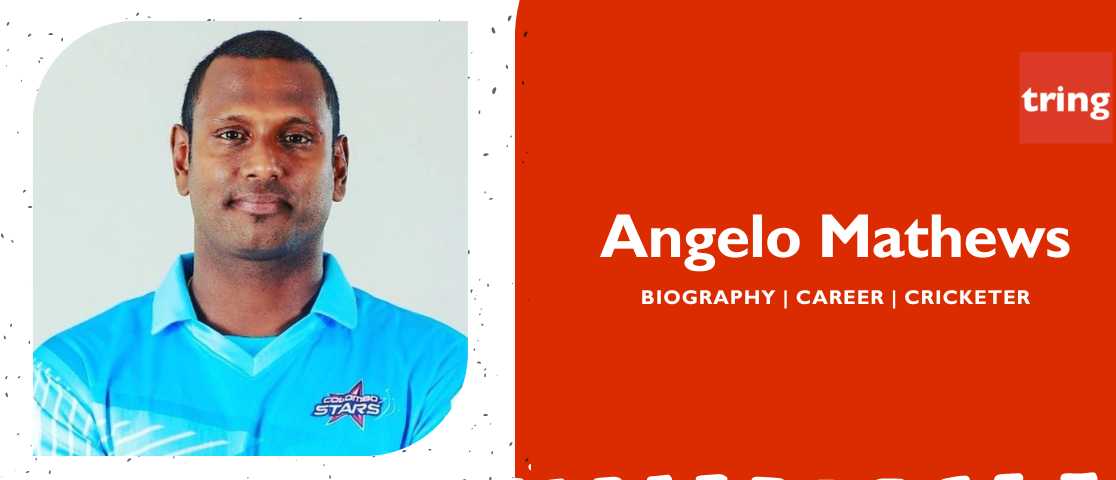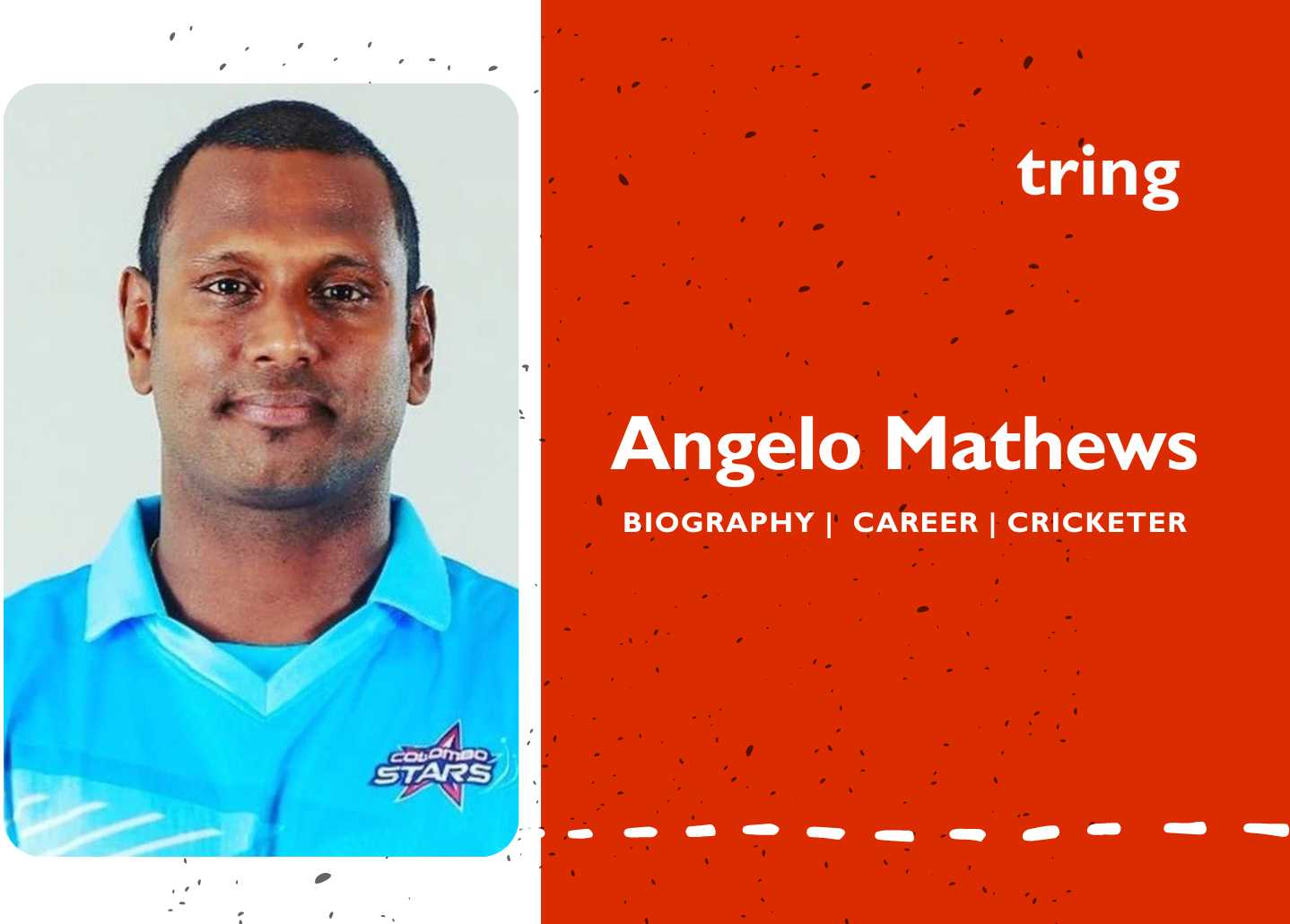 Angelo Mathews's Biography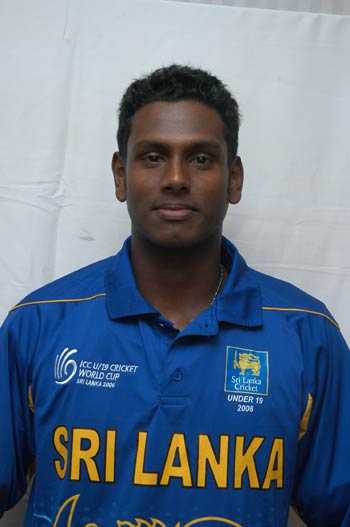 An ex-captain in all formats, Angelo Davis Mathew plays cricket professionally for Sri Lanka. Mathews represents Sri Lanka in Test cricket despite having played for the country in all three formats.

He also played an essential role on the side that won the 2014 ICC World Twenty20 and was a member of the squads that advanced to the finals of the 2011 Cricket World Cup, the 2009 ICC World Twenty20, and the 2012 ICC World Twenty20.


Mathews and Lasith Malinga hold the ODI record for the highest ninth-wicket partnership. Both bowlers occasionally possess the ability to throw swinging match-winning spells. Mathews took the field in Sri Lanka's 100th Test game in July 2022.
Angelo Mathews's Age
Angelo Mathews was born on June 2, 1987. Angelo Mathews is 35 years old as of 2022. Angelo Mathews's zodiac sign is Gemini. Angelo Mathews's hobby is listening to music.
Angelo Mathews's Family
Angelo Mathews's father is Tyronne Mathews, a Tamil, and his mother is Monica Mathews, a Burgher. Angelo Mathews's birthplace is in Colombo. Angelo Mathews's brother's name is Elaine Melinda. Angelo Mathews's sister's name is Trevin Mathew.

Angelo Mathews is married to his longtime partner, Heshanie Silva. Mahinda Rajapakse attended the wedding celebration held on July 18, 2013, at the Cinnamon Grand Hotel. The couple has One son and two daughters.
Angelo Mathews's Education
Mathews attended St. Joseph's College in Colombo and is a Roman Catholic.
Angelo Mathews's Marriage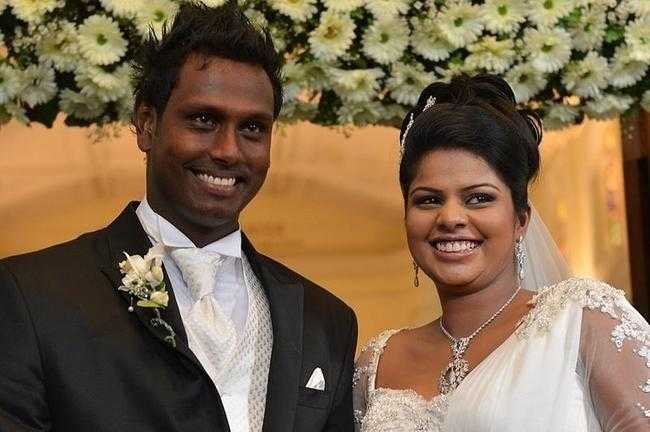 On July 18, 2013, Angelo married Heshani Silva. At the Cinnamon Grand Hotel in Colombo, the wedding ceremony took place. They first met while Angelo was playing for Under 19. Angelo was the first to admit that they were falling in love after first becoming friends.

Heshani informed her mother as soon as Angelo confessed his love to her, which allowed the couple to keep their relationship a secret from the public until the wedding day. That day, when Heshani returned home, she informed her mother that Angelo said he liked him, but I did not say anything.

Heshani was a well-behaved and brave young woman; her mother had faith in her and allowed them to get along well. On July 18, they were married in Bambalapitiya's St. Mary's Church. Gotabhaya Rajapaksha, the secretary of defense, and Mahinda Rajapaksha, the president of Sri Lanka, signed the document as witnesses.
Angelo Mathews's Career
Angelo Mathews: Domestic Career
In September 2005, Mathews made his List A debut for Sri Lanka Under-23s against New Zealand A at Police Park Ground in Colombo. At the 2006 U-19 Cricket World Cup in Sri Lanka, he served as the Sri Lankan cricket squad captain. Later, in November 2006, he made his Colombo Cricket Club first-class debut.


Angelo Mathews participated in the 2017 Indian Premier League cricket season with the Delhi Daredevils. He was purchased by the Pune Warriors for US$950,000, making him one of the most sought-after players in the Premier League.

Angelo was chosen to lead Kandy's team in the 2017–18 Super Four Provincial Tournament in March 2018. He was also chosen to lead Kandy's team in the 2018 Super Provincial One Day Tournament the following month.

Angelo Mathews was selected to lead Kandy's team in the 2018 SLC T20 League in August of that year. He was chosen by the Colombo Kings in the first round of the Lanka Premier League draught in October 2020. He was acquired by the Colombo Stars in July 2022 for the third season of the Lanka Premier League.
Angelo Mathews: International Career
On November 28, 2008, at the Harare Sports Club, Mathews played in his first ODI against Zimbabwe. In response to the Sri Lankan assault, Zimbabwe struggled and could only muster 148. Mathews did not make a good first impression with bowling stats of 0/24 in his 8 overs and a 15-ball duck. In his third ODI, he scored his first half-century for his country, solidifying his spot in the team.

Angelo Mathews played his first T20 international on June 8, 2008, against Australia in Nottingham for the 2009 ICC World T20. The Australians were given first dibs by Sri Lanka. They were successful in reaching a respectable total of 159. Matthews began bowling first and finished with 1/10 in 2 overs. He was not required to bat, as Sri Lanka easily won.

Mathews played his debut Test match against Pakistan at Galle the following month. Pakistan decided to go first. Matthews contributed 42 points to Sri Lanka's 292 total. He took Pakistani skipper Younus Khan for his first Test wicket. He scored 26 in the first innings as Pakistan scored 342 runs.

Matthews made a valuable contribution of 27 to Sri Lanka's 217 in the second innings. Pakistan struggled to achieve the necessary 168 runs and was eventually shut down for just 117. Angelo once again took Khan's wicket.
Angelo Mathews: Rise to the Glory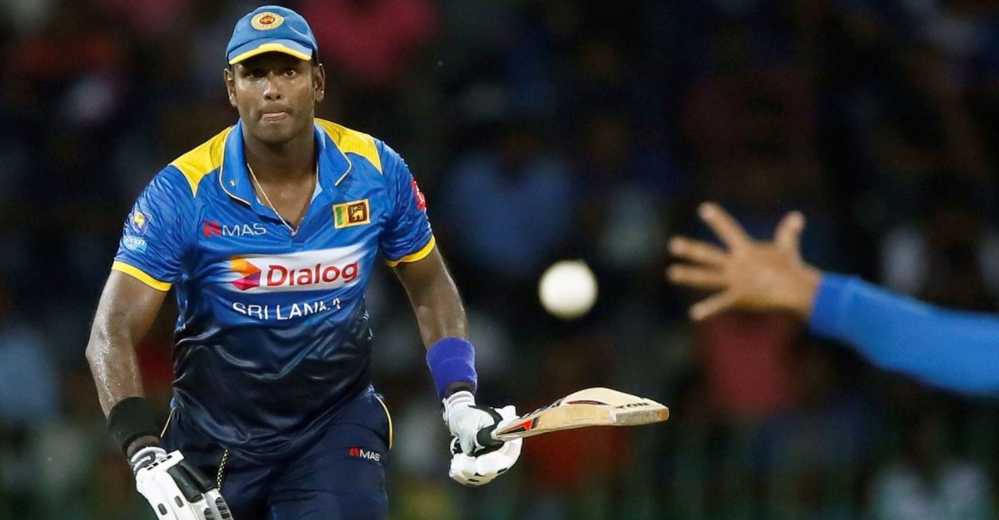 Angelo is not one of those entertaining-to-watch batsmen. But he is on par with the industry's best in terms of effectiveness. His dexterous fielding enhanced his medium-pace bowling and batting abilities.

Australia and Sri Lanka played an ODI in Melbourne in 2010. Australia elected to bat first after winning the toss. On the board, they put up 239 posts. The Sri Lankans scored 107/8 as a result. In the No. 10 finisher, Lasith Malinga, he found a capable teammate.

They added 132 runs together for the ninth wicket, with Malinga scoring 56 of those runs. As he continued to rotate the strike, Mathews continued to score runs from his end. With the last wicket still in play, SL was able to win thanks to his performance. In 127 attempts, Mathews scored an undefeated 77.
Angelo Mathews: Low Points
Mahela Jayawardene had handed the reins over to Angelo Mathews. The national squad suffered greatly when legends like Jayawardene and Sangakkara retired. Additionally, they witnessed the fall of Lasith Malinga, a legendary bowler. Sri Lanka's transformation proved challenging.

His 2015 hamstring injury, which forced him to stop bowling for about a year and a half, was another career low point. Angelo was a pure batsman during that time, and Sri Lanka sadly missed his contributions.
Angelo Mathews: Club Career
In the IPL's 2010 season, the 30-year-old played for the Kolkata Knight Riders. In his 11 innings of batting, he only managed to score 233 runs, while in his 12 innings of bowling, he only managed to take 8 wickets. From 2011 to 2013, he was a member of the Pune Warriors of India.

He played for the Delhi Daredevils (DD) in 2015 but was unable to participate in the next IPL season. He missed the competition once more in 2016 and carried on representing DD in 2017. In 2018, Mathews will once again be excluded from the IPL. The Colombo star participated in the 2012 Sri Lanka Premier League with Nagenahira Nagas.
Angelo Mathews: Captaincy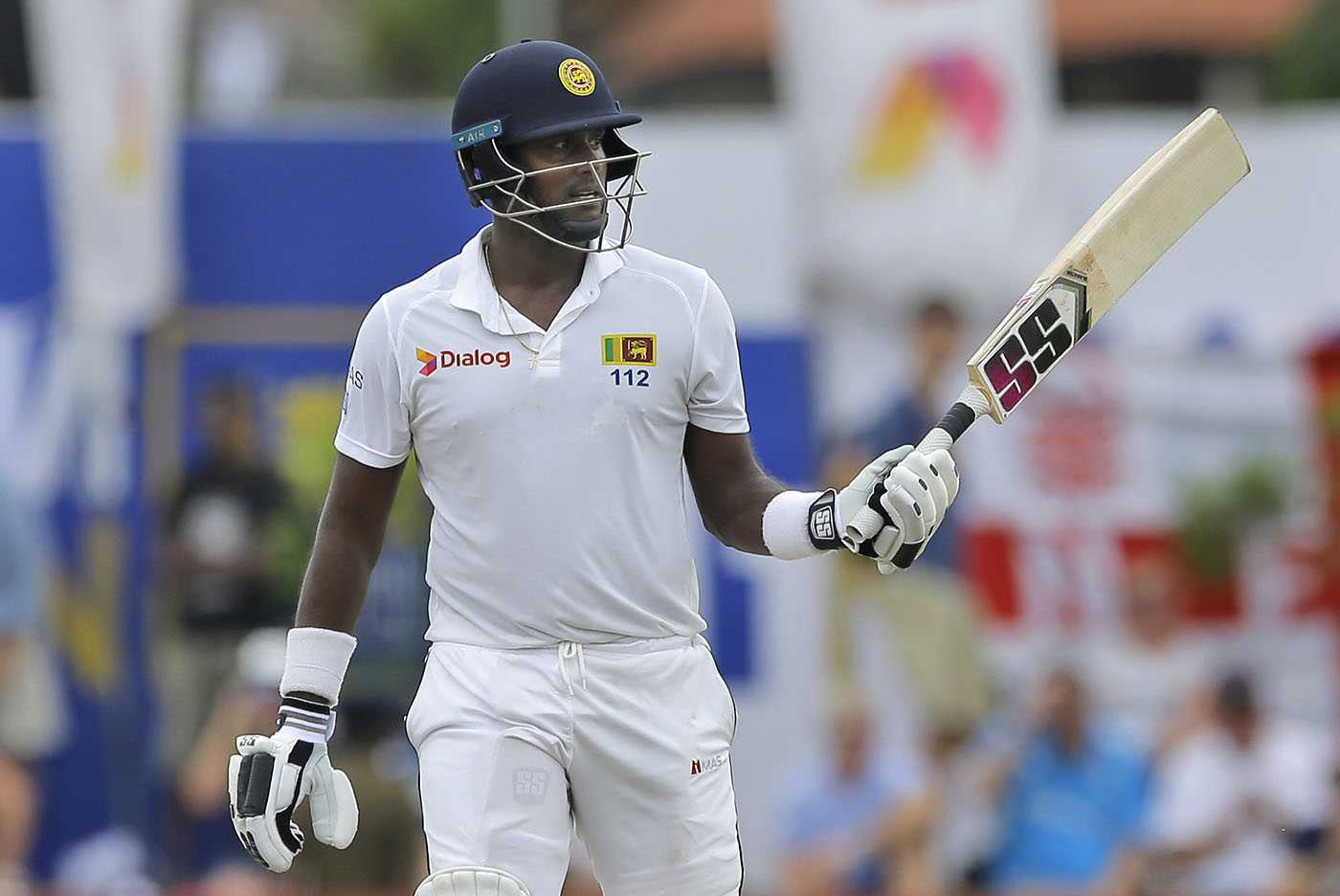 In 34 Test matches between March 8, 2013, and January 12, 2017, Angelo Mathews served as the Sri Lankan team's captain. 13 games were won, 15 games were lost, and 6 games were drawn. Against Bangladesh (twice), England, Pakistan, and the West Indies, they were successful in winning the series. They also defeated Australia at home 3-0, rout.

From August 4, 2012, to January 17, 2018, Mathews captained 99 ODI games. Under his leadership, they had a 47–46 record in games. They were successful in defeating Pakistan, the West Indies, Ireland (twice), England (twice), Bangladesh (whitewash), South Africa, and other opponents.

With teams from Afghanistan, Pakistan, Bangladesh, and India competing, they took home the Asia Cup in 2014. From June 3, 2012, until January 22, 2017, Mathews captained the national team in just 12 T20I games. They had a 4–7 record in victories. In a two-match bilateral series, they defeated the powerful Australian team in Australia.
Angelo Mathews's Retirement
In response to his failure to sign the tour agreement with SLC for the limited overs series against India and his complaints about the unethical treatment of the team's senior players by the management, Mathews announced on July 7, 2021, that he is thinking about retiring from all forms of international cricket.

His decision was primarily influenced by the pay dispute he was having with the Sri Lanka Cricket Board, as well as the SLC's plans to remove several senior players from the national team for the limited-overs matches to develop and give opportunities to the young players in preparation for the 2023 World Cup.
Angelo Mathews's Runs and Stats
Angelo Mathews's Net Worth
Angelo Mathews is the full name of this all-around cricket player from Sri Lanka. Angie Kaluwa is the tag's name. Mathews and Lasith Malinga hold the record for the best ninth-wicket partnership in ODI cricket.

Matthews is a rare bowler who can throw swinging match-winning spells. Angelo Mathews's net worth is $5 million.
Angelo Mathews's Awards
2015 Wisden Cricketer of the Year
Sri Lanka Cricket Cricketer of the Year 2015
ICC Men's Player of the Month for May 2022.
9 Unknown facts about Angelo Mathews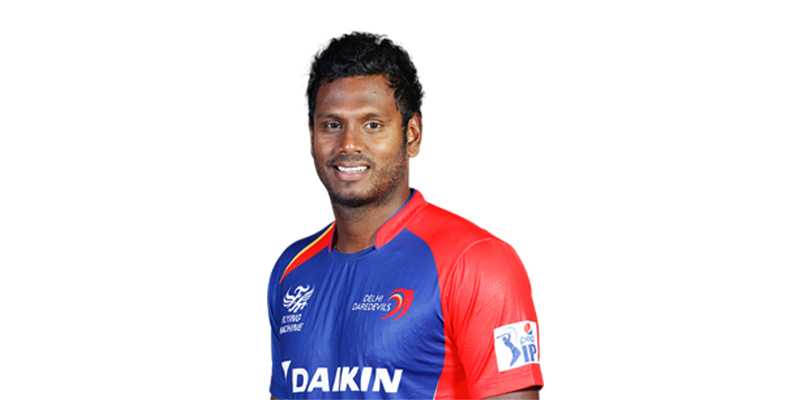 Angelo was sold to the Delhi Daredevils for Rs. 7.5 crore.
Angelo loves dogs.
Angelo became the youngest Sri Lankan captain for the format when given the reins of the test team at the age of 25.
Angelo is better known for his batting than his bowling, although he once shocked everyone by dismissing 6 of India's top 10 players for just 20 runs, giving India 168 or so runs.
Mathews was purchased by Delhi Daredevils in February 2017 for INR 2 Crore.
Mathews had just one ODI century as of March 2017, and it was against India.
Angelo was purchased for $950,000 by Pune Warriors for the 2012 IPL season.
In 2015, when one of the five Wisden Cricketers of the Year was announced, Mathews joined the ranks of Moeen Ali, Gary Ballance, Adam Lyth, and Jeetan Patel.
Former Sri Lankan bowler Chaminda Vaas attended St. Joseph's College in Colombo, where Mathews also attended. He is the first Jos Josephian to be named team captain.
Angelo Mathews's Profile Summary
Social Media
Frequently Asked Questions