Ajith Kumar | Movies, Career, Age, Biography, Net Worth

Violeena Vargav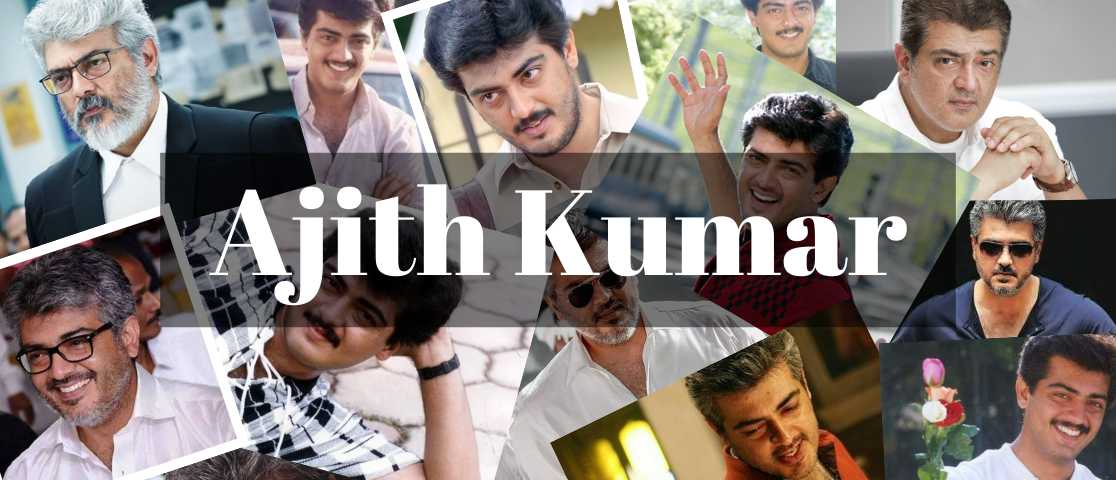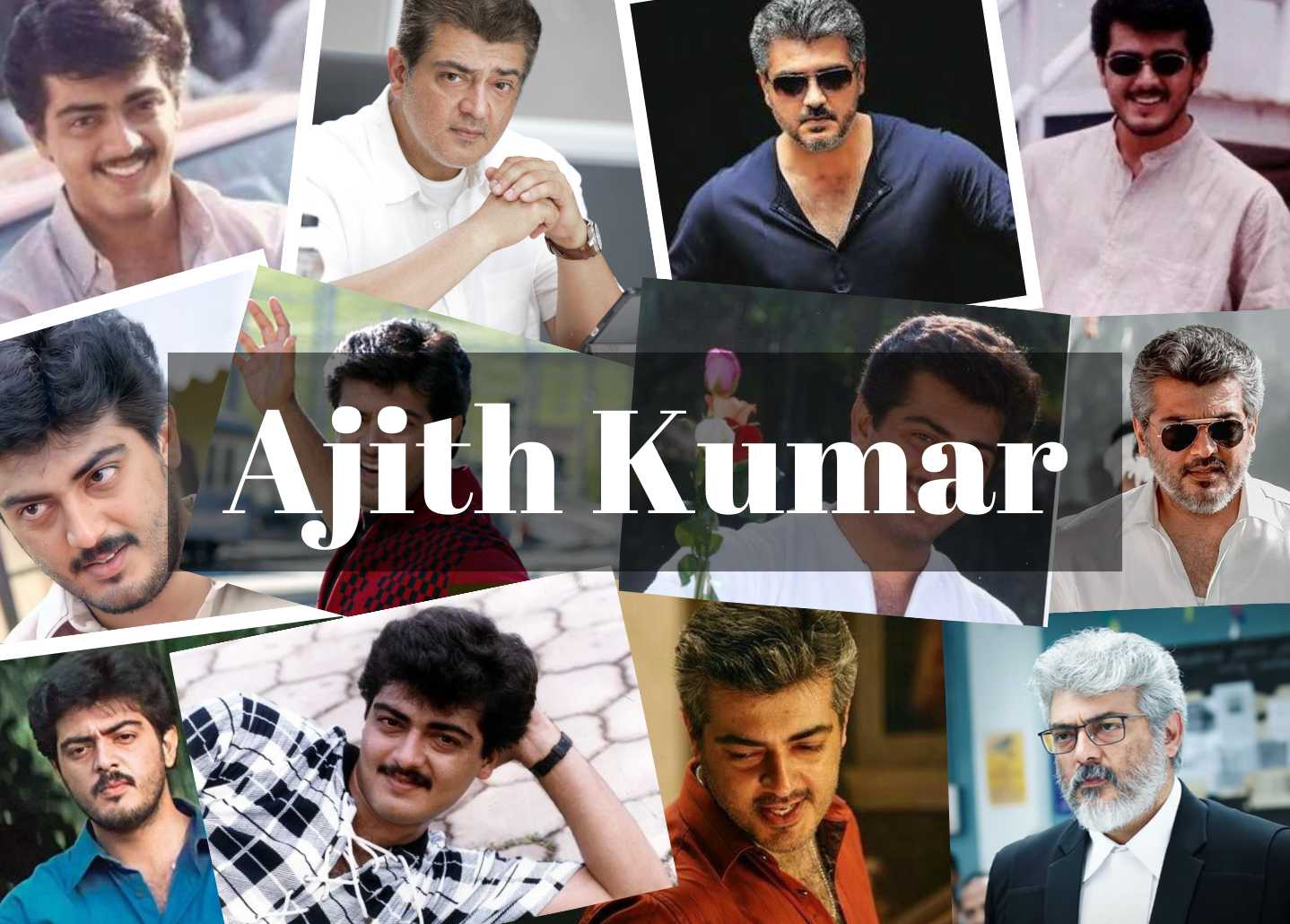 Ajith Kumar Age and Ajith Kumar Biography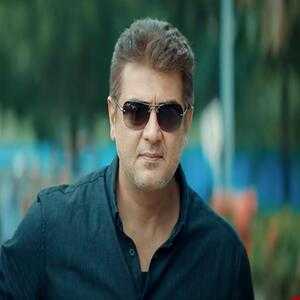 Ajith Kumar is a famous Indian actor. He primarily works in Tamil films. He has appeared in more than 60 Tamil films to date. In addition to three Cinema Express Awards, three Filmfare Awards South, and three Tamil Nadu State Film Awards, he has received four Vijay Awards. Kumar competed in the MRF Racing series while racing cars in addition to his acting career.

Ajith Kumar is popularly known as Thala Ajith. Ajith Kumar's birthday is 1 May 1971. Ajith Kumar's birthplace is Secunderabad Undivided, Andhra Pradesh, India. Ajith Kumar's age is 51 years, as of 2022. Ajith Kumar's religion is Hinduism. Ajith Kumar's zodiac sign is Taurus. Ajith Kumar's height is 1.75m or 5'9.

With a small part in the 1990 Tamil movie En Veedu En Kanavar, Ajith Kumar launched his acting career. With the films Kadhal Kottai (1996), Aval Varuvala (1998), and Kaadhal Mannan (1998), he established himself as a romantic hero. With the movie Amarkalam (1998), he established himself as an action hero (1999). In S. J. Suryah's Vaali (1999), Ajith played two twin brothers, one of whom is deaf-mute, earning him his first Filmfare Award for Best Tamil Actor. He received favourable reviews for his twin roles in the vigilante movie Citizen (2001).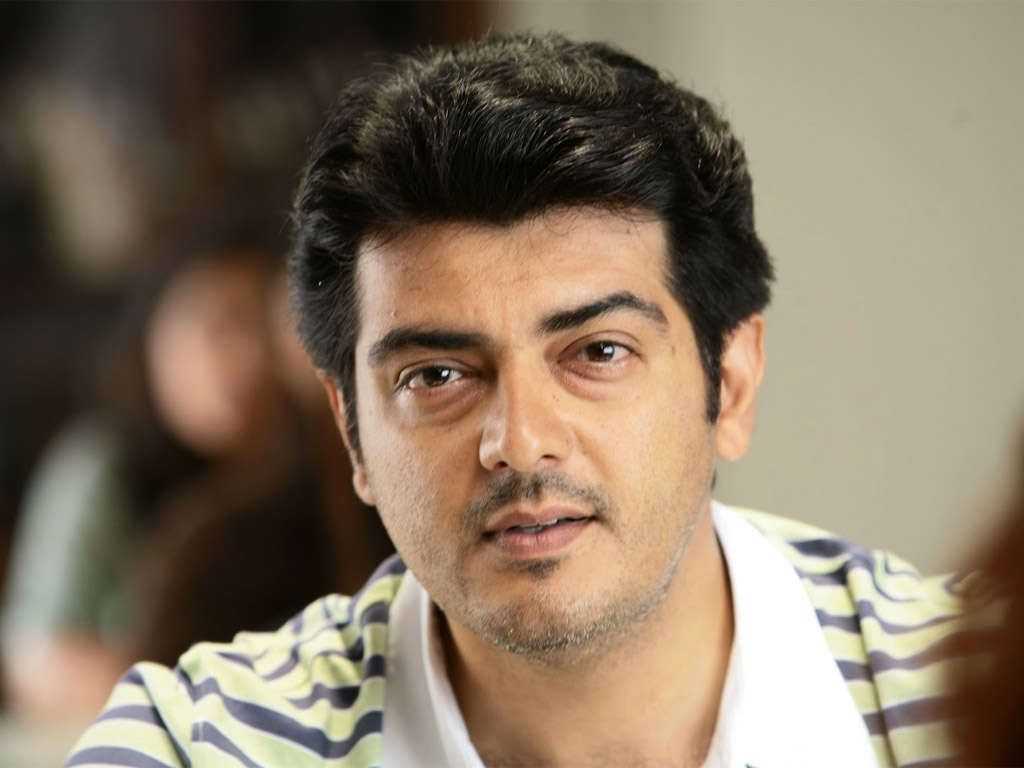 He portrayed three separate characters in the 2006 film Varalaru, in which he had a prominent role. It became the most successful Tamil movie of 2006. He appeared in two remakes the following year, Kireedam (2007) and Billa (2007), all of which received positive reviews. Mankatha (2011), one of the highest-grossing Tamil movies ever, featured Ajith as an antihero. The first prequel in Tamil cinema was his following release, Billa II (2012).

As a race car driver, Ajith Kumar competed on circuits all throughout India, including those in Mumbai, Chennai, and Delhi. He is one of the very few Indians who compete in Formula championships and the international racing scene. Additionally, he has attended races in Malaysia and Germany while abroad. He participated in the BMW Formula Asia Championships in 2003. He competed in the 2010 Formula 2 Championship alongside fellow Indians Parthiva Sureshwaren and Armaan Ebrahim. He was three times listed on the Forbes India Celebrity 100 list, which is based on the annual earnings of Indian celebrities. Ajith Kumar has a deep interest in UAVs and drones. He was recently chosen by Madras Institute of Technology to serve as the test pilot and UAV system advisor for the Medical Express-2018 UAV Challenge.
Claim Your FREE Celebrity Shoutout
✕
Claim Now!
Ajith Kumar's Family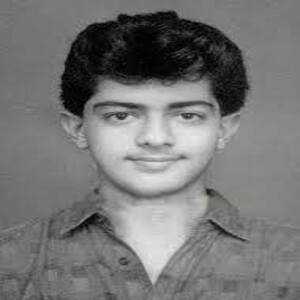 Ajith Kumar's father's name is P. Subramaniam and his mother's name is Mohini. His mother is a Sindhi from Kolkata, West Bengal, while his father is from Palakkad, Kerala. Ajith was one of three brothers and the middle child. Ajith Kumar's brothers' names are Anup Kumar and Anil Kumar. Anup Kumar is an investor, while Anil Kumar is an IIT graduate-turned-entrepreneur.

When his father insisted that Ajith get a white-collar profession, he later left the role and became an apprentice at a different family friend's garment exporting business. He gradually worked his way up to the position of business developer and frequently traveled the nation on sales assignments, which helped him get better at speaking English. Ajith founded a textiles company with three other partners and began distributing cloth after leaving the position. Ajith decided to work in the clothing industry after the business venture did poorly. Ajith started doing modeling jobs in addition to his career during this time. During the filming of a commercial for Hercules Cycle and Motor Company, P. C. Sreeram noticed him and thought he had the looks to become an actor.
Ajith Kumar's Education
Before completing his higher secondary education, Ajith Kumar dropped out of Asan Memorial Senior Secondary School in the tenth grade. Ajith was able to secure employment as an apprentice and complete his six-month mechanic training program thanks to a family friend who worked for the Enfield company.
Talk To Similar Celebrities
Ajith Kumar's Girlfriend and Ajith Kumar Marriage
Heera Rajgopal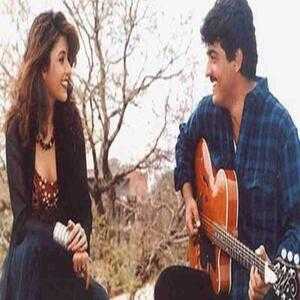 Heera Rajgopal, a former South Indian actress, and Ajith Kumar had a significant relationship. Former Indian film actress Heera was active between 1991 and 1999. She appeared in numerous Hindi, Kannada, Telugu, Tamil, and Malayalam films. It was one of the most exciting pairings in southern cinema history. Ajith and Heena's relationship was so intense that they were destined for marriage.

While filming Kadhal Kottai, Ajith Kumar and Heera got to know one another. But after the release of the movie Thodarum, their romance came to an end, and the two stars split up. Although the exact cause of their breakup is still unknown, it is claimed that Ajith was not pleased with Heera's altered behavior.

On the sets, Ajith Kumar reportedly penned notes to Heera. Bayilvan Ranganathan, a well-known Tamil character artist, had read one of the former couple's love letters. According to reports, Heera's mother opposed their union because she didn't want her daughter's career to suffer at such a young age.
Ajith Kumar Wife-Shalini Kumar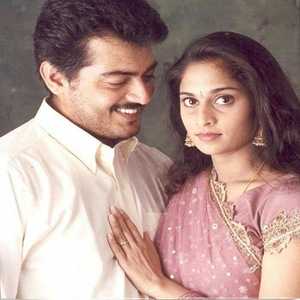 Ajith Kumar's wife's name is Shalini Kumar. A tragic incident brought Ajith Kumar and Shalini together after they had met on the Amarkalam set in the year 1999. Ajith was assigned a role to perform opposite his co-star, Shalini, on the filming locations for Amarkalam. In order to scare the heroine, Shalini, the hero, Ajith, had to act as though he had cut her hand with a knife during the scene. However, the actor injured her by unintentionally cutting her hand with the knife. Surprisingly, the two responded to the occurrence in completely different ways. Ajith was upset at his clumsy error. On the other hand, Shalini maintained her composure. During the entire film shoot, he took care of her. Since then, a love affair had begun between the two.

But that wasn't the couple's first encounter. At the launch of the film Kaadhal Mannan, Shalini had ran into Ajith Kumar. Shalini was a little irritated by Ajith's remark on her hairstyle at their first encounter.

The pair had kept their relationship a secret from the public and the media. According to sources, Ajith Kumar had stayed away from the actress in person because her parents used to visit her on the sets. Ajith had given his lady love a code name, according to a story in India Glitz by Shalini's Niram co-star Kunchako Boban. Ajith used to say Sona, AK-47 Calling whenever he called Kunchako's mobile number. In the movie Niram, Sona was the name of Shalini's character. According to rumors, Ajith left Shalini blushing on the Amarkalam set when he asked director Saran to complete the film in one schedule because he was having trouble not falling in love with his co-star.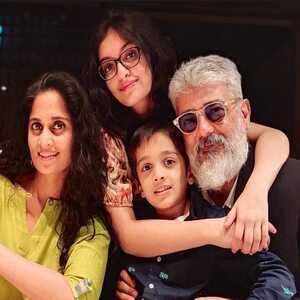 Ajith Kumar and Shalini got married on 24th April 2000. Celebrities from superstar Rajnikanth to actor Prashanth were all there at their elegant wedding, which was attended by a large number of prominent individuals. Shalini left the film industry at the height of her success. She had believed that she couldn't manage both her acting job and household duties. She had previously stated that she did not regret leaving her career behind because her husband Ajith's company was more important to her.

Ajith Kumar and his wife Shalini had embraced parenthood for the first time in the year 2008. On January 3, 2008, the couple welcomed a baby girl into the world. Shalini and Ajith have given her the name Anoushka. After some time, on March 2, 2015, the couple welcomed their second child into the world. Aadvik was the name they had given to their son.

Ajith Kumar allegedly made a vow to his wife Shalini that he would never sign for more than one movie at a time and that he would spend 15 days at home with his family then use the remaining 15 days for filming. And Ajith has maintained his word for the past 21 years, evidence of this can be seen in the entertaining photos of the devoted father Ajith enjoying time with his children.
Ajith Kumar's Movies and Career
Ajith Kumar's Movie: Aasai (1995)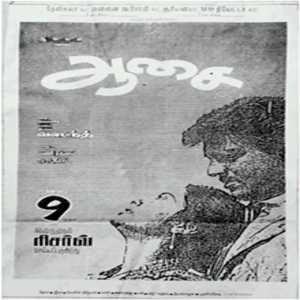 Vasanth wrote and directed the 1995 Tamil-language romantic thriller movie Aasai, which Mani Ratnam also produced. Along with Prakash Raj, Rohini, Poornam Viswanathan, Nizhalgal Ravi, and Vadivelu, the movie stars Ajith Kumar and debutante Suvaluxmi. The plot centers on an intense yearning for his sister-in-law and an attempt to sabotage her relationship with her boyfriend.

When Yamuna arrives in Madras to begin her studies, the movie begins. Yamuna's older sister's husband, Major Madhavan, and he fell in love with her right away. Meanwhile, Jeeva, a charming young guy who also adores Yamuna, captures her heart. Then, in a subsequent scene, Madhavan tells his wife about his love for the Yamuna. She becomes so outraged by this that she makes the decision to go in with her father and Yamuna. The audience then sees Madhavan's vile face. He murders her while falsely claiming that she suffered a heart attack. A few months later, Yamuna's father plans to arrange for Jeeva to become Yamuna's husband. Madhavan decides to prevent the marriage of Jeeva and Yamuna because he wants Yamuna for himself and would stop at nothing to convince everyone that he is a murderer, a drunkard, and a drug smuggler. Nobody pays attention to Jeeva's attempts to convince them that Madhavan is a nasty person until the conclusion, when Suvalakshmi learns the whole truth. The movie comes to a close with an explosion that kills Madhavan after he is discovered in a bedroom by his father-in-law.

Deva wrote the music, while Jeeva took the pictures. The movie, which released on September 9th, 1995, garnered favorable reviews and went on to become a financial success. Pyaar Zindagi Hai, a Hindi remake, was made in 2001.
Ajith Kumar's Movie: Kadhal Kottai (1996)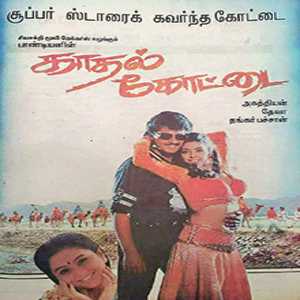 Agathiyan's 1996 Tamil-language romantic drama Kadhal Kottai is an Indian production. Ajith Kumar and Devayani are the movie's main stars, and Heera, Thalaivasal Vijay, and Karan play minor roles.

Kamali is looking for work as she resides in Ooty with her sister and brother-in-law. She worries she has lost her university diplomas after her handbag is taken while she is in Madras. She receives the purse back from Surya, a coworker in Jaipur, and the two fall in love over phone conversations and letters. Without ever having met, they decide to be lovers, and Surya finally relocates to Madras for employment. However, Surya's boss keeps attempting to seduce him, and Kamali's brother-in-law is urging her to marry a decent man.

The film also received the National Film Award for Best Direction, the National Film Award for Best Screenplay for Agathiyan, and the National Film Award for Best Feature Film in Tamil. The movie was a huge box office hit. When it was released on July 12, 1996, it received favorable reviews and ran for more than 270 days before becoming a silver-jubilee movie. The movie was remade in Bengali as Hothat Brishti, Hindi as Sirf Tum, and Kannada as Yaare Neenu Cheluve.
Ajith Kumar's Movie: Vaalee (1999)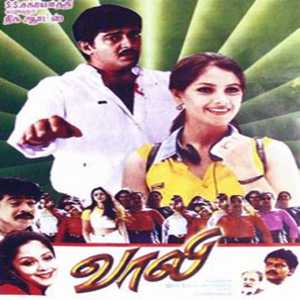 S. J. Suryah made his directing debut with the 1999 Tamil-language psychological romantic thriller movie Vaalee. Ajith Kumar plays two characters in the movie alongside Simran and Jyothika. Sujitha, Pandu, Rajeev, and Vivek all have significant supporting parts. It is a contemporary interpretation of the Vali storyline from the Ramayana and centers on Shiva and Deva, two identical twin brothers.

The twins Shiva and Deva are the heirs to a vast industrial business. The more responsible and mature brother, Deva, is a talented industrialist who is also mute and deaf. Shiva creates a tragic love story to win Priya over. They marry when she falls in love with him. It just so happened that Deva was also interested in Priya but never got around to telling her. As soon as the new bride moves in with the two brothers, an uncomfortable tension develops. The story of Vaali, Sugreeva's older twin, falling in love with his younger brother's wife is shown in the movie, which is taken from the Ramayana.

S. S. Chakravarthy of NIC Arts decided to produce the project. Vairamuthu wrote the lyrics, and Deva created the soundtrack. Jeeva was in charge of the cinematography, and B. Lenin and V. T. Vijayan did the editing.

Vaalee, directed by Suryah and starring Ajith and Simran, received favorable reviews from reviewers upon its release on April 30, 1999. After playing in theatres all over Tamil Nadu for more than 270 days, the movie was a financial triumph. At the same presentation, Jyothika received Best Female Debut - South while Ajith took home the Filmfare Award for Best Actor - Tamil. Under the same title, the movie was remade in Kannada in 2001.
Ajith Kumar's Movie: Kandukondain Kandukondain (2000)
Rajiv Menon co-wrote and directed the 2000 Tamil-language love drama movie Kandukondain Kandukondain. Mammootty, Ajith Kumar, Tabu, Aishwarya Rai, and Abbas make up the ensemble cast of this adaptation of Jane Austen's 1811 classic Sense and Sensibility. Raghuvaran, Srividya, and Manivannan are veterans who play supporting roles. A. R. Rahman composed the soundtrack for the movie, and Ravi K. Chandran filmed it.

Sense and Sensibility by Jane Austen is set in modern-day Tamil-speaking India. Sowmya, the serious older sister, develops feelings for Manohar, the promising filmmaker. Meenakshi, the passionate younger sister, is admired from a distance by Captain Bala, a wounded commando, but she has her young heart set on Srikanth, a businessman who enjoys poetry as much as she does. When the sisters' grandfather passed away and they are no longer allowed to live in the family house, further issues develop.

Kandukondain Kandukondain finally premiered to audiences in Tamil Nadu on May 5, 2000, after a number of delays. It was a commercial success. The creators sent subtitled versions everywhere. The movie was screened at worldwide film festivals and received recognition from the National Film Award and two Filmfare Awards South.
Ajith Kumar's Movie: Citizen (2001)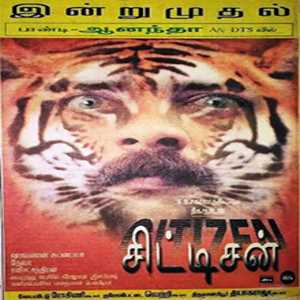 The 2001 action-thriller film Citizen was written and directed by Saravana Subbiah, with S. S. Chakravarthy served as producer. Ajith Kumar plays two characters in the movie, and Meena, Vasundhara Das, and Nagma play supporting parts. Deva composed the music and the film's score, and Ravi K. Chandran was in charge of the photography. On June 9, 2001, the movie received its theatrical premiere, and it quickly rose to the top of the box office.

A man going by the name of Citizen abducts three significant members of society—a judge, a police officer, and a district collector—in the open. Following his lead, CBI Officer Sarojini discovers clues to a shocking mystery involving a town called Attipatthi that mysteriously vanished from India's map and to which each of these men are tied.

When Citizen was released, the film earned favorable reviews from critics, enjoyed success and ran for 100 days at the box office, which helped to justify its comparatively high budget of Rs. 8 crores. To rave acclaim, the movie was then dubbed and released in Telugu as Citizen.
Ajith Kumar's Movie: Varalaaru (2006)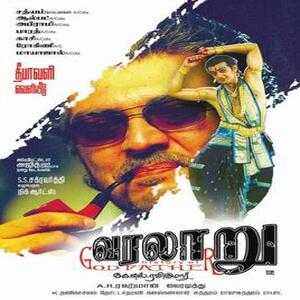 The action-drama film Varalaru, which was released in 2006 in the Indian Tamil language, was written by K. S. Ravikumar, directed by S. S. Chakravarthy, and produced by NIC Arts. Along with Asin, Ramesh Khanna, Suman Setty, Kanika, Sujatha, and M. S. Baskar plays supporting parts in the movie, which also stars Ajith Kumar in a triple role as a father and his twin sons. A. R. Rahman wrote the soundtrack and background music for the movie.

The billionaire father of two sons in the Varalaru movie is Shivashankar. Due to an accident in which his wife perished, he is confined to a wheelchair. He adores his stylish, urbane son Vishnu, who lives a carefree life. When Vishnu visits Thottapuram, he meets Divya, a college student, and falls in love with her right away. According to the story, Shivashankar's estranged son Jeeva impersonated Vishnu in order to exact revenge on his father. The rest of the movie focuses on the reasons behind Jeeva's feelings of retaliation toward his father.

The movie had a 175-day run and became a box office success. The movie's original title was Godfather, however after the Government of Tamil Nadu moved to exclude tax on films with Tamil titles in 2006, the title was changed. The movie, which had taken two years to make, was released on October 20, 2006, the eve of Diwali, and became the top earner for the year. The movie has been remade in Odia as Tu Mo Dehara Chhai, in Burmese as Nat Khat Mhar Tae Tite Pwal, and in Kannada under the title Godfather. Sujatha made her final appearance in this movie.
Ajith Kumar's Movie: Billa (2007)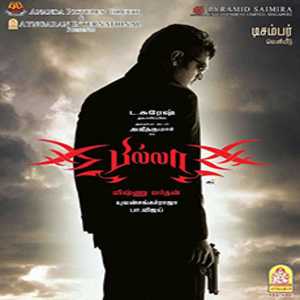 The action-thriller movie Billa, which was released in 2007, was directed by Vishnuvardhan. It is a remake of the Tamil film Billa from 1980, which was in turn a remake of Don from 1978 in Hindi. Along with Nayanthara and Namitha, Ajith Kumar, who plays a dual role as a mob don and his amiable lookalike, also acts in the movie. Prabhu, Rahman, Adithya Menon, and Santhanam also have supporting roles. It is directed by Nirav Shah, with cinematography by Yuvan Shankar Raja, and edited by A. Sreekar Prasad. It is produced by L. Suresh and Abdurrahman M.

The interconnected narratives of a wanted international don in Malaysia named David Billa, an Indian police officer, a woman seeking revenge for her brother's death, and a common thief named Velu who has an interesting connection to Billa.

Ayngaran International released and disseminated it globally. After its first success, the movie was chosen to screen at the 61st Cannes Film Festival.
Ajith Kumar's Movie: Mankatha (2011)
The action/crime movie Mankatha, which was released in 2011, was written and directed by Venkat Prabhu. Along with Arjun Sarja, Trisha Krishnan, Lakshmi Rai, Anjali, Andrea Jeremiah, Vaibhav Reddy, Premji Amaren, and Mahat Raghavendra, it stars Ajith Kumar in his 50th movie. Yuvan Shankar Raja created the musical score and soundtrack, Sakthi Saravanan worked as the film's cinematographer, and Praveen K. L. and N. B. Srikanth served as the film's editors. It was produced by Dhayanidhi Alagiri's Cloud Nine Movies.

A police officer from Maharashtra named Vinayak Mahadevan is suspended for assisting a smuggler in eluding the authorities in the raunchy and suspenseful tale Mankatha. He begins living his life on his terms. Sanjana, the daughter of Mumbai's powerful local goon Arumuga Chettiyar, captures his attention. To put an end to the IPL cricket betting scam in Mumbai, stern cop Prithvi takes over. Arumuga attempts to exploit his old theatre and the connections he has made with Mumbai's dons to channel more than Rs 500 crore for gambling. With the aid of his buddies Ganesh, Mahanth, who runs a pub in Mumbai, and Prem, an IIT alumni, Sumanth, a goon working for Arumuga Chettiyar, intends to steal the bounty. Vinayak enters the contest. He pledges to assist them and distribute it equally to them. Once they have taken the money, trouble begins. Police and Arumugha Chettiyar are presently pursuing them. Mahanth and Prem make off with the money in the meantime. Now it is all up to Vinayak. He and Prithvi alternate fighting.
Ajith Kumar's Movie: Arrambam (2013)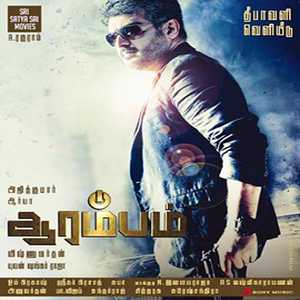 The 2013 action-thriller movie Arrambam was made in Tamil in India and directed by Vishnuvardhan. Ajith Kumar, Arya, Nayanthara, and Taapsee Pannu appear in the A. Raghuram and Subha co-wrote and produced the movie, which also features Kishore, Rana Daggubati, and Akshara Gowda in supporting parts. Yuvan Shankar Raja created the film's soundtrack and score, while Om Prakash and A. Sreekar Prasad handled the film's cinematography and editing, respectively.

The action takes place in Mumbai. Former bomb-disposal expert and Dirty Harry-style shooter known as AK alias Ashok is out for retaliation. He coercively recruits computer hacker Arjun and his lover Anita, along with his lady love Maya, into his evil schemes. The rest of the narrative focuses on how they get retribution from the Home Minister and his followers.

The movie didn't have a title until it began post-production and was mainly known by the working title Thala 53 or Valai. The movie premiered on October 31, 2013, to positive reviews.
Ajith Kumar's Movie: Yennai Arindhaal (2015)
In 2015, Gautham Vasudev Menon co-wrote and directed the action-thriller Yennai Arindhaal, which was also produced by A. M. Rathnam. A retired police officer struggles to save a young woman from a vengeful criminal connected to his past in the movie, which also stars Ajith Kumar, Trisha Krishnan, Anushka Shetty, and Arun Vijay. Anikha, Parvathy Nair, Vivek, Ashish Vidyarthi, Suman, and Avinash are also featured in the movie.

Sathyadev, a young child, loses his father accidentally while responding to a crime scene, which changes the course of his life. The I.P.S. route separates him from a devoted future wife and makes a child without a mother. Victor, a well-known foe who reappears in his life as the kidnapper when he is trying to investigate a case of kidnapping, is also given to him. And just as the story says, all hell breaks loose at that precise time, leading to a raucous conclusion.

Harris Jayaraj, who had previously worked with Menon in Vaaranam Aayiram, created the soundtrack (2008). While Anthony edited the movie, Dan Macarthur was in charge of the photography. Additionally, it completes Menon's police trilogy, which also included the movies Kaakha Kaakha (2003) and Vettaiyaadu Vilaiyaadu (2006).

The movie, which hit theatres on February 5, 2015, earned favorable reviews from critics who praised Ajith and Arun Vijay's performances. Five categories, including Best Actor for Ajith Kumar, Best Supporting Actor for Arun Vijay, Best Music Director for Harris Jayaraj, and Best Lyricist for Thamarai, were nominated for the movie at the 63rd Filmfare Awards South. Arun Vijay won the prize for Best Actor in a Negative Role - Tamil at the 5th South Indian International Movie Awards, where the movie was nominated in six categories.
Ajith Kumar's Career Timeline
Ajith Kumar's Upcoming Projects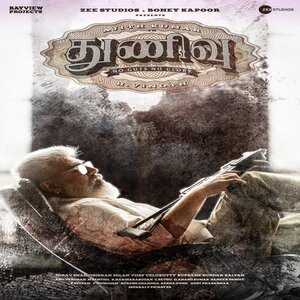 The title of H. Vinoth's next action thriller starring Ajith Kumar, AK61, which was originally a working title, has been changed to Thunivu. Ajith is shown lounging in a chair holding a semi-automatic weapon in the movie's first look poster, which also featured the movie's title. No Guts, No Glory is the tagline for the title.

The movie, a Boney Kapoor production, centers on a bank heist as its main narrative. Following the most recent schedule, Ajith is anticipated to begin work on his following film, which will be directed by Vignesh Shivan.

Ajith Kumar's Racing Career
As a racing driver, Ajith Kumar competed on circuits all around India, including those in Mumbai, Chennai, and Delhi. He is one of the very few Indians who compete in Formula championships and the international racing scene. Additionally, he has attended races in Malaysia and Germany while abroad. He participated in the BMW Formula Asia Championships in 2003. He competed in the 2010 Formula 2 Championship alongside fellow Indians Parthiva Sureshwaren and Armaan Ebrahim.

Ajith Kumar signed a contract with manager Akbar Ebrahim after competing in one race at the Formula Maruti Indian Championships in 2002 and placing fourth. This agreement confirmed his participation in the first Formula BMW Asia series. Ajith finished the season by placing 12th despite spinning out during the opening lap of his debut race.

Ajith Kumar returned to auto racing in 2010 by entering the FIA Formula Two Championship for his third season after a six-year hiatus. Ajith made the choice to take up the activity after the release of his Gautham Vasudev Menon-directed movie was postponed, allowing him to take part in the entire season. He participated in the MRF racing series' championship race in Chennai in February 2010 prior to joining, but he was unable to finish the race because of mechanical issues. As he prepared for the start of the season in April 2010 in his Formula Renault V6 car with Eurasian Racing, he conducted more trials in Sepang, Malaysia, losing 11 kg throughout training.
Ajith Kumar's Controversies
Valimai Controversy
Fans of Ajith Kumar celebrated and cheered over Valimai's release. Instead of being released on streaming services, the movie was shown in theatres, where it received excellent reviews and did well financially. According to the reports, H Vinoth, the filmmaker, and Boney Kapoor, the producer, have both been reported to the police. The Chennai Police Commissioner's Officer had received a complaint from the lawyer association, which asked for proper action. According to a complaint made by a lawyer by the name of Shanthi, the movie misrepresents lawyers, and action should be taken.

Disowning the Thala Title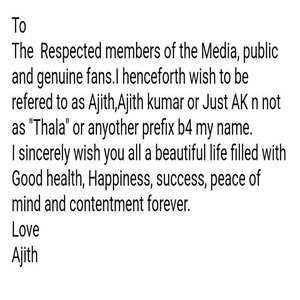 In a statement, Ajith Kumar rejected the honorific title that his admirers and the cinema industry had bestowed upon him. He has asked that his name not be referred to as Thala or with any other superlative prefixes by the media or his supporters. Ajith's 2001 film Dheena is where he received the moniker Thala. Ajith Thala, which means chief or a superior one, is the name of one of the supporting characters during a song sequence. And in Tamil cinema, that moniker has since come to be synonymous with the actor. Ajith has always attempted to carry himself as an average person, despite his flamboyant on-screen character.

The Felicitation Ceremony of M. Karunanidhi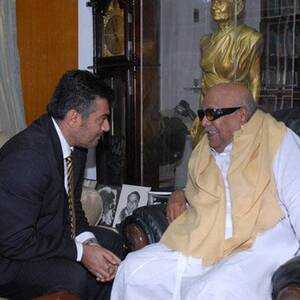 Back in February 2010, Ajith Kumar offended some members of the film business. He has spoken out against several Kollywood actors who demanded that celebrities attend their events if they wanted the film business to support their projects. Ajith made the remark as the then Chief Minister was present at an event organised by Kollywood to honour the late M Karunanidhi for granting property in Kancheepuram to worthy members of the film industry.

Ajith Kumar, however, had made it clear that he was going to the award ceremony out of respect for M Karunanidhi. Rajinikanth gave him a standing ovation for his remark, while many other people at the Nehru Stadium were unsure of how to respond. Ajith received criticism from a certain group of businesspeople, as was to be expected. The rumor at the time was that Rajinikanth had protected Ajith because certain DMK members wanted Ajith Kumar to learn a lesson for being brave enough to express his opinion in front of their beloved leader. Later, Ajith personally visited M Karunanidhi's home to share his perspective on the matter.
Ajith Kumar's Net Worth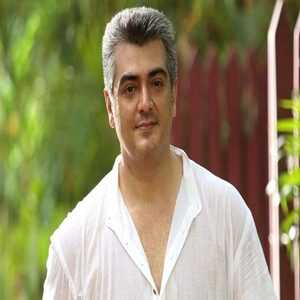 Ajith Kumar's net worth in 2022 is $28 million US or 213 Crore Indian Rupees. His film work and brand endorsements account for the majority of his earnings. Ajith receives acting pay for his roles as well as a profit split from his films. He accepts a sizable payment for brand endorsement.

Thiruvanmiyur, in the Chennai area, is the location of Ajith Kumar's private property. In contrast to a beautiful green lawn, his home has a conventional design with a white-themed dreamy inside. He also owns a villa close to the beach in Chennai that is surrounded by stunning natural scenery and sizable mountains. His home's spacious inside is painted white, and the retro feel it exudes is a visual pleasure. His villa has a large swimming pool that is spread out outdoors.

Ajith Kumar is the owner of several automobile manufacturers, including Lamborghini, the BMW 7-Series 740 Li, the Aprilia Caponard motorcycle, the BMW S1000 RR motorcycle, and the BMW K1300 S motorcycle.
Ajith Kumar's Awards and Achievements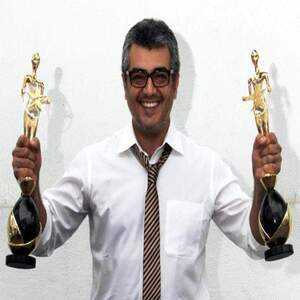 1999: Cinema Express Awards- Best Actor (Tamil) for Vaali
1999: Dinakaran Awards- Best Actor for Vaali
2000: Filmfare Awards South- Best Actor (Tamil) for Vaali
2000: Kalaimamani Awards- Art and Literature
2000: Cinema Express Awards- Best Actor (Tamil) for Mugavari
2001: Cinema Express Awards- Best Actor (Tamil) for Citizen
2001: Tamil Nadu State Film Awards- Special Prize for Poovellam Un Vasam
2002: Dinakaran Awards- Best Actor for Villain
2003: Filmfare Awards South- Best Actor (Tamil) for Villain
2006: Tamil Nadu State Film Awards- Special Prize for Varalaaru
2006: Tamil Nadu State Film Awards- Honorary- MGR Award
2007: Filmfare Awards South- Best Actor (Tamil) for Varalaaru
2007: Vijay Awards- Best Actor for Varalaaru
2007: Vijay Awards- Favourite Hero for Varalaaru
2012: Chennai Times Film Awards- Best Actor for Mankatha
2012: Vijay Awards- Best Villain for Mankatha
2012: Vijay Awards- Favourite Hero for Mankatha
2019: Zee Cine Awards- Tamil- Most Empowering Performer of the Decade
10 Interesting Facts about Ajith Kumar
Ajith Kumar and Vijay are very close friends.
Ajith Kumar prefers not to sleep in the afternoon.
Ajith Kumar loves to keep his things organised and tidy.
Ajith Kumar is a lively cook who is well-known for making delicious Sambar and Biryani.
Ajith Kumar would never mind going into the kitchen during his stays at any hotels, meeting the chef, and asking for the recipe for any dishes that he thought were particularly delicious.
Ajith Kumar would stay in his room on the day when his movies were released, avoiding all the celebrations and excitement.
Ajith Kumar is a talented interior designer who has worked on both his own home and the homes of his close friends.
Ajith Kumar is a Bibliophile.
Ajith Kumar has a great passion for racing and has participated in national as well as international competitions.
Ajith Kumar has an interest in Aero Modelling, and he also has a licensed Pilot.
Ajith Kumar enjoys taking pictures and makes it a practice to bring his camera with him wherever he goes.
Ajith Kumar worked as a mechanic before entering the film industry.
Frequently Asked Questions