Abhay Deol | Movies, Age, Biography, Net Worth

Anisha Saini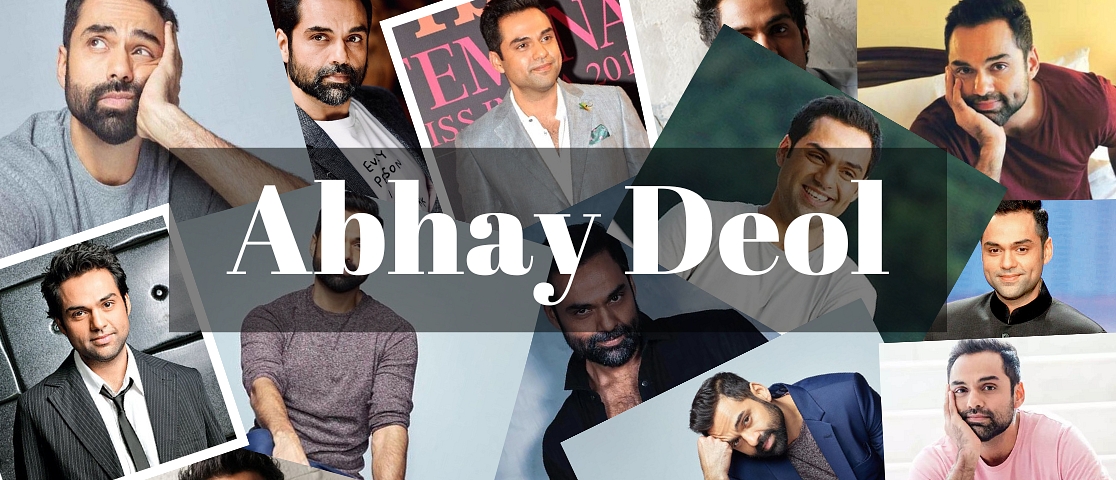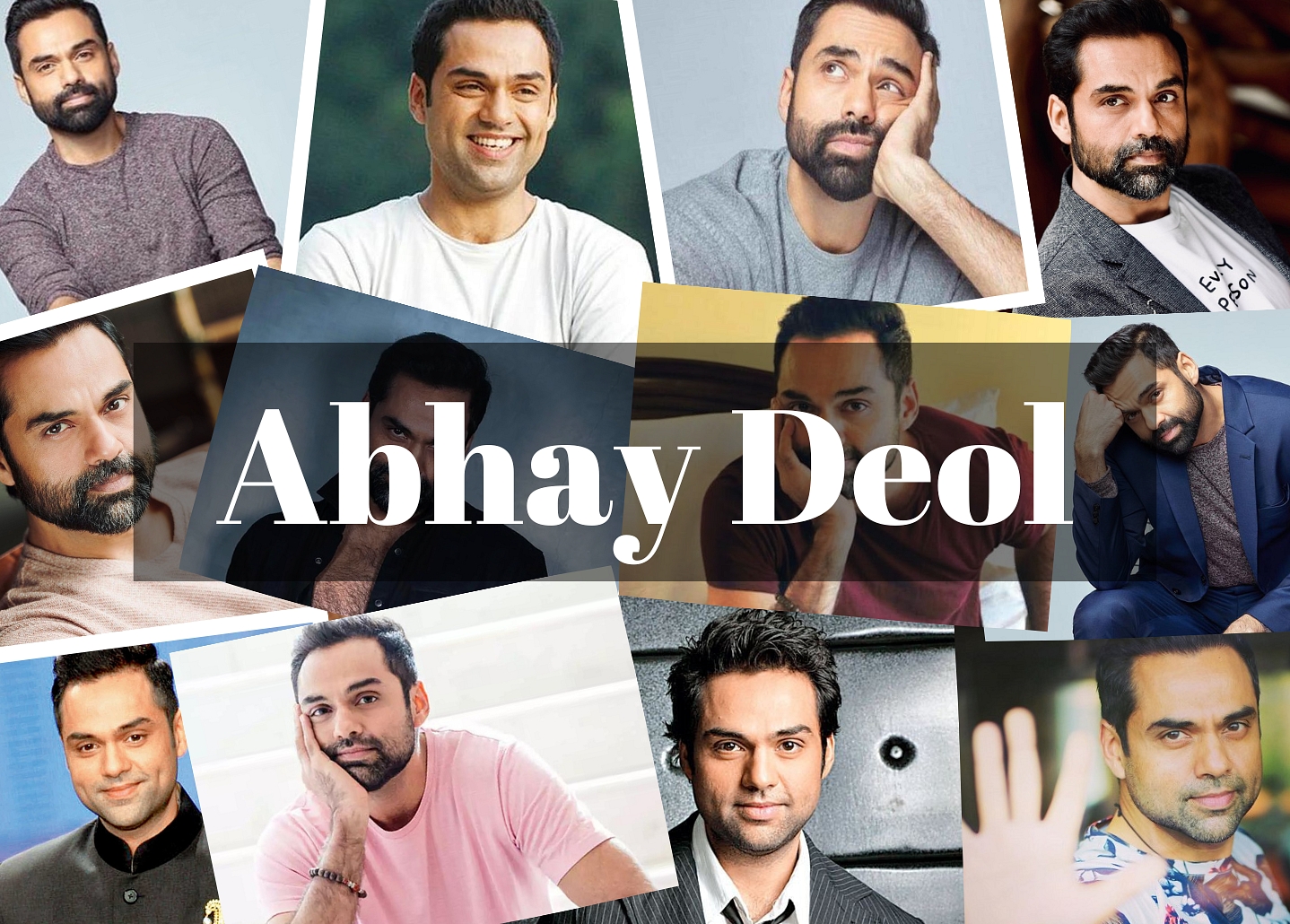 Abhay Deol Biography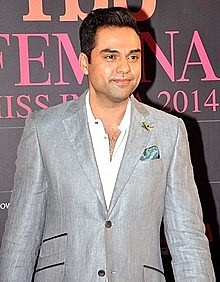 Born on March 15, 1976, Abhay Singh Deol is an Indian actor and producer best recognized for his work in Hindi movies. He was a Deol family member and made his film debut in 2005 with the romantic comedy Socha Na Tha starring Imtiaz Ali. Following the success of his first movie, Deol has received praise for his work in movies including Manorama Six Feet Under (2007) and Oye Lucky! Happy Oy! (2008).

Abhay Deol's big break came in 2009 when he took on the title character of Dev in Anurag Kashyap's Dark His Comedy Dev.D, a contemporary adaptation of Devdas. Deol's fame increased after the movie's popularity. He starred in Zoya Akhtar's Jindagi Na Milegi Dobara after beginning his career by largely acting in independent movies. He received favourable reviews for his portrayal, which led to his first Filmfare Award nomination for Best Supporting Actor. Since then, Deol has acted in commercially successful movies like the romantic drama Raanjhanaa (2013) and the romantic comedy Happy Bhag Jayegi in addition to indie films like the drama Road, Movie (2010) and the war movie Chakravyuh (2012).

In the Tamil movie Hero, he made his acting debut. His Deol, who is renowned for creating complicated characters for the big screen, actively promotes Indian cinema. Deol is the owner of the 2009-founded production business Forbidden Films. He supports numerous NGOs in addition to his acting career and is an active philanthropist.
Talk To Similar Celebrities
Abhay Deol's Family and Abhay Deol's Childhood
Ajit Singh Deol and Usha Deol, the parents of Abhay Deol, are Sikhs. He is the cousin of Sunny Deol, Bobby Deol, Esha Deol, and Ahana Deol as well as the nephew of actor Dharmendra. In a Rediff interview, Abhay Deol claimed that he got into acting not because of his father but rather because he had been active in theatre since he was in elementary school. "At age 18, I decided to go in. Due to my reluctance to forgo my schooling for a career in movies, it took me ten years.
Relationship and affairs of Abhay Deol
Shilo Shiv Suleman
The relationship between actor Abhay Deol and Shilo Shiv Suleman is now public on Instagram. Fans dubbed Abhay and the Bengaluru-based artist as the newest pair in town after he shared a series of photos with them on Sunday.

There is nothing prohibited on this table, Shilo stated in her response. Soon, more adventures!" Other celebrities like Monica Dogra and Esha Gupta sent the couple love-themed emoticons and comments.The Fearless Collective's creator and leader is Shilo Shiv Suleman. The 400 artists who work their protest against gender violence through their works of art. The majority of Shilo's work passes for installation art and graphics. When Abhay Deol shared several photos from Shilo Shiv Suleman's exhibition in March of this year while also praising her work, rumours about the two of them began to circulate.
Preeti Desai
Abhay Deol and Preeti Desai, an ex-couple, also experimented with the live-in relationship model. Unfortunately, they split up after four years of being together. For those who are unaware, Abhay and Preeti co-starred in the 2014 film One By Two together.

Abhay Deol Career
Socha Na Tha (2005)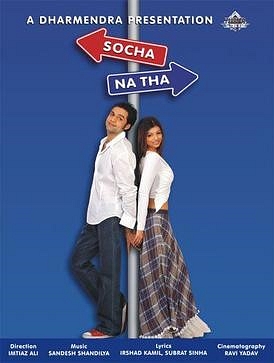 Released on March 4, 2005, Socha Na Tha is a romantic comedy in the Hindi language. Ayesha Takia and Apoorva Jha were the stars, and Abhay Deol made his acting debut. Imtiaz Ali makes his directorial debut with this movie. It earned favourable evaluations. The movie received generally favourable reviews from reviewers and had a mediocre box office performance. The audience liked Deol's performance in the movie.
Families present Viren (Abhay Deol) and Aditi (Ayesha Takia), but Viren declines to wed because he prefers to wed Karen, his girlfriend of three years (Apoorva Jha). The families get tense as a result of Viren's refusal since Aditi's aunt is offended. Viren and Aditi, however, happen to cross paths by chance, click right away, and Viren extends an invitation to Aditi to travel with him to Goa so she can determine whether or not his girlfriend Karen loves him.

Karen observes the two of them getting closer while in Goa. Viren realizes he has fallen in love with Aditi, but he is already planning his wedding to Karen. Things become more difficult because Viren had to fight hard to get engaged to Karen because she is a Christian and he is a Hindu. Despite this, he still desires to wed Aditi, who has also grown to love him. Aditi, who has dated Mahesh on and off, rejects him out of respect for her aunt and uncle who had proposed to her. Viren finally forgets Aditi after several discussions, tells Karen the truth, and moves on with his unhappy existence.

Aditi's engagement day comes, and Karen stops by to ask her why she isn't marrying Viren since he and Karen are no longer together. Additionally, Karen informs her that Viren is depressed. This chat is overheard by her cousin, who then persuades Aditi to run off with Viren. Their families accept them once they apologize to them.
Ahista Ahista (2006)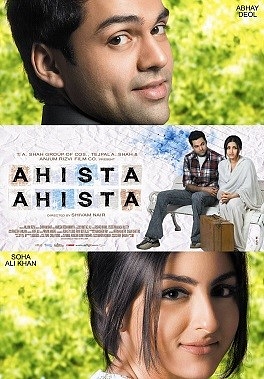 This is a Shayan Munshi, Soha Ali Khan, and Abhay Deol-starring 2006 Hindi love drama film. In August 2006, it was made accessible. With this film, Shivam Nair makes his directorial debut. The screenplay was adapted from Fyodor Dostoevsky's 1848 short story White Nights, which also served as the basis for the Raj Kapoor film Chhalia. The same story was presented earlier in a telefilm that Nair and Imtiaz Ali directed for Star Bestsellers.
Ahista Ahista is the tale of Ankush (Abhay Deol), a young man without direction who ekes out a living by serving as a witness in the marriage registry office in Delhi, and Megha, a girl who has fled from her home in Nainital to marry her love, Dheeraj.

Dheeraj fails to appear at the marriage registry office due to an act of fate. Megha is left with little choice but to rely on Ankush's generosity albeit with suspicion. Megha learns about her true potential as an educated girl after Ankush assists her in obtaining employment at the neighborhood nursing home. Ankush, on the other hand, accepts a job that pays a commission to open bank accounts. As their connection grows, Megha decides to put her past with Dheeraj behind her and look forward to the future with Ankush. When Dheeraj arrives back, everything seems to be fitting into place. He never gives up in his pursuit of Megha and Ankush's newly discovered happiness.
Ek Chalis Ki Last Local (2007)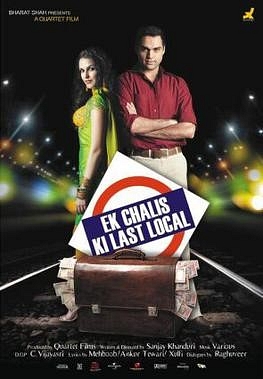 Abhay Deol and Neha Dhupia are the main characters in Sanjay Khanduri's 2007 Indian Bollywood adventure comedy thriller Ek Chalis Ki Last Local. The movie opened on May 18, 2007, to favorable reviews from critics but weak box office performance.

The comedy thriller "Ek chalis ki last local" is about two people who miss the final local train to Vikhroli at 1:40 a.m. and have to wait until the next local arrives. With several interwoven stories, the film meanders into a fascinating drama. The story centers on Nilesh (Abhay Deol), a call center manager and the movie's protagonist, and how missing the final train home turns out to be an important event in his life.

At the same station, Nilesh runs into Madhu (Neha Dhupia), who has also missed her train. When an auto strike occurs, the two decide to get together and wait for their next train while sitting in a desi bar. One thing leads to another, and then events and experiences follow, some strange and lovely and others unpleasant and unsettling.
Manorama Six Feet Under (2007)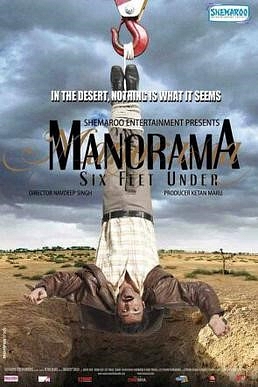 Navdeep Singh co-wrote and directed this thriller movie in India. The lead actors in the movie are Abhay Deol, Raima Sen, and Gul Panag. The movie premiered on September 21, 2007. It centers on an aspiring sleuth from Rajasthan who gets entangled in a web of lies, treachery, and murder.

The American neo-noir film Chinatown, upon which the movie is based (1974). Manorama Six Feet Under's creators acknowledged the influence of the original by playing the scene where Jack Nicholson's character gets his nose cut on Satyaveer's (the protagonist's) television.
Oye Lucky! Lucky Oye! (2008)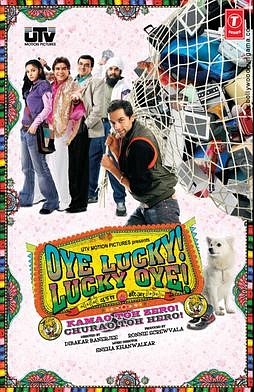 Abhay Deol, Paresh Rawal, Neetu Chandra, Manu Rishi, Richa Chadda, Manjot Singh, and Archana Puran Singh feature in this Indian comedy movie. Dibakar Banerjee directed it. The movie was named Best Popular Film winner of the National Film Award. The real-life antics of Devinder Singh, alias Bunty, a real-life "super-chor," originating from Vikaspuri, Delhi, served as the basis for the movie. Good Luck! Although Lucky Oye! received positive reviews, it's the timing on the day following the 2008 Mumbai attacks, which caused widespread anxiety in crowded places, had a negative impact.

A youngster from an impoverished, dysfunctional family in the West Delhi suburbs grows up to become a charismatic and daring guy who, distinctively, robs the elite of numerous important Indian cities, frequently not out of necessity but simply for fun. Lovinder "Lucky" Singh reflects on his life after being apprehended by Special Crime Branch Inspector Devender Singh.

He recalls his childhood, his father's second marriage, his siblings, his entry into crime and his association with Gogi Arora, his romance and subsequent marriage to the lovely Sonal, and his subsequent betrayal by a hanger-on and a business partner. In the meantime, the media speculates on how he got away with breaking into homes in Bangalore, Chandigarh, Mumbai, and other Indian cities while stealing 140 TV sets, 212 VCRs, and 475 shirts, 90 music systems, 50 jewellery boxes, 2 dogs, and a greeting card.
Road, Movie (2009)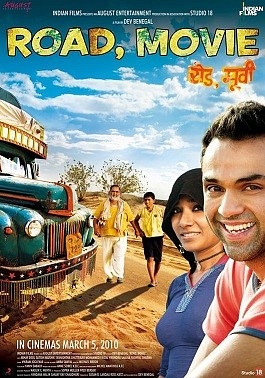 Abhay Deol, Tannishtha Chatterjee, and Satish Kaushik feature in Dev Benegal's Indian road movie. It had its world premiere at the 2009 Toronto International Film Festival, and in February 2010 it debuted in the Generation 14plus category at the 60th Berlin International Film Festival. On March 5, 2010, India saw the release of the film Road.

A restless young guy named VISHNU is itching to leave his father's failing hair oil company. Vishnu sees the call of an old truck as his chance to escape. He offers to take the vintage Chevy, which has been purchased by a nearby museum, through the desert to the sea. He learns as he travels across the difficult terrain that he is moving an antique traveling movie theatre, not just a dilapidated van. Vishnu grudgingly takes up a juvenile runaway, a roaming elderly entertainer, and a beautiful gypsy woman along the road. They explore the dry terrain together in search of water and an illusive fair. When they run upon dishonest police officers and an infamous warlord, the voyage takes a terrible turn.

The two forty-year-old film projectors and the oddball assortment of movies in the truck's back are the only things that can set them free. If the movies are good, they live and move on, much like in 1001 Nights. They risk dying in the Australian outback if the movies are dull. For all of the travellers, but especially for Vishnu, who finds life, love, and laughter on the Indian highway, the voyage proves to be transforming.
Zindagi Na Milegi Dobara (2011)
On a 45-crore rupee ($79 crore or $9.9 million in 2020) budget, it was shot in Spain, India, Egypt, and the United Kingdom. Javed Akhtar wrote the words, and Shankar-Ehsaan-Loy created the music and background score. Zindagi Na Milegi Dobara won Best Film among other awards, and Deol received a nomination for Best Supporting Actor for his performance in the film.

The plot of the movie centres on Arjun, Kabir, and Imran, three old friends who reunite for a three-week road trip. They travel to Spain where they encounter Laila, who falls in love with Arjun and aids him in overcoming his need to work. Imran wants to meet his biological father, an artist, while Kabir and his fiancée Natasha have serious disagreements. Each travel companion selects a risky activity for the group to engage in.

On July 15, 2009, we were moved by the tale of three friends who, while on a road trip, rediscover themselves. Farhan Akhtar as Imraan, Hrithik Roshan as Arjun, and Abhay Deol as Kabir set out on an epic trip that would forever alter their lives. Through participating in various adventure sports throughout Spain and having fun and pulling practical jokes, they all came to understand what matters most to them. All three of the characters exhibit unique personality qualities and are successful in teaching us important lessons about life, but the focus of the entire movie is Kabir. Abhay Deol recently brought up how award shows referred to him and Farhan as supporting performers in the movie while referring to Hrithik and Katrina Kaif as the leads. Kabir, though, is the movie's protagonist in our eyes, and he is the subject of today's Throwback Thursday.

He is to blame for the start of the events depicted in the film. In the very first scene of the film, the character of Abhay Deol's Kabir pops the question to Natasha Arora; the remainder of the film focuses on his bachelor party.
Chakravyuh (2012)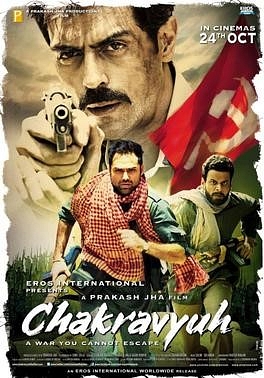 Esha Gupta, Manoj Bajpayee, Abhay Deol, and Anjali Patil all play minor roles in this movie. Chakravyuh aims to be an analysis of the Naxalites in society. The first Chakravyuh theatrical trailer was released on August 16–17, 2012, at 00:00. The movie was released around Durga Puja. In India, Chakravyuh was presented in 1100 theatres. Despite earning excellent reviews, the movie did not draw a sizable audience. Deol co-starred in the latter film with Arjun Rampal as a police informant who ultimately joined the Naxalite organization. Film critics gave the movie a variety of reviews.
Gumrah: End of Innocence (2012)
It is a crime-themed television show that debuted on Channel V India in March 2012. The program features instances of youths committing crimes. Ekta Kapoor produced the series through her company, Balaji Telefilm.

The program debuted on Channel V India on March 11, 2012, broadcasting once a week with repeats on Star Plus and Channel V India. In the second season, it started airing every day. The third season premiered on July 7, 2013. Chitrangada Singh and Karan Kundra shared the anchoring duties for the first show. Abhay Deol hosted Season 4 before being replaced by Karanvir Bohra. Season 5 premiered on March 22, 2015, and its final episode aired on June 26, 2016.
Happy Bhaag Jayegi (2016)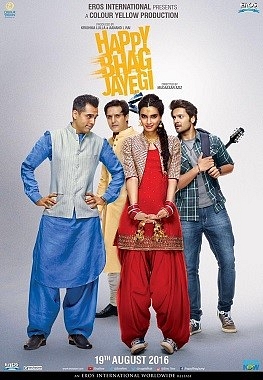 Aanand L. Rai and Krishika Lulla are the producers of the 2016 Indian Hindi-language romantic comedy Happy Bhag Jayegi, which is written and directed by Mudassar Aziz. The film's title character, played by Diana Penty, is a free-spirited Amritsar bride-to-be who accidentally travels to Lahore, Pakistan, after fleeing her wedding ceremony. Penty, Abhay Deol, Jimmy Sheirgill, Ali Fazal, and Momal Sheikh make up the show's ensemble cast.
Dolly Lahore Mein, the original name of Happy Bhag Jayegi, was intended to be a "cross-border" love comedy. Although a significant portion of the movie takes place in Lahore, Saurabh Goswami, who served as the director of photography, shot the majority of the movie in Chandigarh and Amritsar. Pakistani actors Javed Sheikh and his daughter Momal Sheikh appeared in the movie.

On August 19, 2016, Happy Bhag Jayegi received a limited number of positive reviews from critics who praised the ensemble cast's performances and humor. Despite receiving poor reviews, the movie had an average box office performance, earning $465 million against a $200 million budget. Indian media agencies regarded it as a sleeper hit. On August 24, 2018, the follow-up, Happy Phirr Bhag Jayegi, was released.
1962: The War in the Hills (2021)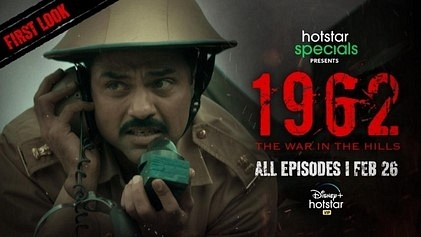 1962: Mahesh Manjrekar is the writer and director of the Hindi-language war drama television series The War in the Hills, which is available on Disney+ Hot star. Leading actors Abhay Deol, Sumeet Vyas, Rohan Gandotra, Mahie Gill, and Akash Thosar appear in the series, which is based on the 1962 Sino-Indian War. The show presents a fictionalized narrative of actual conflicts waged in Rezang La and Galwan Valley, where 125 Indian Army personnel were entrusted with holding off a 3000-man People's Liberation Army.

The show premiered on Disney+ Hot star on February 26, 2021, and it received mostly negative reviews from critics who criticized its length and special effects.
Abhay Deol Career Timeline
Awards and achievements of Abhay Deol
Abhay Deol was nominated for the Best Supporting Actor Award for Zindagi Na Milegi Dobara for the Awards Annual Central European Bollywood Awards.
Abhay Deol was nominated for Best Actor for Manorama: Six Feet Under for the Awards Annual Central European Bollywood Awards.

Abhay Deol was nominated for the Best On-Screen Couple Honeymoon Travels Pvt Ltd shared with Minissha Lamba.

Abhay Deol was nominated for the Best Breakthrough Role Actor for the film Ahista Ahista for the Awards Annual Central European Bollywood Awards.

Abhay Deol was nominated for Best Actor for the film Socha Na Tha for the Awards Annual Central European Bollywood Awards.

Controversies of Abhay Deol
Being a part of "Aisha" (2010), which also starred Sonam Kapoor, did not make him happy. He claimed that the movie veered off course and focused more on acting than the performing itself.
Abhay attended the 2014 Screen Awards ceremony while suffering from a black eye. He displayed it as a protest against the record label T-Series for withholding the soundtrack to his film "One by Two." On his Facebook page, he said that he has since decided to speak out against the practice of signing certain contracts, which he believes may harm the compensation of singers and songwriters.
He slammed several Bollywood stars, including Shah Rukh Khan, Vidya Balan, Deepika Padukone, Sonam Kapoor, Siddharth Malhotra, and Shahid Kapoor, for advertising fairness creams in a series of Facebook posts in April 2017. In response, Sonam Kapoor engaged Abhay in an online argument by pointing out that his cousin Esha Deol had also produced a comparable advertisement.
Abhay Deol's Net Worth
According to the results of our online survey, Abhay Deol has a net worth of USD $7 million. He earns his living by appearing in web series on sites like Netflix, Sony LIV, Disney Hot Star, and others.
Imtiaz Ali had the chance to direct Socha Na Tha after finding great success as an actor in the web series, but to his misfortune, it was a box office dud.
He consistently had two films that were failures, but he never gave up trying to improve his performance. He worked hard, and with the help of the movie Ek Chalis Ki Last Local, he was successful in the Bollywood film industry.

Abhay Deol's annual income from the Bollywood film industry is reported to be between six and seven crores. He also earns between one and two crores per year from appearing in web series. Abhay is a leading man at Films making a respectable wage.
Abhay Deol was famous for this insurance-related corporate ad for Max Insurance, and he receives about 1-2 crores per year in compensation as a result of his advertising contract with sugar-free. However, the amount of the advertisement is disclosed. Pizza Hut and Abhay Deol have a sponsored advertising deal.
Interesting facts about Abhay Deol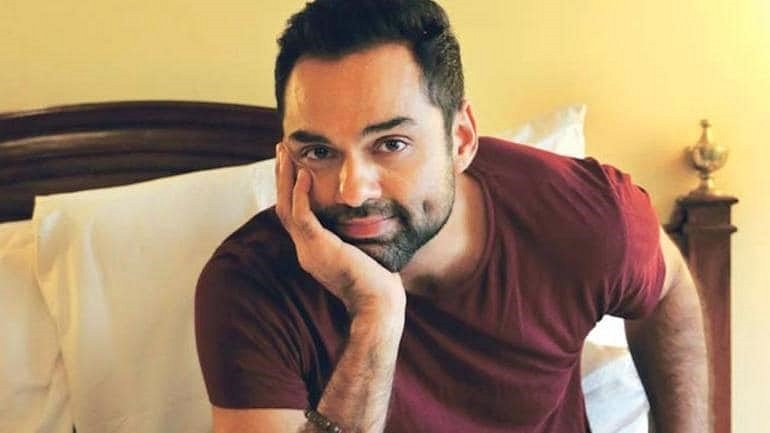 Alcohol use and smoking are both habits of Abhay Deol.
Abhay is Sunny Deol's and Bobby Deol's cousin as well as the parental nephew of Dharmendra.
He was raised in a blended household and was so close to Dharmendra that he always referred to Ajit and Usha as uncle and aunt.
At first, he was considering four careers: acting, painting, philosophy, and journalism. He decided on acting because he participated in theatre in school.
Due to his dimples, he was given the moniker "Dimpy."
Imtiaz Ali made his feature film directorial debut with "Socha Na Tha," which was produced by his uncle Dharmendra and released in 2005. Despite receiving positive reviews from critics, the movie struggled at the box office.
His first commercial breakthrough came in 2007 with the multi-star ensemble movie "Honeymoon Travel's Pvt Ltd."
For his function in "Manorama Six Feet Under," he received the Best Actor Award at the Mahindra Indo-American Arts Council Film Festival in New York in 2007.
His debut single, "Oye Lucky Lucky Oye," which was released in 2008, was a huge hit.
To prepare for his part in the 2011 movie "Zindagi Na Milegi Dobara," he underwent deep-sea diving training.
Preeti Desai, his longtime lover, was crowned Miss Great Britain in 2006.
He has a production house "Forbidden Films".
In the movie "Oye Lucky Lucky Oye," he played a criminal, but in real life, he was the victim of a huge robbery when his SUV, a Mitsubishi Pajero, was taken from a Santa Cruz neighborhood in Mumbai in September 2013.
He experienced a financial crisis in 2014 as a result of his first film's underwhelming box office performance, "one by two." To get by, he had to mortgage his Juhu apartment, which was worth between $2 and $4 crore.
He is scared of cockroaches.
Social Media
Frequently Asked Questions