Bengaluru Bulls | Pro Kabbadi League, Matches, Team, Players, Owner

Hitesh Mandot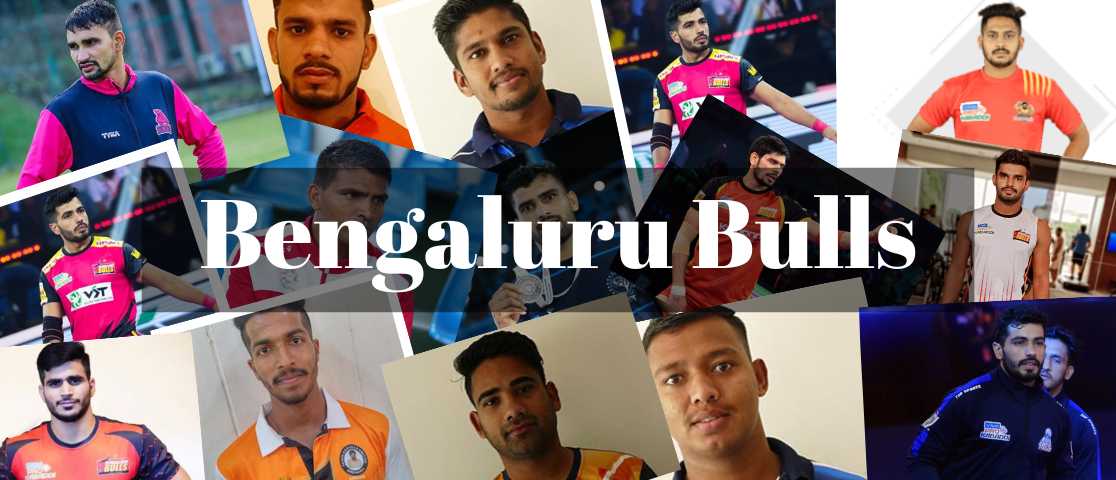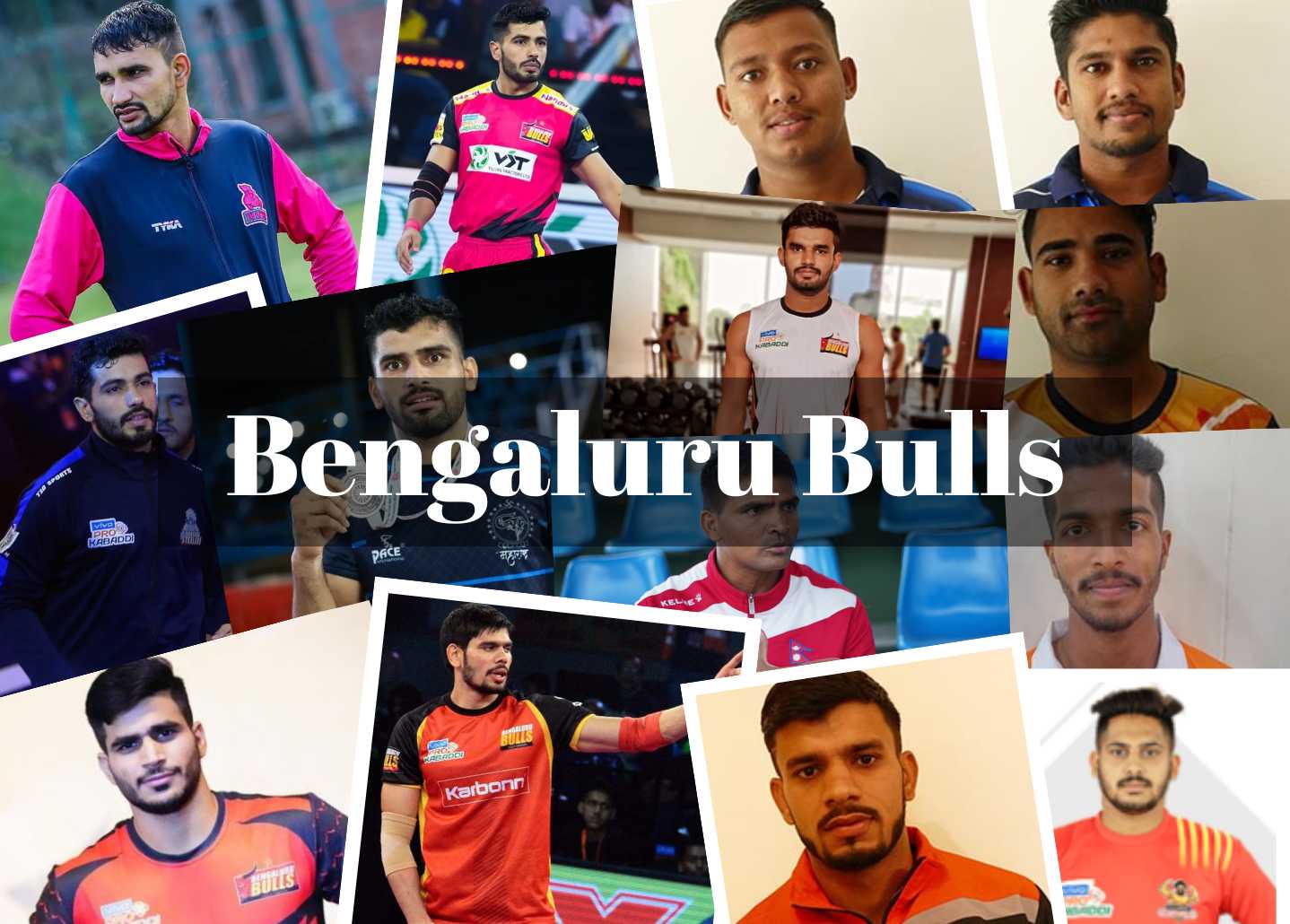 Bengaluru Bulls is a Pro Kabbadi League team. The team won in 2018 (Season 6).

Pro Kabbadi League team Bengaluru Bulls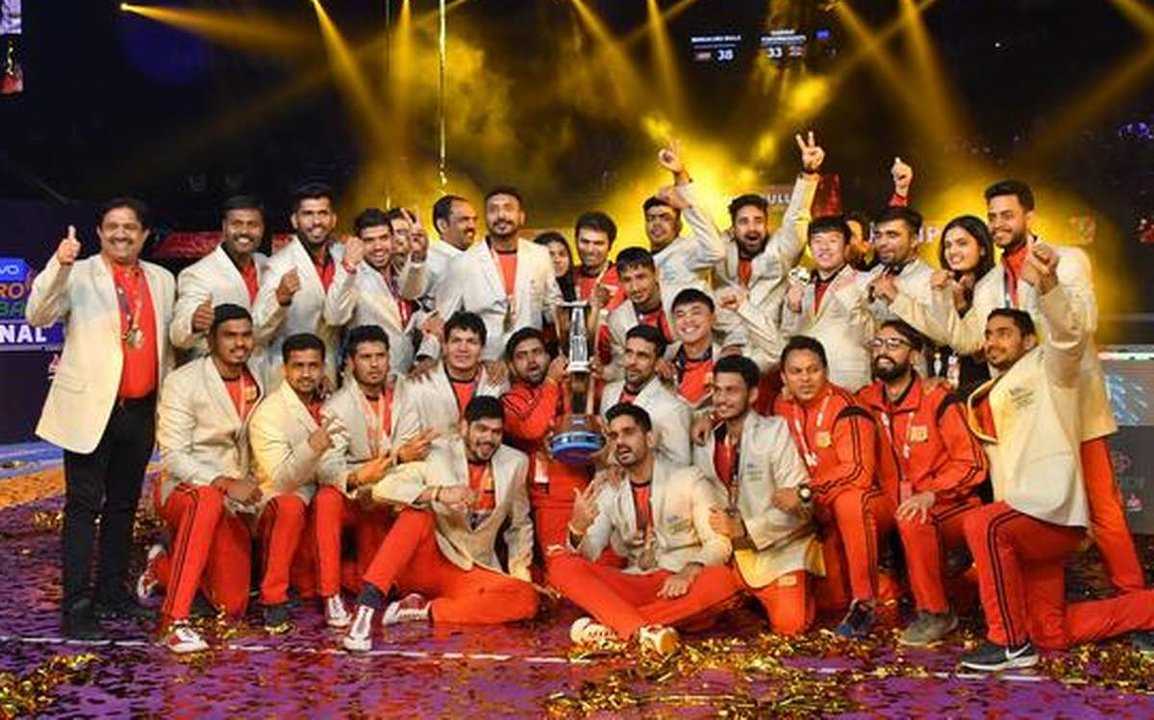 The Pro Kabaddi League team Bengaluru Bulls (BGB) is situated in Bengaluru and competes in the sport of Kabaddi. The team is led by Mahender Singh and is coached by Randhir Singh. They won the championship in Season 6. The owner of the squad is Kosmik Global Media. Kanteerava Indoor Stadium is the site of the Bulls' home games. After winning the title for the first time by defeating the Gujarat FortuneGiants in the 2018–19 season, the Bulls are one of the most successful teams in PKL history. In addition, the squad finished second to U Mumba in 2015 and advanced to the quarterfinals during its first 2014 campaign.

Bengaluru Bulls, who won the Pro Kabaddi League's sixth season as champions, will be vying for a second championship in PKL 2022. The Bulls tried to purchase back Pawan Sehrawat, their best raider but were unsuccessful. Instead, they changed their auction approach and spent a fortune to hire Vikash Kandola, a raider in good form. The Bulls will be ready to face off with any club that dared to stand in their way thanks to a group that is mostly made up of youthful players and some shrewd post-auction signings of seasoned players.

Claim Your FREE Celebrity Shoutout
✕
Claim Now!
Bengaluru Bulls Owner
Speaking of the owner, Kosmik Global Media is a reputable production company with locations in Mumbai, New Delhi, and Chennai. It specializes in a broad spectrum of natural history documentaries, factual content, and feature films. It is among the most successful independent production companies in India. It has been creating both factual and imaginative material for Indian and foreign markets for more than eight years.

Kosmik Global Media has plans to open a Kabaddi Academy in Bengaluru soon now that it has dabbled in the sport. It is undoubtedly a very happy occasion for us to be connected with this endeavor which aspires to promote the sport of kabaddi among today's youngsters, Wala had said at the team's 2014 launch. In fact, during the past three years or so, the sport has become much more well-known, especially since the creation of the Pro Kabaddi League.

Uday Sinh Wala, the CEO of the production company, has expertise ranging from advertising and marketing to sports management and broadcasting. The production company's vice president is Raajesh Srivastav, and its associate vice president is Youla Khurana. They are both actual industry pioneers with a wealth of media and advertising experience.

Talk To Similar Celebrities
Bengaluru Bulls Best Matches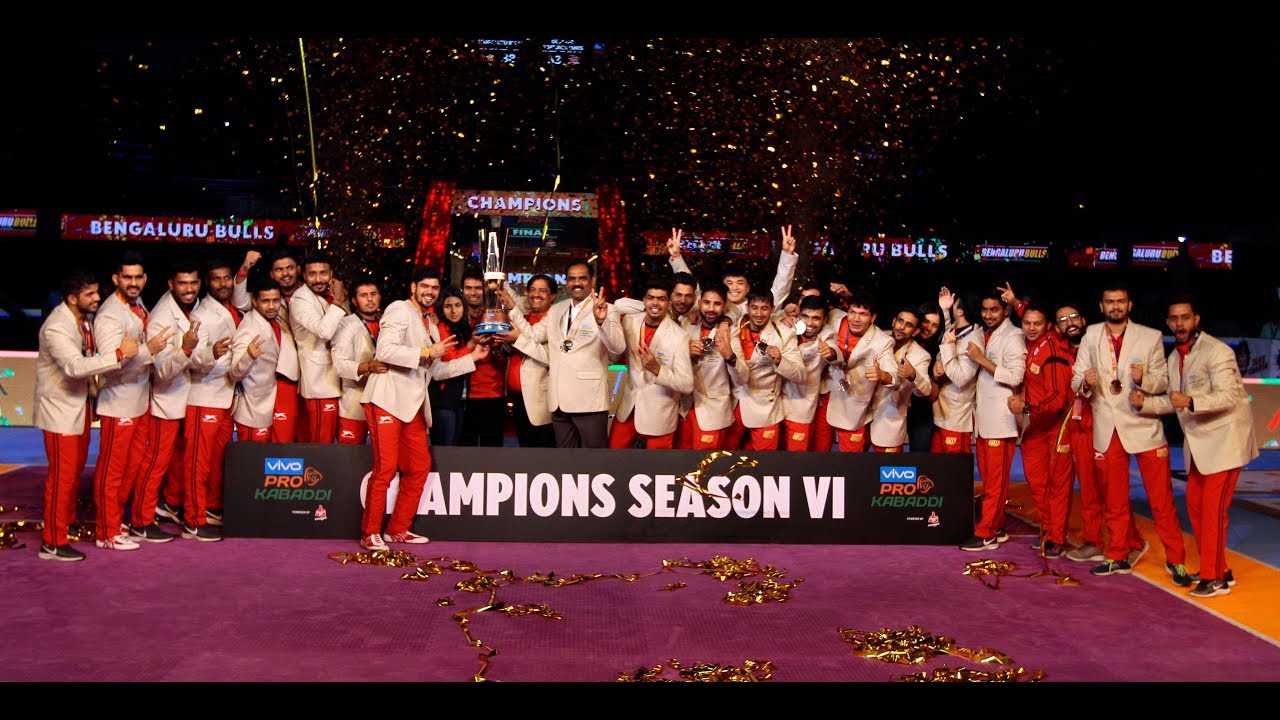 Bengaluru Bulls defeated Gujarat Fortunegiants 38-33 to win their first Pro Kabaddi League championship in 2019 Mumbai after falling behind 9-16 at the half.

Pawan Sehrawat, who was named the season's Most Valuable Player, shone in the finale by contributing 22 of Bengaluru's 38 points. He was solely responsible for the Bulls' victory, as his outstanding second-half play completely changed the course of the game. Sachin nearly led Gujarat Fortunegiants to the championship with a super 10, but he just missed.

Bulls saw the tide shift in their favor after forcing an all-out to go ahead 23–22. The changeover of players on both sides became frantic as the clock ran out, and Fortunegiants lost their second consecutive final after falling to Patna Pirates the year before.

Bengaluru Bulls Players
Pro Kabbadi League Bengaluru Bulls All Matches
Bengaluru Bulls Team Players 2022
The direction of Coach Randhir Singh Sehrawat will be essential for the team's development. The Pro Kabaddi League's Bengaluru Bulls have been among the league's most reliable teams.

They have participated in two finals, reached the playoffs four times, and won the league once in 2018. Many young players who were under the guidance of the famous coach Randhir Singh Sehrawat after just one season went on to become household names.

Following the auctions, their team was Aman, Bharat, Harmanjit Singh, Lal Mohar, Mahender Singh, Mayur Jagannath Kadam, More GB, Nageshor Tharu, Neeraj Narwal, Rahul Khatik, Rajnesh, Rohit Kumar, Sachin Narwal, Saurabh Nandal, Sudhakar, Vikash Khandola, Vinod Lachmayya Naik, Yash Hooda.

Vikash Kandola
The Haryana Steelers player will now represent the Bengaluru Bulls after signing a contract for 1.70 crores, making him the second-most expensive auction purchase overall and the most expensive Bulls player ever. The flamboyant left raider, who must assume Pawan Sehrawat's responsibilities as the primary raider, will try to carry over the strong form he shown for Railways in the 69th Kabaddi Nationals to the PKL.

Vikash, who is only 24 years old but has over 150 raid points in the last three PKL seasons, is a strong candidate for captain because of his maturity. He has already earned 25 Super 10s in total

Bharat Naresh
The left- and right-handed raider was maintained as an Existing New Young Player (EYP) after racking up 115 raid points from just 196 raids in his first season with the Bulls. Bharat is a menace on the mat because he maintains his poise under pressure and is a skilled tackler from both ins. As a second raider, he will play a significantly larger role and undoubtedly be up for the challenge.

More GB
Since More GB was transformed into a deadly super tackle specialist off the bench last season, having his name listed in the raiding unit is misleading. Prior to the auctions, the Kabaddi Commando was retained under the Elite Retained Players category and will be a key player in the starting 7 as an all-arounder. Watching how coach Randhir Sehrawat employs his improved defensive skills will be interesting.

Neeraj Narwal
Neeraj Narwal was purchased by the Bengaluru Bulls for 43 lakh rupees. Neeraj, a left- and right-handed raider who has also been closely watched, filled in for the injured Naveen Kumar last season and finished with 45 points from 97 raids.

Harmanjeet Singh
Harmanjeet, who had previously played for the Gujarat Giants, made his debut in 2019 and collected six raid points from 14 raids. Despite the Giants' raiding issues in Season 8, Harmanjeet only had one appearance as a starter. During the Gotegaon Kabaddi championships, his dexterity in raiding attracted attention.

Nageshor Tharu
One of the most fascinating talents to come out of Nepal is the international. He has not yet played in the PKL.

Lal Mohar Yadav
After being a member of the Bengaluru Bulls squad during Season 7, another Nepalese international is back.

Saurabh Nandal
Over the past two seasons, the right corner, who is quickly improving, has scored more than 50 points for the Bulls. With 69 tackle points, he placed third in the rankings last season, earning himself a spot on the team as a young player.

Mahender Singh
The left cover, a cornerstone of the Bulls' defensive scheme, was kept on as an Elite Player for Season 9. He has been a member of the squad since Season 5, and despite a sharp decline in value from 80 lakhs in Season 7 to 28.80 lakhs this season, he had a successful Season 8 overall.

Mayur Kadam
Despite a rocky start to his PKL career, the youthful right cover from Maharashtra received support. The Bengaluru-based team has retained him as a top player by relying on his potential. The defender will want to secure his position this season now that he has more experience under his belt.

Aman
Last year, the tenacious left corner made a big impression with 54 points in 23 games. He will continue to be a defensive mainstay for many more seasons after being retained as a Franchisee Nominated New Young Player.

Rajnesh
The athlete will provide the Bulls' defense more depth and is still a member of the franchise, having been kept as a Nominated New Young Player.

Yash Hooda
This season, Yash Hooda, a franchisee-nominated New Young Player, will compete for time with the first team.

Vinod Naik
The current youthful player will try to strengthen the bench.

Rohit Kumar
The defender, who played for UP Yoddha in seven games during season 5, has been kept on as a current new young player.

Sachin Narwal
Sachin Narwal, who played for the Jaipur Pink Panthers in Seasons 7 and 8, transfers to the Bulls after being bought for 10 lakhs. From 31 games, he has accumulated 65 raid points with a respectable strike rate of 69.7%. He has also consistently delivered for Services in the Nationals.

Rahul Khatik
The player has been sold to the Bulls in the auctions and is about to make his PKL debut.

Social Media
Frequently Asked Questions