Raksha Bandhan is a Hindu festival that celebrates the pure bond between siblings. The term 'Raksha' and 'Bandhan' translate into 'safety' and 'bond' which is a promise between siblings to care, nurture and protect each other, no matter the circumstance. It is celebrated every year on the full moon in the Hindu month of Shravan at a particular time which is considered the ideal time to perform the ritual. This year, Raksha Bandhan will be celebrated on, Sunday, 22 August 2021. This ritual dates back to Hindu mythology during the time of Mahabharata. Legends say that when Lord Krishna was left with a bleeding finger after the war, Draupadi quickly tore a strip of her saree and tied it around his finger to stop the bleeding. Lord Krishna was very touched by her sisterly gesture and vowed to always protect her and help her out whenever needed in the future.
Traditionally, the ritual involves the coming together of siblings with the sister applying a tilak on the brother's forehead along with tying a Rakhi or bracelet on his wrist. The Rakhi itself signifies a protective band to ensure the safety of the brother while he promises her the same. Nowadays, Rakhi's can be found in all shapes and sizes. Some people get store-bought Rakhi's while others prefer handmade ones as it attaches more meaning to the band.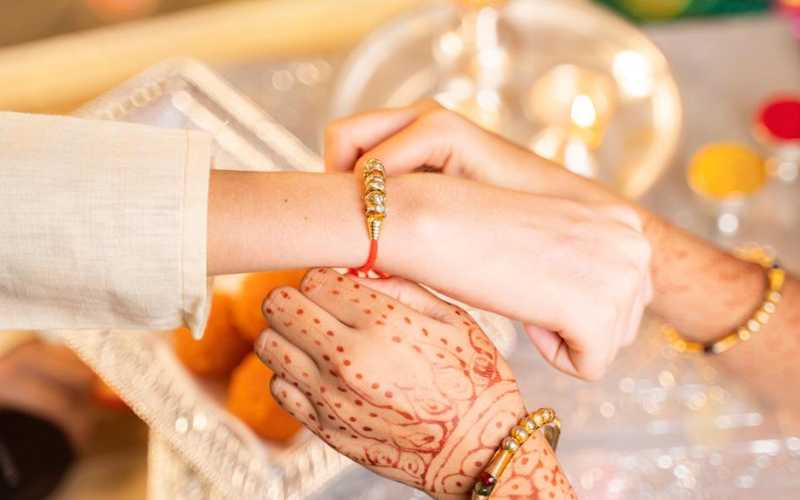 The modern-day celebration of Rakhi makes a shift from the religious aspect to a more playful exchange with chocolates, gifts and a pact to maintain peace at least for most of the day! While Raksha Bandhan was originally celebrated between brothers and sisters, today rakhi's are tied to elder sisters, best friends, neighbours and even distant relatives most of the time in the case of single children. Although this ritual has undergone many changes, the meaning and emotions behind it stay the same.
At a time when all our families are spread across the globe and meeting in person isn't a possibility, virtual celebrations have been on the rise with virtual Rakhi's being sent across phone screens or packaging one right to their doorstep. Although these are the most common ways of celebrating Raksha Bandhan with your siblings, we're here to help you take it one step ahead of everyone else with the perfect gift idea.
If you and your siblings have grown up religiously watching every episode of Taarak Mehta Ka Ooltah Chashmah while loving the mother-daughter relationship between Sonalika Joshi and Nidhi Bhanushali, or if you've had your obsessive Bigg Boss phase watching all the drama unfold with Devoleena Bhattacharjee, Shefali Jariwala and Shefali Bagga taking center stage, this one's going to be the perfect solution to all your Raksha Bandhan gift quests. You can now get in touch with your favorite celebrities and get personalized video messages for your loved ones. Yes, you heard that right! It's no longer a far-fetched dream but it's absolutely possible and will only take 5 mins of your time. All you need to do is visit www.tring.co.in and select the celebrity of your choice (or one that will drive your sibling crazy!) They've got over 7000+ celebrities for you to select from, so you'll definitely find your pick there. You personalize the message you wish you send across and then complete the booking. You could add in some of your funniest, most embarrassing moments as well! The process is very simple but the smiles are everlasting. So, don't let distance be the reason for another sad Raksha Bandhan celebration but make the most out of the situation by leveling up your game and making this, a day they will never forget. Let this Raksha Bandhan remind them that your unbreakable bond can stand the test of time, by doing something unique that'll leave them starstruck! (literally)