Many a time your sister has probably made delicious food for you, taken care of you, saved you from getting yelled at. It's time you put a smile on her face. And make the eternal promise to protect her and be by her side. Now that Raksha Bandhan is around, we assume you are in search of the perfect Raksha Bandhan gifts. No worries, we are here to help you figure out what that trendy gifts for raksha bandhan could be!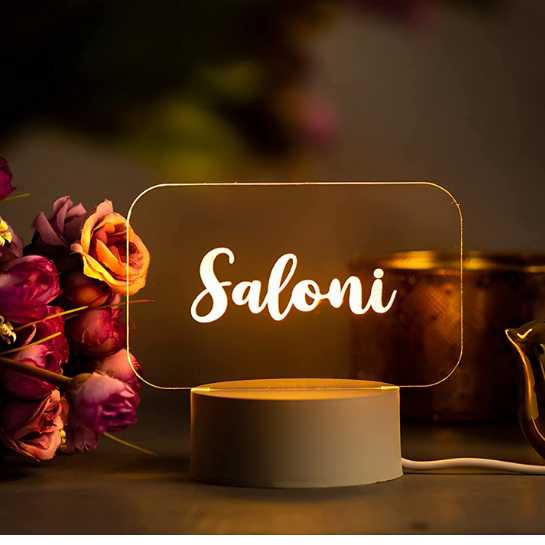 Aesthetic Crystal names with LED lights
Is your sister one of those who look for aesthetics in everything she buys? Does she have a style of her own? Buy her a Crystal Name with LED lights that suit her aesthetic. It can be used as decor in the bedroom. And the LED lights are definitely an added benefit to it. Do not forget to choose her favorite color gifts for Raksha bandhan! You can easily get it on amazon.

Personalized Celebrity Video
Is your sister a crazy fan of a celebrity? it's time you give her the most perfect gifts for raksha bandhan! Remember the 'smile on her face that we were talking about? It's guaranteed with this Raksha Bandhan gift. With Tring it has become very simple to get a personalized video from a celebrity. You can choose from over 10000+ different celebrities. What are you waiting for? Your Perfect Raksha Bandhan gift is here!

Customized Bracelet
As you know, Rakhi is a cotton Bracelet that represents the Protection and bond of the siblings. In Raksha Bandhan 2021, when your sister ties the Rakhi, why not give her something similar? You can easily get a bracelet customized with her name or even her pet name. Many of the Instagram stores do sell the same. It will be a beautiful Raksha Bandhan gift that she will wear every day, reminding her of you.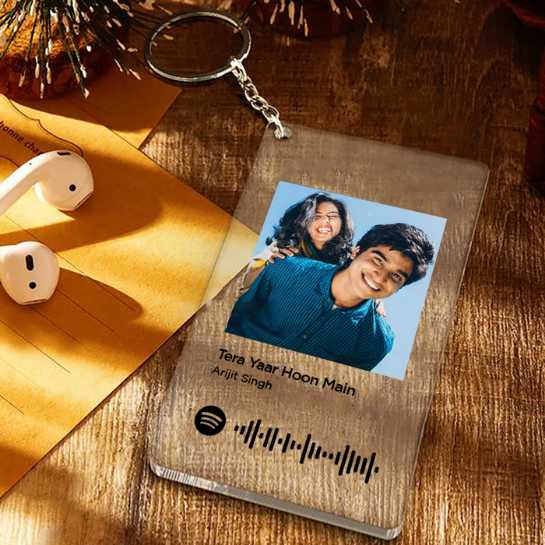 Keychain with a twist
If your sister is somebody who keeps traveling very often, do check this one out. Give her a Keychain but with a twist. In Spotify Keychains you can add your pictures along with a Scannable Spotify code. The Scannable code will then play the song of your choice. Ah well, Need song suggestions too? A song that describes your bond or favorite song of you two or there are always songs like - "Phoolon ka taaron ka" that you could use.
You can also customize it to your liking or let's say 'your sister's liking'. Find it at www.myplaques.in

Wooden Frame with Photo carved
Lastly, we suggest you something that can be kept as a showpiece. A wooden photo frame that has a picture of you and your sister carved on it. Make sure to choose the best picture of you both. And, Do not forget to write a heart-touching message (also carved). You can get these easily on internet
And Voila! these are the 5 trendy Raksha Bandhan gifts suggestions from our end. Do add a note about how much you love your sister along with the Raksha Bandhan gifts! Hope this has helped you in making a decision or at least in getting started with it.