It's a Friday evening. You couldn't concentrate on your studies in school because you were excited to attend the carnival in the evening. Your dad just came back from his office and you pester him to take you to the carnival. He is battered from all the hard work he had to do that day but still took you to the carnival with a smile on his face. He lifts you up and makes you sit on his shoulders. You feel like you're on top of the world and your face lights up with the joy and euphoria you experience, not to forget from the various fireworks and flickering fairy lights that hit your face like a starry full-moon night hitting the calm yet magnificent lake by the valley of hope.
His tired shoulders can barely lift your weight but he still manages to take you for the ride of your life, just to put a smile on your face. What does he get in return? Nothing but taunts from you because he didn't get you the ice candy from the ice cream shop post carnival. All of this hard work just to get an earful from his child who is yet to break his first milk tooth. Does he really deserve this? Does he really need to be put through every hardship that comes his way?
Fathers are one of the most important figures in our lives. They help us shape ourselves into the person that we are and are also the silent heroes that we need but don't deserve. A father will bear all the hardships but will never let even an iota of it reach his family. He is someone who will provide; provide for eternity without expecting anything in return which makes him the most selfless person of our life. Life is incomplete without either of our parents but the void really hits you when you don't have that one person who always disapproves of your decisions but will have your back in every step of your life like a wall; a safety-net you can fall back to.
Your dad may never say out loud how much he loves you but will always show you with the little things he does; the things that actually matter; the cliched yet very true stereotypical fatherly things that you watch in every other youtube video. So, this father's day, let us celebrate the sacrifices our dads make for us by celebrating with him in the most dad-like fashion possible- by doing the simple little things which will definitely put a smile on his face. Here are Tring's top 5 Father's Day Presents that won't make a dent in your pockets because let's be honest, the costlier the gift is, the more disappointed our dads will be!
1.
Free Online Father's Day E-Cards
What better way to express your true emotions without actually saying it out loud! A free online E-Card will not only convey your love for him but will also help you explore the creative bug inside you! Go all-out and make the best Father's Day card that a child can make for their dad! Scroll to the top of the article and customise one according to your liking!
2.
Gift him a simple yet practical wallet
Our dads will never admit it but they really need to get rid of that decades old wallet, one that is tattered from all sides and barely being able to hold a piece of paper, let alone a whole bunch of credit cards, cash and important documents. So why not gift him a simple yet very practical wallet, packed with so many compartments that would make even the mightiest of cupboards shy and will definitely not make a dent in your pocket!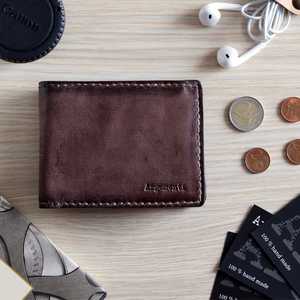 3.
Book a personalised video message from Celebrities via Tring
No matter how hard they try to hide it, every Indian Dad has a filmy bug inside of him. They will recite the lyrics of their favourite songs and will enact the most iconic scenes from their favourite movies. So why not embrace this filmy side of his and book a personalised video message from over 10000+ celebrities like Prem Chopra, Shakti Kapoor, Vishwanathan Anand and more for as little as INR 500? This is nothing short of a dream come true and he will also get a chance to flaunt this video message in front of his peers! Visit www.tring.co.in for more information and make him the happiest father this Father's Day!
4.
Gift him a nice set of watch and belt
No formal outfit is complete without a good pair of watch and belt that will make your dad stand out from the rest! A nice, crisp and shiny pair will definitely make him look bold and exude a sense of authority that every person desires!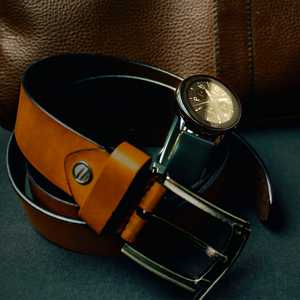 5.
A pen is mightier than the sword - and cheaper too!
You must have seen your dad sign a variety of papers using that one Signature Pen that he adores the most; the ages old pen that has been passed down generations but with time, everything requires change so why not be a part of it by gifting your dad a nice Signature Pen that is smoother than silk and flows like a fresh stream of water! We are sure this will turn out to be one of the best gifts he could receive and who knows, he might end up writing you a blank cheque with the same Signature Pen!