iBography
Vishal Veeru Devgn, popularly known as Ajay Devgn is an Indian Actor, Producer and Film Director. Ajay Devgun is known for his famous role as 'Bajirao Singham' in the movie Singham (2011). Ajay Devgn was born on the 9th of April. Ajay Devgn was born in 1969. As of 2022, Ajay Devgn is 53 years old. Ajay Devgn's zodiac sign is Aries. Ajay Devgn was born in New Delhi, India.
Devgn was born in a Punjabi Hindu family originally from Amritsar, Punjab. His family had connections to the Hindi film industry in Mumbai. Ajay Devgn's father, Veeru Devgn, was a stunt choreographer and action-film director and his mother, Veena, is a film producer. Ajay Devgn's brother, Anil Devgn, is a filmmaker and screenwriter.
Ajay Devgn went to Silver Beach High School in Juhu. Ajay Devgn completed his education at Mithibai College.
Personal Life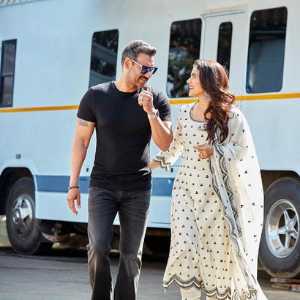 During the filming of Jigar, Ajay Devgn was in a relationship with Karisma Kapoor, however the couple split up in 1995. Ajay Devgn's romance with actress Kajol Mukherjee began in the same year, while they were co-starring in Gundaraj. Because of their opposing personalities, the media dubbed them "An Improbable Combination."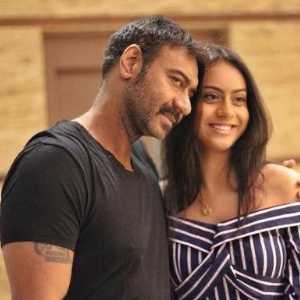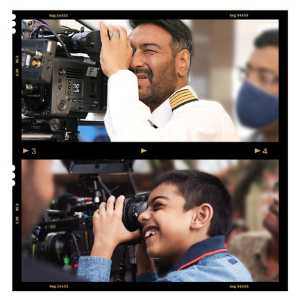 Ajay Devgn and Kajol Mukherjee married in a traditional Maharashtrian Hindu ceremony at Ajay Devgn's home on February 24, 1999. The couple is now the parents of two children. Nysa, Ajay Devgn and Kajol Mukherjee's daughter, was born in 2003, and Yug, their son was born in 2010. Ajay Devgn and Kajol kept their newborn son's umbilical cord blood and tissues in the hopes of using them as a source of stem cells in the event of a catastrophic illness.
Achievements
Ajay Devgn has acted in more than a hundred Hindi movies. Devgn has received a slew of awards, including two Academy Awards and four Filmfare Awards. The Padma Shri, India's fourth-highest civilian honor, was bestowed upon him by the government in 2016.
Ajay Devgn starred in Ram Gopal Varma's fictitious examination of Mumbai's underworld, Company, in 2002. Devgn portrayed Malik, a thug. Both team's and Devgn's performance were praised by critics. According to Taran Adarsh's review: "Ajay Devgn does his part to a tee. Ajay Devgn gives a disciplined performance, adapting to this complex character like a fish to water. With great ease, he underplays his part." Ajay Devgn won the Filmfare Critics Award for Best Actor after being nominated for the Filmfare Best Actor Award.
Ajay Devgn portrays Bhagat Singh in Rajkumar Santoshi's biopic The Legend of Bhagat Singh the same year. The performance of Ajay Devgn was praised by critics. The film won two National Film Awards, including the National Film Award for Best Feature Film in Hindi, and three Filmfare Awards, including the Filmfare Critics Award for Best Movie, after its release on June 7, 2002. Despite these accolades, including Devgn's second National Film Award for Best Actor for his role, the film was not well received by the general audience.
Net Worth
Ajay Devgn's entire net worth is believed to be $70 million, which is about 522 crores INR in Indian currency. Films and brand sponsorships account for the majority of his revenue. Ajay Devgn receives a profit share from his films in addition to his performance salary.
Ajay Devgn's monthly Income and Salary is more than 7 Crore. Ajay Devgn's yearly income is more than 94 crore. Ajay Devgn's assets include his House, Cars, Brand Deals and Endorsements.
Ajay Devgn owns two homes in Mumbai, an apartment flat in Juhu and the Designer Luxury home on Malgari Road. Both houses cost roughly around 25 crores INR in total.
Ajay Devgn is a huge enthusiast of high-end automobiles. Toyota Celica, Range Rover Vogue, Audi Q7, BMW, Maserati Quattroporte, and a Ferrari are some of the cars Ajay Devgn owns. Ajay Devgn also owns a six seater Private Jet.
Ajay Devgn has done multiple ads for Hajmola, Vimal Elaichi, Whirlpool, VKC PRIDE, Bagpiper, Dabur Babool, Lifebuoy, Sangram Textiles and Amul Undergarments.
Ajay Devgn earned around Rs. 295 Crore for his blockbuster movie 'Singham'. Singham being bollywood's most well known film has made a lot of endorsements. Recently, Ajay Devgn starred in 'Gangubai Kathiyawadi', Sanjay Leela Bhansali's film, which was also directed by Ajay Devgn, and has a budget of Rs 11 crore. Rajamouli's RRR featured S. S. Ajay Devgn as well. For this part, Ajay Devgn was paid Rs 25 crore as an honorarium.
Ajay Devgn is also the owner of his own production firm called 'Ajay Devgn FFilms'. It was founded in 2000 by Ajay Devgn and his father, Veeru Devgn. It is based in Mumbai and specializes in producing and distributing Hindi films.
Raju Chacha, Ajay Devgn FFilms' debut feature, was released in 2000. Ajay Devgn and Kajol appeared in the film. Although Raju Chacha garnered mixed reviews, it did well at the box office, grossing $82.5 million.
In 2014, Ajay Devgn earned 15 Crore from Singham Returns as Actor and Producer, Action Jackson as Actor and Vitti Dandu as Actor and Producer. In 2015, Ajay Devgn earned 19 Crore from his Malayalam remake 'Drishyam'. Ajay Devgn also made a guest appearance in the movie 'Hey Bro'. In 2016, Ajay Devgn made a cameo in the movie 'Fitoor' as 'Moazam'.
Ajay Devgn was the Actor, Producer and Director on the movie 'Shivaay'. Ajay Devgn made 21 Crore that year. In 2017 Ajay Devgn made 24 Crore by Baadshado, Poster Boys, Golmaal Again making a cameo in Guest in London. In 2018, Ajay Devgn played as an Actor in Raid, Helicopter Eela, Simmba as cameo. Ajay Devgn played an Actor and Producer in Aapla Manus. In 2019, Ajay Devgn earned 29 Crore by acting in De De Pyaar De. Ajay Devgn was the Actor and Producer in Total Dhamaal.
In 2020, Ajay Devgn was the actor and producer in Tanhaji and the producer in Chhalaang. In 2021, Ajay Devgn was the producer for Tribhanga, The Big Bull, Velle. Ajay Devgn was the Actor and Producer for Bhuj: The Pride of India Ajay Devgn also made Cameo as 'DCP Bajirao Singham' in Sooryavanshi. Ajay Devgn made 25 Crore the same year. In 2022, Ajay Devgn made 31 Crore. Ajay Devgn acted in Gangubai Kathiawadi, RRR, Maidaan, Cirkus, Thank God, Drishyam 2, Naam. Ajay Devgn was the Actor, Producer and Director in Runway 24.
Latest
In 2022, Ajay Devgn made his debut in the web series, 'Rudra: The Edge of Darkness' as DCP Rudraveer 'Rudra' Singh. Ajay Devgn made a cameo as 'Rahim Lala' in 'Gangubai Kathiawadi', Ajay Devgn appeared in a cameo role as 'Alluri Venkata Ramaraju' in RRR.
Ajay Devgn's Maidaan's shooting had started 19th of August in the year of 2019 and was finally done by 7th of May 2022. Ajay Devgn will be playing the role of 'Syed Abdul Rahim'. Ajay Devgn will be making a cameo in the movie 'Cirkus'. Ajay Devgn will be playing Yamraj in the movie 'Thank God'. Ajay Devgn will be playing Vijay Salgoankar in the second sequel of the Malayalam movie remake 'Drishyam 2'. Ajay Devgn is going to be acting in 'Naam'.